Pierre Poilievre has honed a brutal strategy to oust Trudeau from power. This time it's not petty domestic politics. 'The prime minister hopeful' is getting into international turf with statements that counter Trudeau's infamous green goals. 
It's long known that the arrival of the Trudeau government has not panned out well for Canada. Ever since he came to power, he can't get enough of lending shockwaves to all the sectors of the economy.
Make no mistake, Canada is blessed with world-class reserves of commodities across the energy and critical mineral spectrum, with excellent agricultural land and forestry resources to boot. Canada has far more than it could ever consume on its own. But, it is all in vain because the boneheaded Prime Minister doesn't know how to make the most of the opportunity.
Well, now, at a time when the world is reeling under a gas crisis owing to the ongoing Ukraine conflict, Canada could have dived into that lucrative market. The North American country could have become the key supplier of clean energy and could have thwarted European countries' reliance on Russia, thus minting exceptional profits that would have added the needed lucre to the Canadian economy.
But trust your ears when we say this, Trudeau wants Canada to stay poor.
Read More: In Europe, investing in oil and gas companies is now considered "green investments"
You see, Trudeau questioned the "business case" for pursuing LNG development with Germany. Chancellor Olaf Scholz approached Trudeau about LNG back in March, and again in June, on the sidelines of a G7 meeting in the Bavarian Alps. 
But all those hopes for Scholz were sure to be dashed. Bringing Canada onto the same page for a gas and oil deal is like a trip to the sun. 
Mr Trudeau can never get over his green goals 2030. But, worry not Canadians, Pierre Poilievre has a plan to cut down the reliance upon oil that comes from far away dictatorships. CPC frontrunner Pierre Poilievre says Canada would end all foreign oil imports within five years of him becoming Prime Minister.
In a video, Poilievre said he would accomplish this in three ways.
First, by scrapping Bill C-69, dubbed the "No Pipelines Bill" by many. 
Second, by approving permits for the Port of Churchill.
And third, by supporting Newfoundland's goal of doubling their current energy production.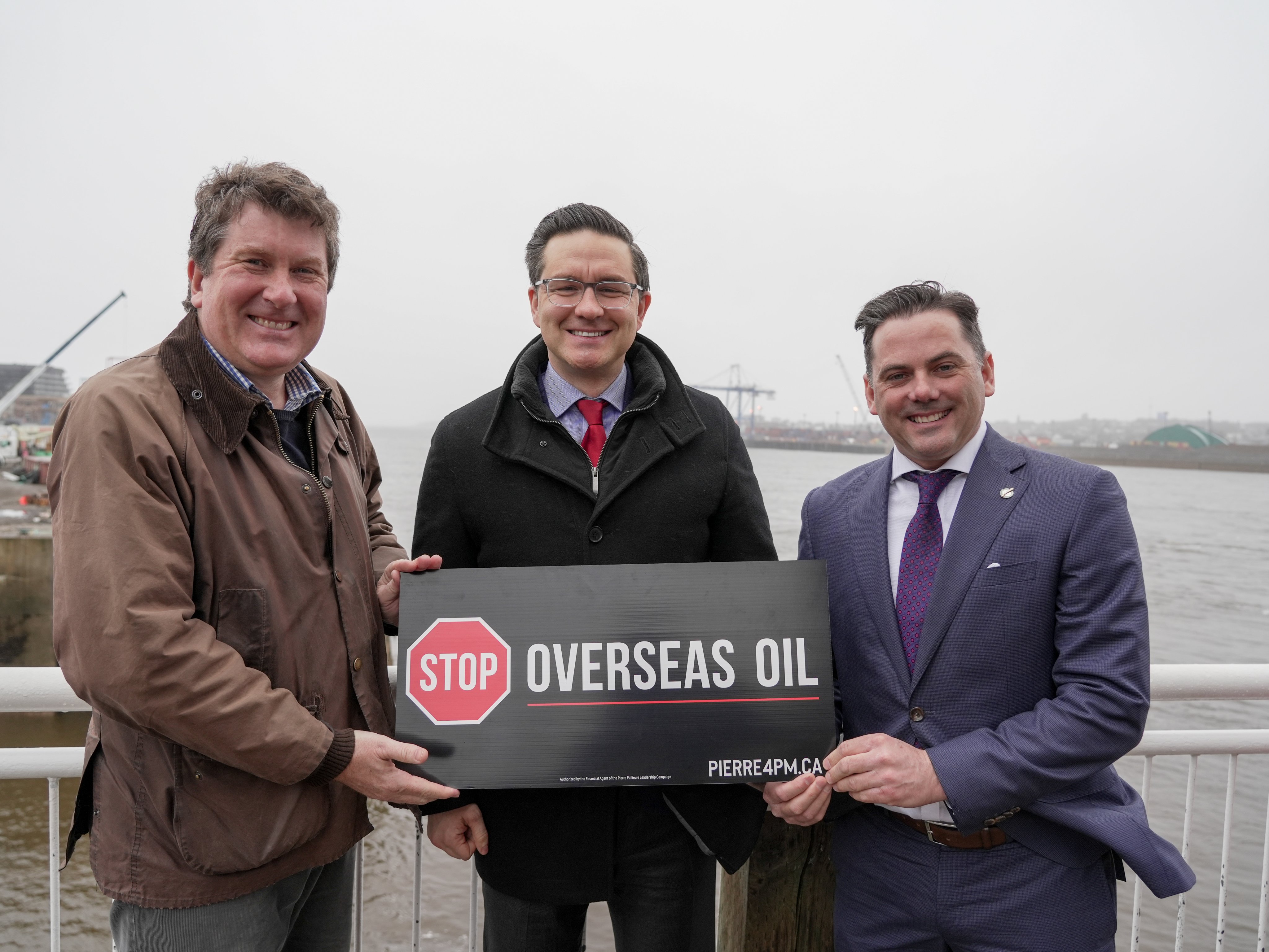 Pierre eyes the dream of cutting down on Canada's dependence on foreign oil, which will bolster employment in Canada. Under his leadership, Canada is sure to make the most of its untapped resources.
And not only this, but the conservative leader is all set to generate more employment in the energy sector with this move. You see, Canada's employment is going to hell in a handbasket. It is facing a job bust on a large scale. Jobs are going unfilled in the Canadian oilfield. But the ignorant prime minister pays no heed. He is so driven by his green goals agenda and busy posing as a liberal poster boy that he has no time to address the major concerns of the citizens. 
But then, Pierre comes up with a vision to tilt the focus back toward the bread-and-butter issues. He has an aim to emulate What Donald Trump did back to win the presidency- which is to address real issues that concern people rather than living in a liberal paradise.  
Read More: Trudeau shamelessly fills Guyana's coffers at the expense of the Canadian economy
Poilievre's focus will be on solving real problems for real people, especially those centred on economic opportunities that Trudeau and Jagmit Singh don't talk about. The liberal duo simply want foreign countries to mint more profits at the expense of the Canadian economy.
A single statement from  Poilievre is hitting the right chords among the people. With this one, the emerging leader promises to restore the long-lost sheen of Canada as the oil hub for the world. Blue collar jobs will flourish under his prime ministership, and likewise, the long stay of inflation in the Canadian economy will be erased for good. With all these in hand, Canadians won't be fooled again as the vote will go for something that really matters!