The approval rating of Canadian Prime Minister Justin Trudeau is going down day by day. He is losing his traditional youth voter base. The ones in their salad days are ditching the Prime Minister and shifting their liking to the conservative flank. Now, this is unprecedented.
Trudeau has left little to imagination why exactly his approval ratings are kissing the ground. For instance, the burgeoning housing and food crisis, skyrocketing inflation, airport crisis and Trudeau's vacation on a billionaire's private island in the Bahamas; all have attributed to his declining popularity. 
Furthermore, his decision of considering imposing C-11, a step aimed at throttling free speech, is currently the subject of intense debate. It seeks to establish standards for how streaming providers are required to manage all online audio-visual content.
Now, this has really taken a toll on Trudeau's popularity among Canadian young voters. And this is bound to spell doom for his political career.
Read More: Saskatchewan begins freeing independent schools from Trudeau's clutches
Trudeau is losing his youth voter base
Evidently, the golden-agers in Canada have always sided with the Conservative party whereas the youth in the country stood in support of the Liberals. As they say, as you attain maturity, you tend to relinquish liberal values. So, for most of the time, only elders would support conservatives in Canada. But, as recent trends suggest, that's a thing of the past. Since 2015, Trudeau's Liberal party have lost most of their support among young voters as younger Canadians either supported other parties, became undecided or stopped voting entirely. 
Like the majority of the Canadians, voters under 34 are currently inclined to express dissatisfaction with Justin Trudeau's performance as prime minister.
The NDP and its leader, Jagmeet Singh, instead received the majority of youth support between 2015 and 2021. The party was the clear favourite among young voters in the 2019 and 2021 elections due to its purposeful targeting of the group through its policy and social media initiatives.
But wait, there's a new challenge for Trudeau now- a formidable conservative figure, Pierre Poilievre.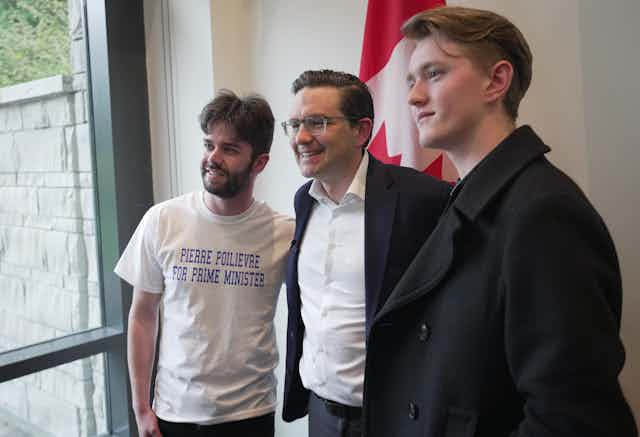 Lately, it seems like the youth support base for the Liberals and NDP is changing its mind once more. Recent surveys indicate that, for the first time since the 1980s, a majority of young people now support the Conservative Party.
Most of this has been credited to Poilievre, who has greatly focused on raising issues pertaining to the youth voter base.
By addressing the broader mood of dissatisfaction and the economic concerns weighing on young Canadians, he has made inroads into the untrodden territories for the conservatives.
Read More: Stephan Harper is back with a bang, and that's terrible news for Trudeau
The ever-lasting sad state of affairs in Canada heralds the collapse of the Trudeau regime. After all, young Canadians are still alien to economic catastrophes like one wreaking havoc in Canada currently. They rightly believe that Trudeau has turned out to be a bane for their future. So, they have simply changed their minds and decided to back Pierre Poilievre.
The youth in Canada are, thus, all set to dig Trudeau's political grave. Golden agers already support conservatives. In the 2025 elections, if young voters show up in Pierre Poilievre's support, Trudeau would undoubtedly lose the PM chair once and for all.