The Scramble for Africa is a term used for the events that happened during the period between 1881 and 1914. In this short period of time the Western European powers colonized most of Africa. Europeans controlled a mere 10 percent of Africa by 1970 and by 1914 they controlled roughly 90 percent of Africa with Ethiopia (Abyssinia) and Liberia remaining independent. Although France later invaded Ethiopia and captured it for 5 years (1936 to 1941).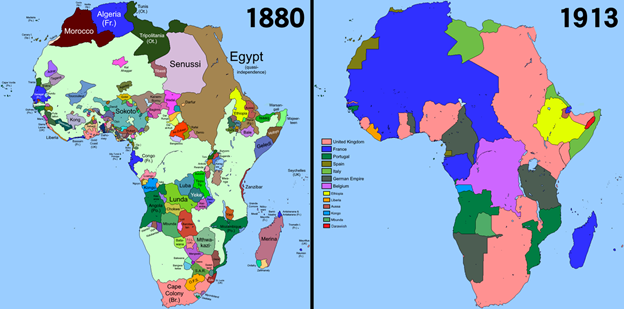 The question here is why we are talking about the Scramble for Africa?
Its answer lies in recent talks hosted by France on Rwanda and Democratic Republic of Congo (DRC) relations.
Macron hosts talks on DRC and Rwanda tensions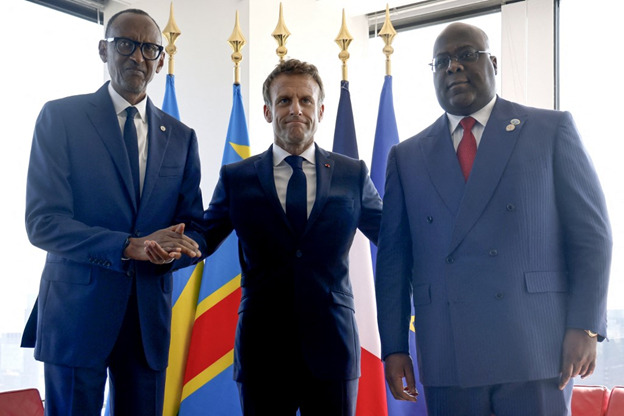 Recently President Emmanuel Macron hosted talks between Rwandan President Paul Kagame and DRC's President Felix Tshisekedi amid tensions between the two East-African neighbors regarding rebel problems on their common border.
On the sidelines of UNGA at Newyork, Macron hosted this meeting to solve the problem of M23 rebels which are wreaking havoc in Democratic Republic of Congo. The President of DRC has also denounced at tha UNGA that the M23 rebels are backed by Rwanda. He also asked the UN to support the African-led mediation.
#RDC_Rwanda_France #UNGA77 I 21.09.2022 #NewYork
Communiqué conjoint de la Rencontre trilatérale #RDC #Rwanda #France
A l'initiative du Président Emmanuel Macron, les Présidents Félix Tshisekedi, et Paul Kagame, se sont entretenus ce mercredi 21/09/22 à New York. pic.twitter.com/f6fmDmiMoP

— Présidence RDC 🇨🇩 (@Presidence_RDC) September 21, 2022
The state-owned France 24 quoted the French Presidency as saying; The three leaders together "noted their concerns about the resurgence of violence in the east of the DRC,"
Uganda and Tanzania oil pipeline and its strategic importance
The focal point here is the controversial East-African Crude Oil Pipeline (EACOP) which will be the largest heated oil pipeline in the world when constructed. The $10 billion project includes French energy giant TotalEnergies, Uganda National Oil Company (UNOC) and Tanzania Petroleum Development Corporation (TPDC) and other minority shareholders as well. The project includes transportation of oil from Lake Albert to Tanzanian port city.
The oil will be drilled from the Lake Albert basin on the border of Uganda and Democratic Republic of Congo which was first found by a British oil company Tullow Oil in 2006. In April 2020, Tullow oil sold its stake to TotalEnergies and it took almost two years for the French multinational to secure investors for the project.
Near Lake Albert the project developers will together construct oil wells, a crude oil refining plant, underground oil pipelines and other infrastructure in the districts of Nwoya and Bullisa for domestic oil utilization.
The stakeholders in the EACOP include TotalEnergies (62%), UNOC (15%), Tanzania Petroleum Development Corporation TPDC (15%) and CNOOC (8%).
As per the claims by the investors the EACOP will generate approximately 14,000 direct and 45,000 indirect jobs during the construction and production phases with $1.7 billion worth of business creation for the local contractors.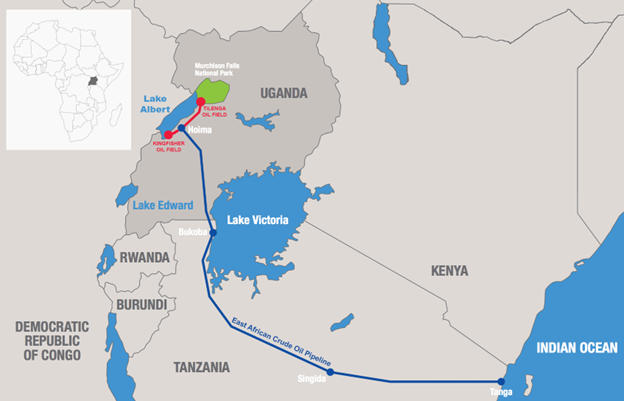 (Extraction and transportation of oil through EACOP, Source: Global oil and Gas exit list)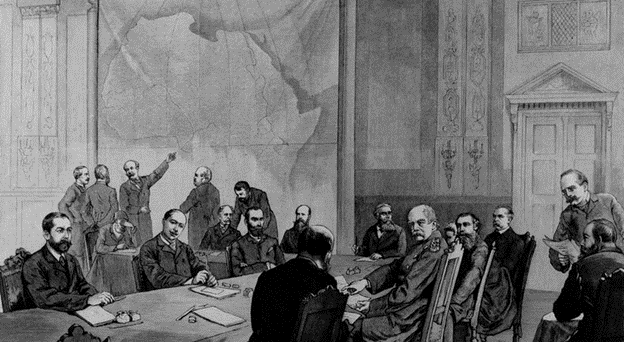 The West which together (EU and USA) accounts for 32% of greenhouse emissions as compared to Africa which is 3.8% is today despising African countries for constructing oil pipelines citing Environmental concerns. The IMF recently suggested the African countries to slow down on macroeconomic reforms, which can be summed up as suggesting the African nations to "stay poor forever".
And when the whole West altogether is after Africa scrambling for its resources, Tanzania and Uganda together chose France to give its project's construction responsibilities. They both effectively forced France to come to the table as equal partner and not as high-handed master. African nations such as Tanzania know that France in general and EU in particular are in dire need of energy and are taking full advantage of the ongoing EU and Russia sanction-energy powerplay.
France forced to recognise African countries as Equal Partners
It is pertinent to note that the EU is struggling with an energy crisis in the aftermath of the Ukraine-Russia conflict. The energy crisis is so severe that the EU has to resort to burning wood to meet its energy demands. But France's strategic move to invite the Presidents of DRC and Rwanda for lunch on the sidelines of UNGA is to secure its foothold in the region. France acting as a mediator in resolving the conflict between the DRC and Rwanda will help it secure its energy needs, whether they are oil or gas.
All these turn of events have proven the point that gone are the days in which the borders of African countries were decided in European capitals. This move of Macron can set an example for other European powers that they have to get out of their colonial slumber and start treating African countries as equal partners and not as the subjects of former colonies.
Staying in Africa is not easy
It is a well-documented phenomenon that in today's Africa, no power can stay if the people of Africa are not in its support. The non-state actors and other disturbing elements in most of the countries make it impossible for any foreign power to even establish its presence. China tried to gain a foothold on Africa by using its cheque-book diplomacy but failed miserably. It is estimated that China spent $148 billion between 2000 and 2018 in loans to African countries which has made it the biggest bilateral lender in Africa. Despite spending almost 150 billion dollars China failed to gather support in the African continent.
Learning from the past mistakes of European powers and recent blunders of the Chinese, France has come up with a solid plan which includes treating the African countries with respect and not like masters. Still the European powers which sanction countries on the drop of a hat, need to learn the lesson that if they keep African countries as former colonies, the African nations will never come on their side.