The most significant and watershed moment that'll decide the future of Ukraine war and Europe has occured. Putin just few days ago blamed the energy crisis of Europe solely on Europe in a press conference following the Shanghai Cooperation Organization meeting in Uzbekistan. He also emphasised that Russia will fulfil its energy commitments.
Putin had said, "The bottom line is, if you have an urge, if it's so hard for you, just lift the sanctions on Nord Stream 2, which is 55 billion cubic metres of gas per year, just push the button and everything will get going."
It was a clear message for Europe that all its crisis can be put to end if it allies with Russia again and stop being a third wheel to US' foreign policy. It was a glimmer of hope for Europe in the darkness of economic crisis that looms on the entire continent. Putin realising it, extended the offer of peace to subvert the upcoming tragedy. Alas, the hopes of Europe have been dashed!
Nord Stream 1 and 2 pipelines sabotaged
Initial reports indicate that methane bubbles are rising from the water near the Danish Island of Bornholm. The police and navy have reportedly already established a five-mile restricted zone, and aviation travel below 1,000 metres has already been prohibited, according to the operator firm Nord Stream 2.
Possibly, the Baltic Sea pipeline of Nord Stream 2, which was never used, appears to have been destroyed at this point. An incident on the pipeline was confirmed by a spokesman for the Danish Maritime Authority (Danish Maritime Authority).
The leak was initially noticed on Monday night. The gas network operator Gascade's representative verified that the sensors detected a significant drop in pressure in the pipeline and raised the alert. The operators of Nord Stream 2 claim that the pressure decreased from 105 bar to only 7 bar.
Shortly after a leak on the neighbouring Nord Stream 2 project was detected, Sweden's Maritime Authority said that it had issued a warning of two leaks on the Russian-owned Nord Stream 1 pipeline in Swedish and Danish waters.
A representative for the Swedish Maritime Administration (SMA) told Reuters, "There are two leaks on Nord Stream 1 – one in Swedish economic zone and one in Danish economic zone. They are very near each other." According to the spokesman, it was not immediately clear what had caused the leaks.
Read our Premium Piece: There is no coming out for Europe from this tragedy
Who is behind the leak?
The Tagesspiegel reports that targeted attacks may have harmed the Nord Stream pipes. The newspaper quotes an "insider" who is involved in the assessment by the federal governments and federal authorities.
According to the report, the insider claimed that "everything speaks against a coincidence." "Our imagination no longer produces a scenario that is not a targeted attack." It is stated that carrying out such an attack or act of sabotage requires special forces or even the assistance of a submarine.
EU and NATO both have accepted that a coincidence is unlikely and a sabotage has happened. EU's bloc's foreign policy chief Josep Borrell said, "All available information indicates those leaks are the result of a deliberate act."
Before any sort of inquiry is conducted, western media will undoubtedly promote the idea that Russia is responsible for this sabotage. The reason is absolutely illogical given that Russia has no motivation to destroy the infrastructure that it both spent billions building and that it fully controls. It also gave it leverage over Europe to normalise the relations.
So, who stands to gain the most from such a catastrophe?
US' evil plans to destroy Europe
The amount of gas the US sends to Europe has more than doubled since this time last year. The graph below will make it clearer. US has minted money in billion of dollars by selling its LNG to Europe on spot prices.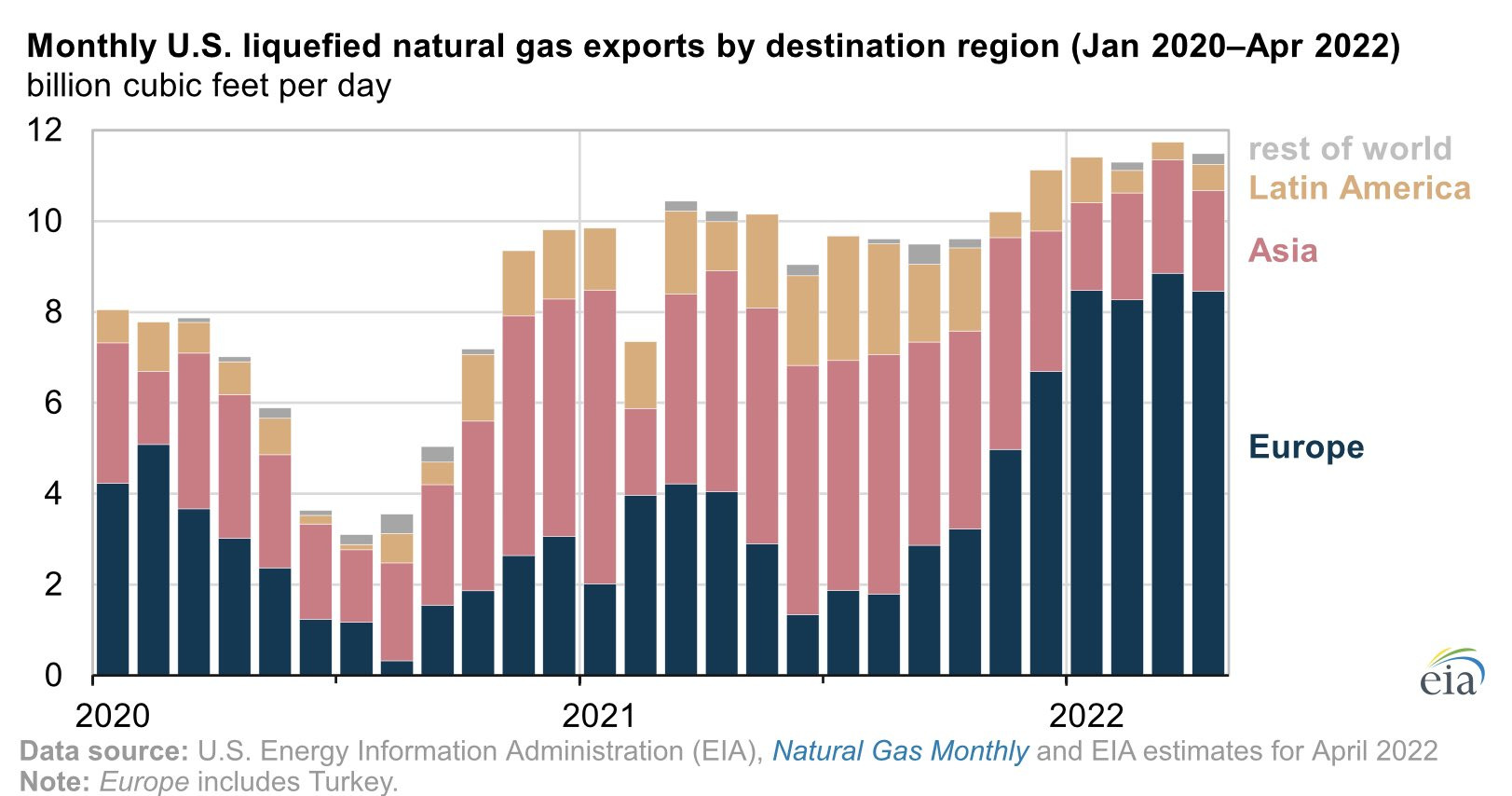 What other alternatives does Europe have apart from a Russia and US? A few which are not reliable enough. For example, the Dutch government said on Monday that gas output in the Groningen field, a key source of natural gas for Europe, will be limited to 2.8 billion cubic metres (bcm) in the year beginning October 1, down from 4.5 bcm in the present year. Furthermore, in February Joe Biden himself had declared that he'll put an end to Nord Stream 2.
And just a few days before, according to Flightradar24 data, US Navy Sikorsky MH-60R Seahawk helicopter spent hours hovering above the vicinity of the ruptured natural gas pipelines in the Baltic Sea near Bornholm on September 1, 2, and 3.
🇺🇸🇷🇺 ABC News on February 7th
Pres. Biden: "If Russia invades then there will be no longer a Nord Stream 2. We will bring an end to it."

Reporter: "But how will you do that exactly? Since the project is in German control"

Biden: "I promise you, we will do it."@georgegalloway pic.twitter.com/M35BTPFGSq

— Bro Fii (@OB_Ages) September 27, 2022
Therefore, the so-called accident, that looks like a carefully-planned act of war, immensely benefits US. It becomes increasingly clear that the US has ulterior motives, including the instigation and fuelling of the conflict between Russia and Ukraine as well as the subjugation of Europe. It has regularly persuaded Europe to send weapons to Ukraine and has itself sent tons of weapons to the war-ravaged country along with hefty financial aid.
US was the only nation that forced Germany to halt the certification of Nord Stream 2 pipeline. Prior to this leak, only regulatory block was preventing the flow through the pipeline. It was done by German Chancellor Scholz at USA's behest. Germany was increasingly looking desperate to resume the pipelines as it faces the threat of de-industrialization, recession and harsh winters. Had that happened, the course of the Ukraine war would have changed and Europe would have relieved itself of miseries. Now, the US can heave a sigh of relief has both pipelines have been severely damaged.