Europe's energy reliance on Moscow has dampened its anti-Russia sanctions. Europe never actually tried to diversify its options before the Ukraine war. And when it is trying to find alternatives to steer out of the crisis, it is running out of options as all roads ultimately lead to Russia. Russia's enormity of the vast resources has given it an edge to weaponize them in consequence of any ill attempts by Western nations.
Europe in its efforts to cause distress to Russia economically and financially have failed spectacularly. The dreams of Europe punishing Russia have blown up in their faces.
Europe's dependence on Russia
Nevertheless, Russia is the world's largest exporter of gas. Russia accounted for two-fifth, that is 40 per cent of the EU's import of gas before the Ukraine war.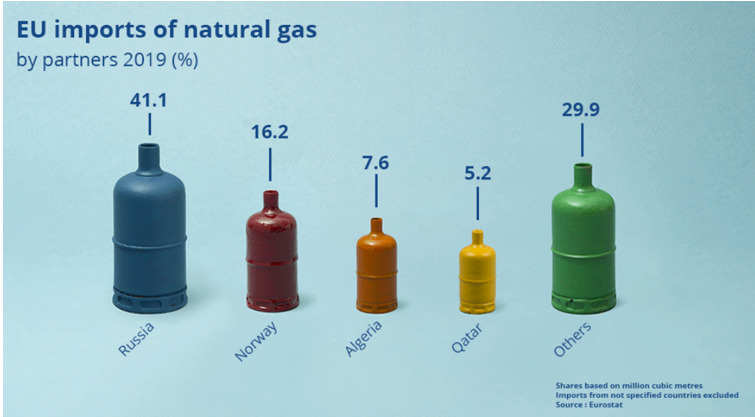 Germany was the largest importer of Russian gas with 42.6 billion cubic metres of gas in 2020 followed by Italy, Belarus, Turkey, Netherlands, Hungary and several other countries.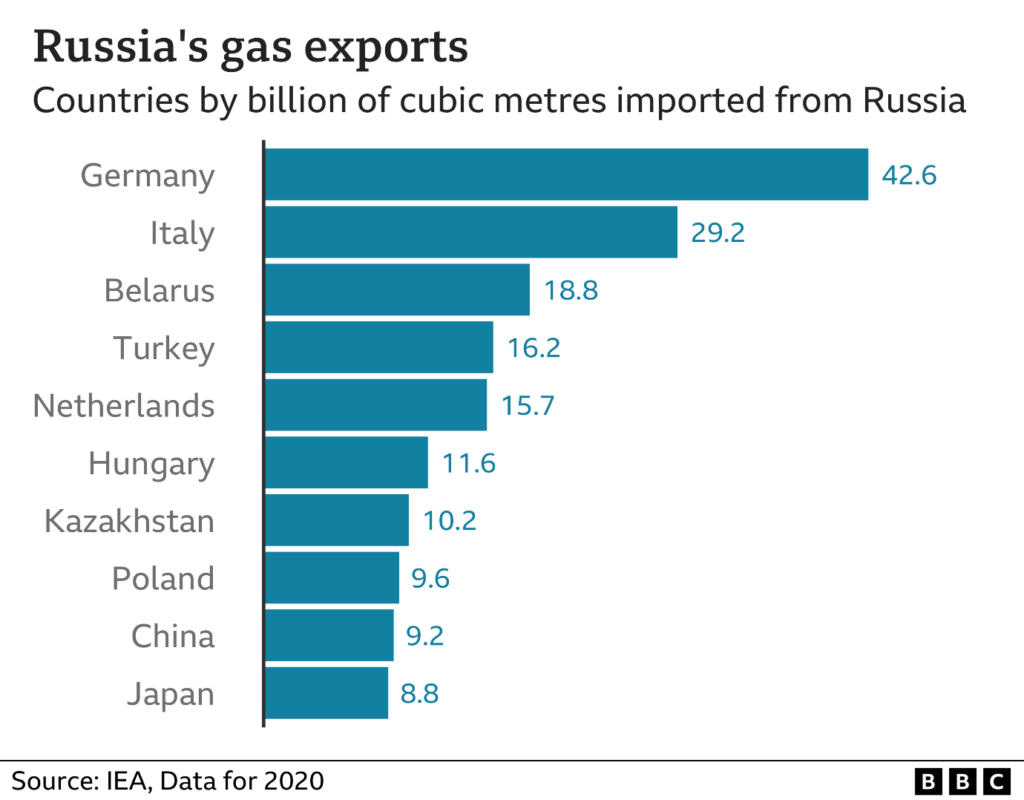 Russia is also the second largest supplier of crude oil after Saudi Arabia. 26.9% of Europe's crude oil is imported from Russia. Apart from it, Russia is the third largest coal exporter behind Indonesia and Australia. And almost half of Europe's solid fuels like coal that can be used to produce energy comes from Russia. 24.4% of whole energy exports in 2020 were sourced from Russia. The above facts are enough to indicate the dependence of Europe on Russian energy and it should have given a second thought before putting an embargo on Russia's energy.
According to the US Energy Information Agency, 75% of Russia's gas exports and 49% of its crude oil exports went to Europe in 2021, including non-EU nations like Norway and the UK.
Europe is also dependent on Russia for palladium, which accounts for 40% of the mineral used for automobile manufacturing. Moscow's stronghold on the world's Titanium supply has pressured players in the aircraft industry.
The aim of EU sanctions on Russia was to derive it customers and market in Europe. However, Russia has successfully found markets in Asian nations like China and India. But European nations' efforts to find alternatives to Russian energy have largely met a dead end.
Europe's alternatives fail
In addition to that, Europe dug its own grave by first suspending the certification of Nord Stream 2 gas pipelines. It was designed to double the flow of gas to Germany. Recently, Russian President Vladimir Putin took a jibe at Europe asking it to open Nord Stream 2 if it wants Russian gas.
Furthermore, Europe roughly imported around one-fifth of gas from Norway. However, the gas plants have been continuously rocked by workers' protests and the Norway plant leaks.
Read More: What Europe desired to do to Rouble is what Putin actually did to Euro
Algeria, which is the third largest gas-exporters to Europe has capitalized on the situation and has increased the gas prices multi-fold knowing that Europe has no one but Algeria to rely on. Also, the Western Sahara dispute between Algeria and Europe has become the key reason for the burgeoning diplomatic crisis. Europe which now depends on the majority of gas imports from the US has also seen some mysterious blasts in Texas to a major gas exporting plant.
The failure to find alternatives to Russian energy has become a real pain in the neck of Europe.
Europe's ego
The consequence of anti-Russian sanctions has backfired on Europe. Europe has been hoisted by its own petard. Europe's economy has gone for a toss. Its currency Euro has fallen to the lowest against the dollar in a decade. Europe's inflation has rocketed to the highest in the last three-four decades. The gas embargo has put millions of jobs of Europeans in jeopardy. The largest chemical company BASF has warned to shut down operations.
The gas shortage after Russia cut down 60% of its imports from Nord Stream 1 and then for annual maintenance has raised fears of gas rationing. Countries are planning to dim their lights and suggesting not bath for more than five minutes for energy conservation. Energy companies are on a verge of bankruptcy with already $1.3 trillion of debts. Europe faces a danger of extreme winter if the energy imports are not restored to levels before the Ukraine war.
The Political crises in Italy, North Macedonia and Britain have highlighted the upcoming "European spring." Countries face the danger of their economy shrinking. Europe has been oblivious to its worries up until this point despite all the signs that a recession is on the horizon. It will lose its stature in the world if it doesn't stand up for itself and keeps following the US's lead. If Europe doesn't safeguard its own interests, it won't be able to escape this calamity.