IRGC is good, says NDP: Iran is a raging inferno after Mahsa Amini's tragic demise. Protesters in Iran are demanding the elimination of the hijab after more than 40 years of the Islamic Revolution, which has sparked discussions around the world for the past two weeks. 
Global leaders are standing in support of women. Even Canadian Prime Minister Justin Trudeau came up with his support by posting tweets on the matter,  but given what his coalition partners had to say about it, it is highly unlikely that this show of solidarity will result in any real or effective action.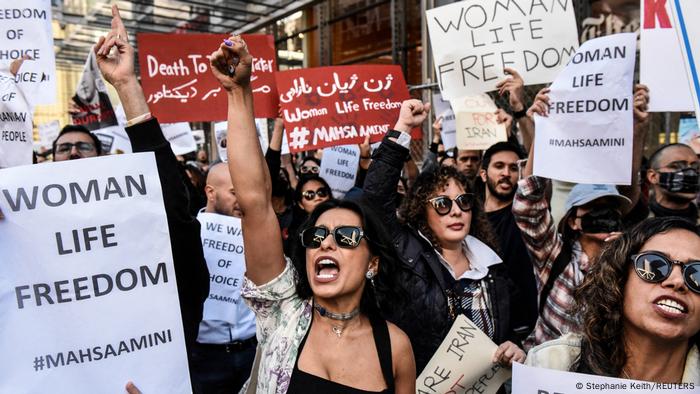 The Khalistan-supporter NDP is openly embracing the Islamist IRGC. 
On September 16, a young Iranian woman, Mahsa Amini, died while being held captive in Iran. Reportedly, the nation's moral police, who enforce the required and "proper" method of wearing the hijab, assaulted Mahsa Amini after arresting her and causing her fatal injuries.
Slogans like "Zan, Zindagi, Azadi," which means (woman, life, freedom), have captured the attention of the entire globe. "The Islamic Republic, we don't want, we don't want," is another phrase used to criticize the government. 
Despite the size of Iran's ongoing protests, some individuals continue to question whether these demonstrations are supported widely across this large and populated nation. However, some nations have already started to vow support for Iranian women. 
However, in Canada, the matter is deep-freezed. In the ongoing world debate, Trudeau is not expressing clearly what he intends to do. However, Jagmeet's NDP has already made it apparent that Canada will remain a sitting duck.  
IRGC is good, says NDP
According to Power&Politics, NDP MP Heather McPherson has said she doesn't think listing the Islamic Revolutionary Guard Corps or IRGC,  a branch of the Iranian Armed Forces, as a terrorist entity "will help women around this world right now." Instead, she says she wants to see a sanctions regime with "teeth" and humanitarian aid delivered to Iran.
NDP MP Heather McPherson says she doesn't think listing the IRGC as a terrorist entity "will help women around this world right now." Instead, she says she wants to see a sanctions regime with "teeth" and humanitarian aid delivered to Iran. pic.twitter.com/Q0y2RA9PEQ

— Power & Politics (@PnPCBC) September 28, 2022
While talking with Vassy Kapelons in an online debate, Heather McPherson stressed, " There is no support for women in Afghanistan or Iran. What we need to do is impose sanctions on Iran, give it the teeth and just allow humanitarian aid to get delivered'"
When asked about declaring IRGC a terrorist organization, she refuted with claims, "that is not going to help the women. We just need our aid to get delivered there," 
These are the official statements of NDP MP Heather McPherson, who herself is a woman. It is quite astonishing to know that Canadian lawmakers hold a different view from the Ottawa authorities. 
If one remembers correctly, Ottawa has already declared that there are plans to declare the IRGC a terrorist organization. However, no exact details have been provided yet. 
Now, what the NDP is stating here indicates that the federal government is stating white lies. 
Make no mistake, the NDP under Jagmeet Singh would never allow the IRGC to be declared a terrorist organization because they have a profound love for extremism and separatism. 
The leader has actively participated in several pro-Khalistan movements, criticising the Indian government and discussing the problems associated with the 1984 Sikh riots.
British Columbia has become overrun with Khalistanis and Islamists under his rule. For those who don't know, ISI and Pakistan's support for Khalistan makes it an Islamist notion in and of itself.
Read More: Radical Sikhs controlled by the Islamists of Pakistan can come to power in Canada
Supporters of Khalistan and Islamists get along well in Canada, and Jagmeet Singh's NDP wins the majority of their votes. Because the IRGC upholds its ideologies, Canadian Islamists would never agree to the organization's being labelled a terrorist organization.  
If any Canadian is imagining that Justin would ever take strict action against Iran or its forces. Forget it, it's a mere pipe dream. Jagmeet Singh's NDP would never approve a motion like that because he doesn't want to alienate his support base. Trudeau, on the other hand, would once more dance to the tunes of Jagmeet because, to him, power is what matters most. 
So for Iranian women, the doors of support are closed in Ottawa.