In July, US President Joe Biden made a trip to Middle-east in an effort to amend his wrongdoings. Joe Biden requested Saudi Arabia to pump more oil to support both the US and the world economy. Led by Russia, the OPEC+ grouping consists of the Organization of the Petroleum Exporting Countries (OPEC) and its allies. It was founded in 2017 and recently had been boosting oil production by approximately 430,000–650,000 bpd a month as they were trying to reverse record supply restrictions implemented while pandemic lockdowns stifled demand.​ But the disruption brought on by Russia's invasion of Ukraine in February has raised energy prices and fueled inflation.​
Oil Prices
​In December 2021, the oil prices were $74.17/barrel. But, the conflict between Russia and Ukraine caused supply-chain disruptions, financial sanctions, and higher commodity prices. Together, these transmission channels pushed up inflation and substantially slowed growth, particularly in Europe and US. As a result, oil prices went up to $123.70/barrel. The oil prices stayed above $100 till July. Biden through his trip hoped for increased oil production so as to decrease oil prices.​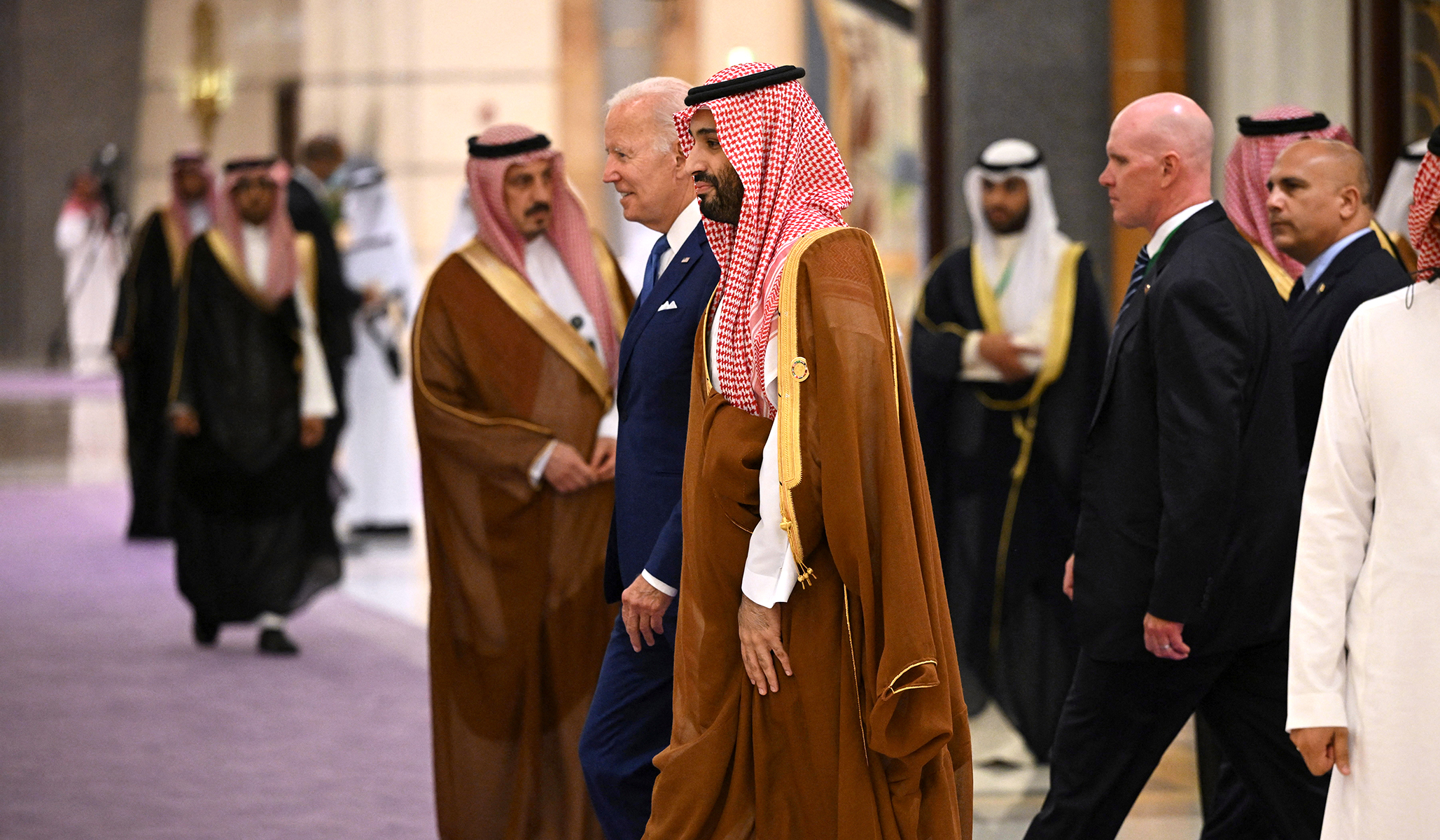 The higher oil prices have benefited Russia, as Moscow is expected to make $321 billion from energy exports in 2022, an increase of more than a third from 2021. The amount is enough to finance its invasion of Ukraine. It is minting around a billion dollars every day from its fuel exports.
But, OPEC+ promised to increase the production by only 100,000 bpd which was equivalent to just 0.1% of global demand. The minuscule oil output increase was a big setback for Biden as he expected more concessions. But amidst the report of the Iranian nuclear deal, the prices fell below $90 for the first time after long. Adding to it, fears of an impending recession, demand-supply dynamics, and other factors caused a further decline in the price of crude oil. To tame the oil prices, US Federal Reserve and the European Central Bank raised interest rates to control the inflationary trend. The move led to a fall in oil prices to $80/barrel. But, now OPEC+ is gearing for striking the final nail in the coffin to boost oil prices for a long.
Also Read: OPEC drives China and the West insane by supporting Russia in Central Asia
OPEC+ final blow
According to OPEC sources, OPEC+ may consider reducing oil production by more than a million barrels per day (bpd) for the next couple of days in order to address the sluggish oil market. This would be the largest action taken since the COVID-19 crisis.​ The October 5 meeting will take place amid a backdrop of declining oil prices and months of intense market volatility, which led Saudi Arabia, the leading producer in OPEC+, to suggest that the group should reduce its oil output.​
A large reduction in output is likely to enrage the United States, which has been pressurizing Saudi Arabia to produce more oil in an effort to lower oil prices and slash Russia's oil revenues as retaliation for Moscow's deployment of soldiers to Ukraine. Keep in mind that Saudi Arabia has not denounced Moscow's actions against Ukraine till now.​ According to a person familiar with Russian thinking, Moscow would like to see OPEC+ drop 1 million bpd, or 1%, of the world's supply last week. And this move of OPEC+ is on similar lines to what Moscow wants.​
​Stephen Brennock of oil broker PVM said, "$90 oil is non-negotiable for the OPEC+ leadership, hence they will act to safeguard this price floor."
As soon as this decision to reduce the oil output came to light, oil prices jumped nearly $4 a barrel. According to Dennis Kissler, senior vice president of trading at BOK Financial, the majority of traders were anticipating reductions of around 50,000 bpd. Following a 100,000 bpd output reduction in the previous month, this will be the group's second straight monthly decline.​
​
West, which is already reeling in staggering economic growth and facing sky-high inflation, will only see its woes intensify. OPEC+ knows that a war that has been prolonged by Biden must be capitalised on. It's a direct indication to the West that if they want peace and economic stability, they'd have to come to the negotiation table with Russia and that too on Putin's terms.