A Conservative wave is sweeping across Canada, and British Columbia's ruling New Democratic Party is struggling to keep its feet firmly on the ground. More and more Canadians are realizing now that their country needs Pierre Poilievre's leadership to fix Canada's broken economy.
New Democratic Party meets its fate in BC
As per a recent Bloomberg survey, 30 per cent of Canadians rank Poilievre as the leader most trusted to reduce inflation. British Columbia, where inflation has been wreaking havoc since the outbreak of the pandemic, has also fallen in awe of the firebrand Conservative leader.
But to Pierre Poilievre's tough questions, BC's New Democratic Party seems to have no convincing answers. The traditional vote bank of the New Democratic Party, including prosperous Sikhs, might already have started developing second thoughts over their overt support to Jagmeet Singh's party.
The vote split exacerbates NDP's woes
In fact, the new political equation emerging in the Canadian electoral landscape has only exacerbated NDP's problems. Thanks to Justin Trudeau's almost levelled approval ratings, a large number of liberal voters are shifting their allegiances to New Democratic Party. That's terrible news for both NDP and the Liberal party.
NDP's traditional vote bank is slipping away from its hands, so it's bound to experience rainy days ahead. At the same time, it's eating into Liberal Party's vote share, which will undoubtedly make Liberals weaker. This vote split will only help Conservatives clinch even more seats in the assembly.
NDP's desperate attempts at stymieing Poilievre's rise
Sadly, the New Democratic Party can't do anything about it. So, it has kickstarted a smearing campaign against Conservatives. It's shamelessly trying to resort to invoking fear psychosis among British Columbians to keep its fortunes afloat. And the party has already started targeting school kids in pursuit of this nefarious campaign.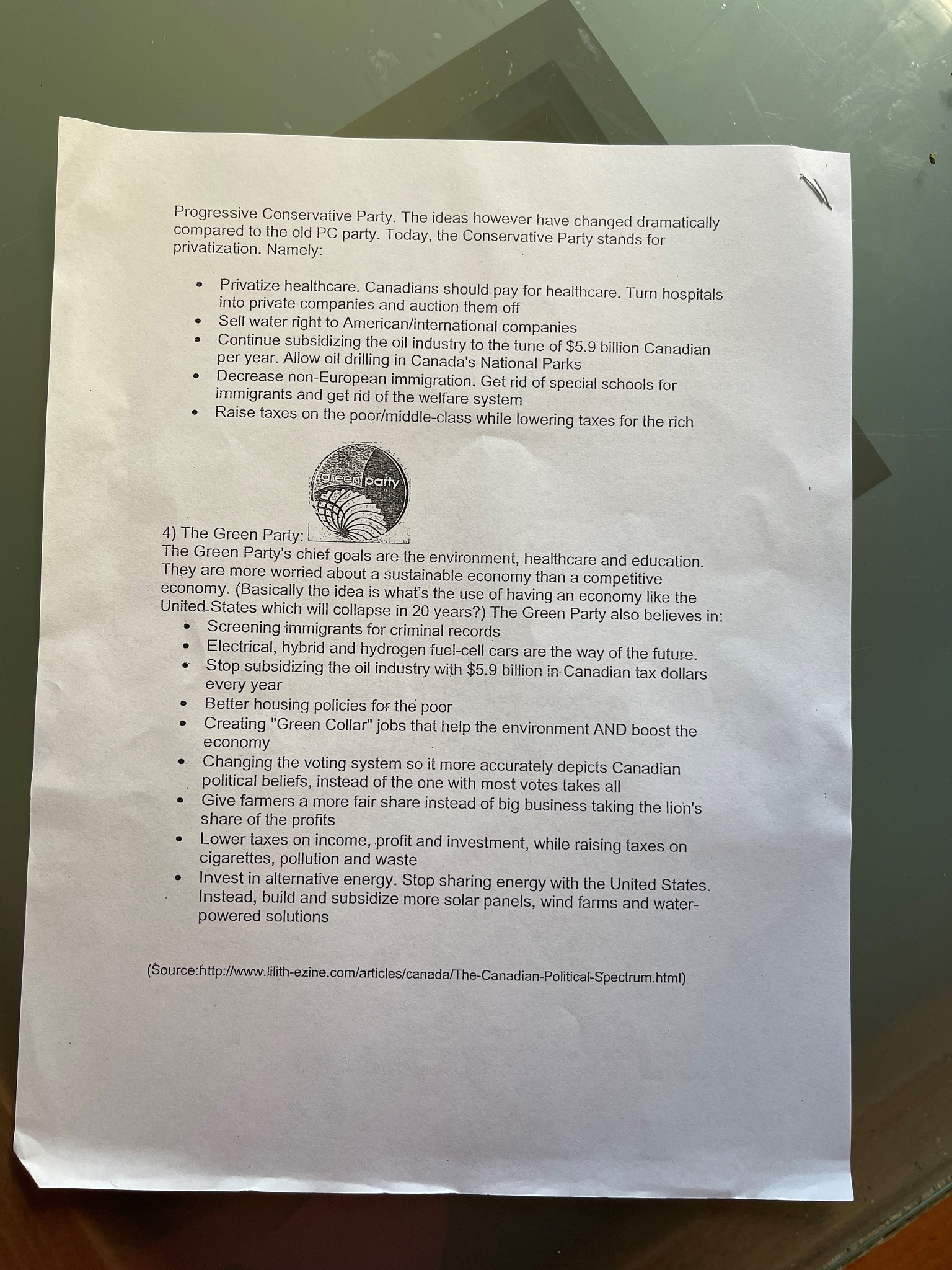 A prominent Canadian political commentator, Aaron Gunn, recently revealed in one of his Facebook posts that a chapter dedicated to 'Political Parties of Canada' in BC schools was not only ridden with heavy anti-Conservative propaganda but also was highly insensitive for school children. This is illegal as well as intoxicating! The school here in question, as per Aaron Gunn, is University Hill Secondary in Vancouver.
Let's show you what school kids in BC are being taught about the Conservatives!
As per the textbook, Conservatives stand for privatization. Conservatives want to strip Canadians of their free healthcare privileges and auction hospitals off.
The textbook reads that the Conservatives want to sell Canada's water rights to American companies
The paper also declares Conservatives butchers of the environment. It adds that they want to continue drilling in Canadian national parks for oil and gas.
The textbook also mentions that Conservatives are anti-poor, pro-rich, anti-migration and want to end the welfare system of Canada.
Also Read: There could be fresh elections in Canada soon, and the results are a foregone conclusion
The theory of fear psychosis at play
On the contrary, the content written in the textbook about Liberals and New Democratic Party suggests it is designed to butter up the Canadian elitists and not educate school students. The textbook appears as a political pamphlet and definitely not as a school syllabus!
A doomsday scenario is being fabricated to prevent the Conservatives from staking claim of the BC's premiership. In Marketing terminology, this is called "the theory of fear psychosis." First off, instil fear among your target audience, and then market your product as the only saviour. Similarly, NDP is working on this strategy to stymie the growing acceptance of Conservatives among British Columbians.
To put it bluntly, this is a disgusting strategy; a dead duck from day one. But we got to understand that New Democrats have no options either! A smear campaign against the Conservatives is their last-ditch effort to stay in the game. This campaign is their realization that NDP is going to lose in the upcoming elections big time. But this is only going to backfire and augment the rise of Pierre Poilievre in the province.