Europe is growing weary of helping crises-ridden Ukraine, whose fate has almost been sealed by a ravaging and righteous Russia. So, to avoid the question of helping Ukraine militarily, European nations are blowing petty issues out of proportion.
The latest case has emerged in the form of a tussle between Germany and Poland, where Berlin has tacitly accused Poland of stealing its secret defence know-how in the name of helping Ukraine. It's a well-known fact that Germany, from day one, has harboured second thoughts over showering Ukraine with military and financial aid. In fact, Chancellor Olaf Scholz's own chief of staff this week declared that the German military was still in its teenage years, and the US shouldn't expect it to do more to shore up a faltering Ukraine.
Tussle breaks out between Germany and Poland
Now, a growing tussle between Germany and Poland can further discourage the German military from helping the war-ravaged nation against Russia. When the war broke out, Germans hesitatingly delivered seven PzH 2000 self-propelled howitzers to Kyiv. In June, they went into action.
Now, it turns out that the Ukrainian forces 'over-exploited' the howitzers. The guns were used and deployed in conditions they were not meant for. As per Polish media, the guns are not made for handling fast and frequent changes of position. The lack of spare parts was also a major problem. As of today, all of the seven guns seem to have broken and gone off the battlefield.
Poland sees an opportunity in Ukraine's miseries
Now, the question arises, where would the guns be repaired? Initially, Lithuania was thought to be a viable option. But later, the realization struck that the Baltic nation was far away from the frontlines. Transportation to and from Lithuania would take too much of the valuable time Ukraine has to prepare for a Russian offensive. It was then when Poland saw in Ukraine's miseries a godsend opportunity.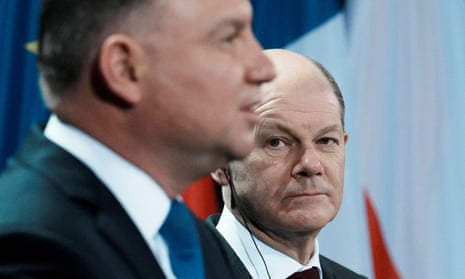 Poland came up with a generous offer. It touted itself as an obvious candidate for the repair work. Practically speaking, Poland actually is. It is located next to Ukraine in West. But soon Germany realized behind the curtains of Poland's generosity, lied a thirst for the secret know-how behind the manufacturing of the premium guns.
Poland's plan to access secret know-how
Poland threw up a condition that the repair work would only be undertaken if Polish companies are involved. German companies won't be allowed to touch the guns, Poland declared, as per the Polish media. A translated version of an article published on the Konflikty.pl website noted, "The inclusion of Polish companies, however, would require them to obtain permits, and this involves a partial transfer of know-how." Berlin firmly declined Poland's 'largesse.' Instead, it started exploring available means in Slovakia.
But, no plant in Slovakia either is permitted to undertake the repair work of PzH 2000 self-propelled howitzers. Now, this tussle over the repair work is slowly transforming into a diplomatic clash between the two nations. Poland accused Germany of playing cunning cards to avoid helping Ukraine. On the other hand, the Germans staged a controlled leak in the media to unveil Poland's nefarious plans to steal Germany's defence technology under the garb of its generosity for Ukraine.
The fact of the matter is, neither Poland nor Germany has the best interests of Ukraine in mind. And that's totally fine. Each nation has a moral duty to serve its own interests first. But what bothers the world is their false promises to stand behind Ukraine and take on Russia. Instead of playing vile cards, had Poland and Germany focused on hammering out peace talks with Russia, the situation today would have been way better and, at least, peaceful.