Zambia's president Hakainde Hichilema has removed Lillian Fulata Shawa-Siyunyi, who was the chief prosecutor of the country. Gilbert Phiri, who is a long-time lawyer of Hichilema, has been appointed as the Director of Public Prosecution. Shawa-Siyuni has challenged her dismissal in court but it is being said that she will not be reinstated. The new chief prosecutor was once the head of the Anti-Corruption Commission in Zambia.
Now, we at TFI Global explained how the current president of Zambia is a puppet of Biden and his allies. After coming to power, Hakainde Hichilema established strong ties with the West. Zambia voted in favour of Ukraine during the UN resolution vote condemning Russia's military operation, held talks with Volodymyr Zelensky, the first-ever in the history of Zambia-Ukraine relations and visited the White House to meet Vice President Kamala Harris. Harris and Hichilema emphasised the strengthening of relations between the US and Zambia.
In the wake of his loyalty to Biden, Zelensky and their allies, Hichilema was rewarded a bailout package of USD 1.3 billion by the International Monetary Fund.
But unlike Hichilema, the former president of Zambia, Edgar Lungu, had good relations with Russia. He understood the strategic, economic and military significance of having close ties with Russia. During a meeting with Putin, Lungu said, "There are a lot of various cooperation opportunities, and one of the main of them is energy. We want to use nuclear energy for peaceful means." In 2019, Russia signed a nuclear agreement with Zambia.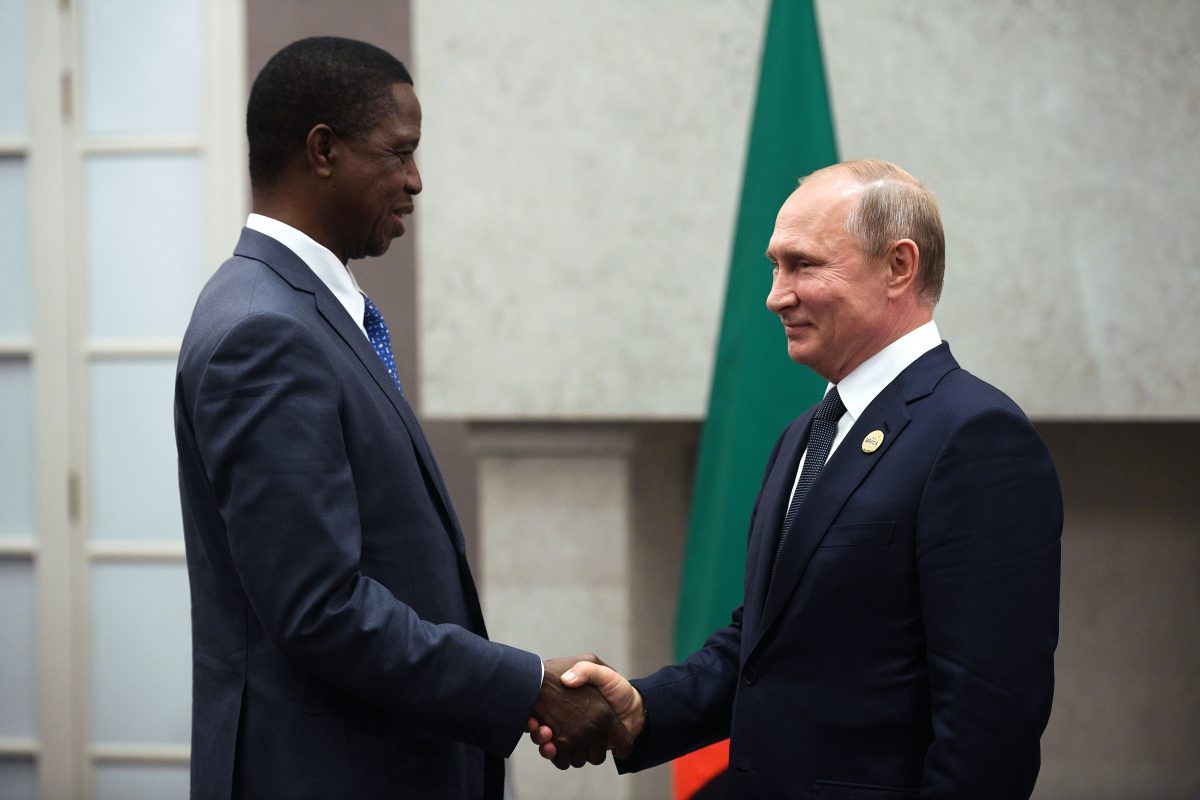 Read more: Equatorial Guinea is the next headache for West in Africa
Currently, under Hichilema, Zambia is grappling with an economic crisis which came in the wake of its decision to stand with the West which imposed sanctions on Russia and cut the supply of oil, gas and other essential commodities.
The US and Europe know that people in Zambia are bearing the brunt of inflation and in the next presidential elections, they are most likely going to vote for Edgar Lungu.
Lungu is pro-Russian, so if he comes to power then Zambia, which is rich in uranium, silver, cobalt, copper, coal, lead, silver, zinc, emeralds and gold, will move away from the dominance of the West and again establish its relationship with Russia.
Therefore, the  US and Europe want to entangle Lungu in corruption cases so that he is not able to stand in the next elections of Zambia. Biden and his allies are using their puppet, Hichilema, to settle their scores with Lungu. Lungu, who has been under investigation for corruption along with the former state officials, recently called on his successor Hichilema to remove his constitutional immunity so that he can prove his innocence.
Now, with the appointment of Hichilema's long-time lawyer Gilbert Phiri as the chief prosecutor of Zambia, one thing is certain and that is Edgar Lungu will soon be arrested. Lungu, whose economic advisor was also arrested in August, will receive a trial where no principles of law and justice are going to be followed. The entire case of Phiri, who was once a lawyer of the president, will be politically motivated.
Read more: 'Our problems are our problems,' South Africa, Botswana and Mozambique have sent a strong message to the West
The pro-US government of Zambia is using Phiri who is a puppet of Hichilema to conduct a trial against Lungu where questionable evidence will be presented and sham witnesses will give testimonies. The West wants to see Lungu get convicted and sent away to prison. Hence, a Zambia with Lungu in jail and Hichilema as president will not hinder Biden's plans to plunder its resources.
The vendetta politics of Zambia is being done on the instructions of the West which does not want a pro-Russian leader from becoming the president. The US and Europe are always threatened by leaders who oppose their diktats and refuse to compromise their nation's sovereignty and territorial integrity, Lungu is one of them. By following the instructions of Biden, Hichilema is betraying his people. He is giving Zambia's control into the hands of the US whose ultimate aim is to create political instability and establish its economic dominance.