Alberta's newly sworn-in premier is all set to show 'the real Prime Minister of Canada' his place. Yes, we are talking about Klaus Schwab, a German economist and mechanical engineer, who founded an NGO, the World Economic Forum, in Switzerland in 1971, when he was only 32. 
There is no doubt that the World Economic Forum has a big say in shaping the geopolitical system. Klaus Schwab has always been asserting the importance of WEF for the world. He repeatedly claims that he deserves the Nobel Prize for his commendable work. He also asserts that WEF has successfully "infiltrated" governments all around the world.
Trudeau has taken so many actions in the past that are consistent with Klaus' objective. Moreover, in 2017, Klaus himself confirmed that Trudeau and the entire Canadian government are influenced by his agenda. But, the question is till when?
Alberta Premier Danielle Smith has now announced she is terminating a health consulting deal with the World Economic Forum, an organisation at the centre of theories about global dominance because she will not collaborate with an organisation that manipulates countries.
"I find it distasteful when billionaires brag about how much control they have over political leaders," Smith said at a news conference Monday after her new cabinet was sworn in.
"That is offensive … the people who should be directing government are the people who vote for them.
"Quite frankly, until that organization stops bragging about how much control they have over political leaders, I have no interest in being involved with them."
The leader of the United Conservative Party asserted that she is in complete agreement with Pierre Poilievre, the leader of the federal Conservatives, who has declared that he and his caucus would not participate in the World Economic Forum. 
Read More: So, ArriveCAN is a WEF experiment after all and Canadians are rising up against it 
The deal with Alberta Health Services sees the province share ideas with health researchers at Harvard University and the Mayo Clinic under the forum's umbrella.
Conspiracy theories from both political parties have centred on the high-profile gathering of world leaders in politics and business.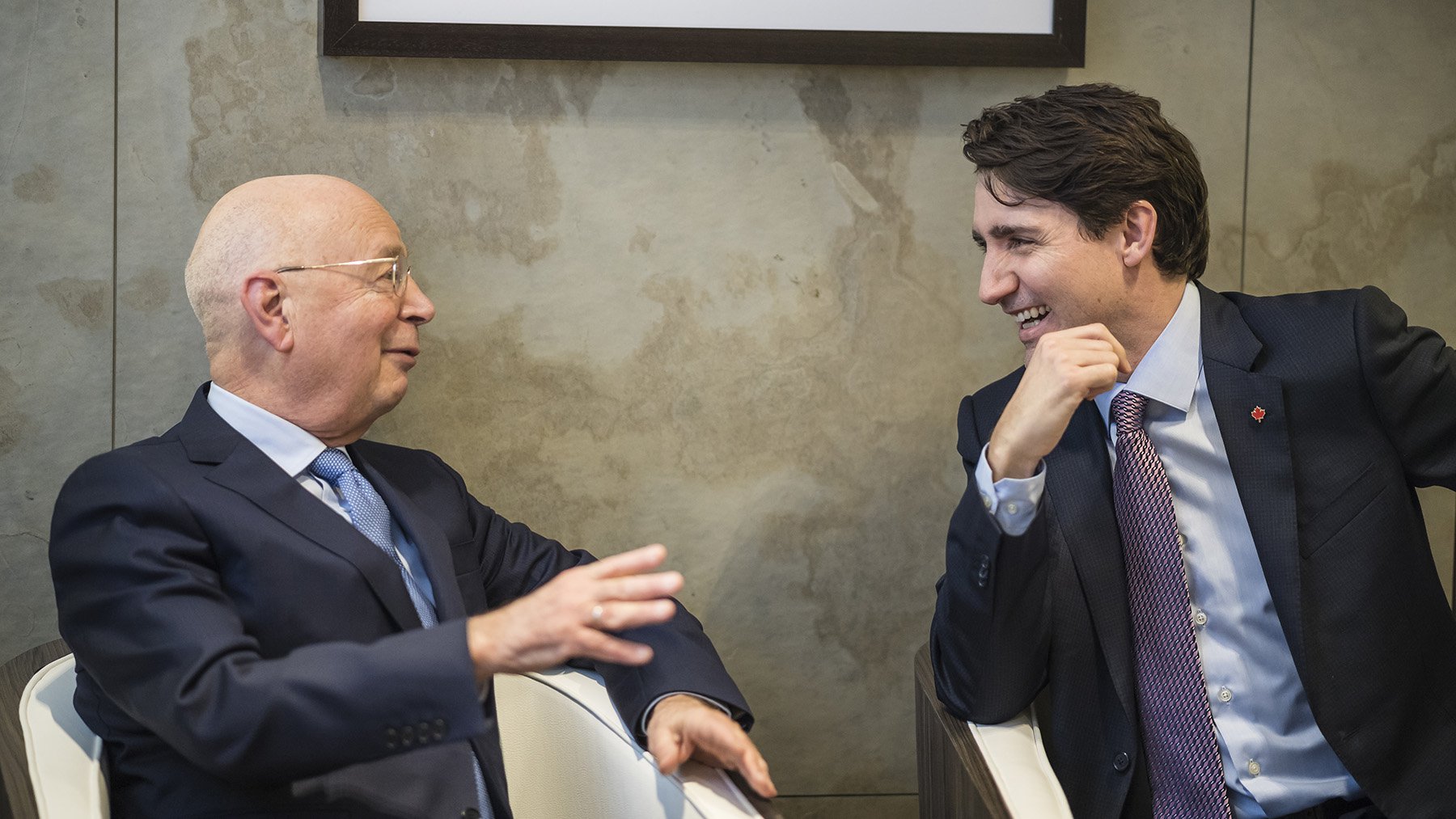 The left-wing accused it of plotting to eliminate pensions and environmental initiatives ten years ago.
When it called for ideas on how to better organize a post-pandemic global society and proposed a "great reset" during the COVID-19 pandemic, it came under attack from the right.
This sparked unfounded and refuted online conspiracy theories that the forum is fronting a global cabal of power brokers who are using the epidemic to undermine capitalism and impose harmful socialist systems and social control policies, such as making people take vaccines with monitoring chips. 
Friday during a live stream interview, Smith revealed the deal was coming to an end but gave no explanation. She chose not to answer two inquiries from the forum during a news conference on Saturday.
The premier was asked by a reporter Monday if she has concerns about the forum "because you accept the online conspiracy theory that WEF is a front for a global cabal of world leaders bent on using the pandemic to destroy capitalism and install a socialist dysfunctional dystopia."
Declining to answer, Smith stated, "I think it makes sense to make health decisions based on health experts."
This seems to bring an end to Klaus Schwab's assertions. He was able to "penetrate" Justin Trudeau's cabinet because most of its ministers were part of the WEF's Young Global Leaders program. But, now with a conservative leader in power in Alberta who is poised to break all ties with the forum, all conservative leaders will follow suit and Klaus Schwab is soon about to bite the bullet.
Read More: Klaus Schwab: The real prime minister of Canada
More than 80% of Trudeau's cabinet are graduates of the YGL school. This is the reason why WEF policies are implemented in Canada at the drop of a hat.
To be clear, there is a reason for asserting that Klaus is the "real" Prime Minister of Canada and that Trudeau is actually an actor who works for Klaus. But, now the conservatives are all set to kick the forum out with Danielle Smith in the driver's seat.