Geopolitics encompasses a broad range of concerns, and the Ukraine War is not the only game in town. Globally there are little conflicts happenings across the globe and for Canada, the tussle is going on for the dominance in Arctics.
Russia and China are locked in a sparking showoff to flaunt their dominance in the arctics, however, Canada which has Arctics in its backyard is not at all bothered about it.
Comparing Canada to other Arctic rivals, it has a weak military, and the Trudeau administration has chosen to concentrate only on internal problems. Yet, there are some international affairs that Canada wants to engage in for its own interests….
As the protests in the Caribbean nation of Haiti continue, Canada has decided to jump on this bandwagon, that too, for its own interests. According to media reports, Canada had sent a team to Haiti to assess the country's deteriorating security situation.
Canadian foreign minister Melanie Joly met with her US counterpart Anthony Blinken in Ottawa to discuss a Washington-led proposal to send an international armed force to the Caribbean nation, Canada has decided to assist Haiti's Prime MInister Ariel Henry.
Reportedly, Foreign Minister Melanie Joly in a statement on the situation in Haiti stressed, "Canada and the international community are concerned about the violence in Haiti, in particular against women and girls. Canada will not remain idle while gangs and those who support them terrorize Haiti's citizens and we will continue to support law-abiding Haitians to put an end to the crisis in their country,"
In addition, the Canadian delegation is also considering "how Ottawa can contribute to the international response" in Haiti, the foreign ministry stresses in its statement.
Canada: A party in Haiti's hindrance
Notably, this announcement came as US Secretary of State Antony Blinken made his first official trip to Canada to hold talks with Joly and Canadian Prime Minister Justin Trudeau, and surprisingly, they both started their conversation with a discussion on Haiti, where Canada has equally engulfed itself to keep a say on nation's natural resources.
History has it written that Trudeau has played similar dirty games in Haiti as much as Biden.
After former President Jovenel Moise was assassinated last year, a group of foreign diplomats known as the CORE group pushed Ariel Henry to form the new administration. For those who don't know, there are also Canadian ambassadors in the CORE group.
Furthermore, Canada is also one of the top contributors of CARICOM, which is an institution of the Caribbean Community to provide financial or technical assistance to disadvantaged countries, regions, and sectors in the Community.
However, experts for the long haul had raised concerns about Canada's involvement in Haiti.
While Canada continues to commit itself to Haiti, experts who have closely followed the country's events over the past 20 years argue that the country now needs to be left alone.
In an interview with CTV News, former Canadian ambassador to Haiti Gilles Rivard said, "I have to keep saying what we've been saying for a long time, let Haiti decide its own destiny,"
According to Rivard, Canada shouldn't get involved in the country's affairs until it can reach a consensus between its people and the government to have elections and establish a stable administration.
In addition, Haitian-Canadian activist Jean Saint-Vil also stresses that the Haitian people have been feeling the same. She stresses, "Get out. Haitians have been telling Canada, the United States, and Europe to get out,"
Read More: Haiti has trillions of dollars worth of natural gas, but the West doesn't allow it to prosper
Hypocrisy: Trudeau's greatest virtue
Th thing is that, both US and Canada consider Haiti as free real estate, and they want to keep a hold of the country's natural resources until eternity.
For the unaware, Canada has a huge chunk of share in Haiti's gold exports. The nation of Haiti is thought to have gold deposits worth about $20 billion. But, sadly companies such as Majescor Resources from Canada have a major say in this gold.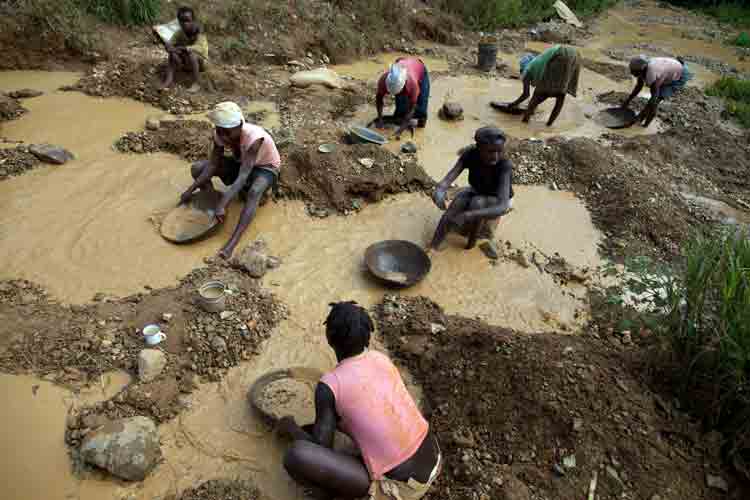 Recently, Majescor bought rights to prospect 173 square miles of the island for gold production.
So, one could easily understand why Canada, despite so many calls is not ready to back off from Haiti. Haiti is like a goldmine and a treasure for western powers, especially Canada and the USA.
Canada is ready to help Haiti militarily to crush the rising dissent. But, it is not at all bothered about its own abundant vast natural resources and the Arctics.
Right now, natural gas is the king, particularly liquified natural gas from the Arctic because "that's what's marketable" and needed by China and Europe. Russia knows this exactly and that is why has it its eyes set on Canada's own backyard, the Arctic.
Read More: The Arctic challenge that Canada has conveniently forgotten about
Engaging in Haiti is foolish; at this time, Ottawa should pay attention to the Arctics and the mood of Haitian people and offer help to them, but its love of nefarious policymaking is once again getting in Canada's way.