Cuba, a small Caribbean island is going through high inflation and food crisis due to many factors because of sanctions being initiated by the West, which only desires power and prestige. This island country is dependent on foreign imports. Recently, even a hurricane has come on the doorstep of this country. There is a voice that demands Washington to remove sanctions initiated by Republican President Donald Trump but Cuban Americans are in support of the Republican President. Let's discuss this confusion here
A decade old loyalist of the Kremlin, Cuba seems to be under a dilemma when it comes to its communist ideology, Western outreach amidst rainy days plus the decade old sanctions along with new challenges such as the Covid pandemic and the Ukraine war. The two events have created a question for survival for developing as well as underdeveloped countries; Cuba being one of them.
Havana seems to be stuck between a rock and a hard place when it comes to her economy and which side is to be taken, Trump or Biden. The question which comes in between is why support the person who hurt sentiments, economic growth and movement of Cuban migrants to and from their homeland?  However, it is surprising to see that Donald Trump is being favored by the Cuban Americans of South Florida.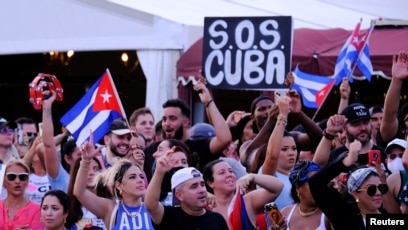 Here, even though Joe Biden has maintained a soft stance on Havana by providing a little relief on visas, economic aid. The perception creating strategy seems obsolete only if Biden works towards the cause of the migrants. Biden is aiming to introduce reforms because of illegal migration being curtailed through the Mexican border. A successful strategy in tackling migration and visa issue may be useful for Biden to win over the minority groups vote.
The recent cyclone Ian also has certain impacts on Cuba's affairs where again Washington offered a helping hand, trying to find a ground to counter any other power's initiatives. This cyclone severely impacted electricity and food supplies amidst a very turbulent phase. Washington's aid amounted to USD$ 2 million during this emergency.
Read More: Ever wondered why most Caribbean countries don't have stable governments
The US is known to have always been hard on Cuba since the Cold War as this island country was a strong ally of the Soviet Union and a key player in the 1962 Cuban Missile Crisis. Even, Former Presidents Kennedy and Eisenhower were instrumental in organizing and arming citizens to overthrow Fidel Castro but failed. Even, now the country is supportive towards socialism and very skeptical of US imperialism whose seeds were sown in the Castro era.
Why Need Moscow?
Moscow, an isolated country due to her misadventures is losing out when it comes to building relations with countries. Now, the Russians are incentivizing its former USSR allies such as Cuba. The discourse vis-à-vis the Ukraine crisis is widening and taking new directions. The Kremlin has seemingly provided Havana with USD$ 352 million worth barrels of oil, which will be useful in tackling 40 per cent of the island's supply shortfalls. This island country was dependent on oil imports for decades.
Why Trump over Biden in Elections
There needs to be clarity of thought, for Cuban Americans voters what they want and what they don't? Why support a man who might be tough on immigration and Cuba again. Biden's policies in Ukriane and relations with Moscow may have been week, which lead to him receiving widespread international skepticism, which may have turned voters towards Trump.