As of now, little enthusiasm has been seen among the African nations regarding the Climate change. There are enough evidences and reports that these nations are on the cusp of being the most vulnerable to climate change. Despite the fact that these nations will be most affected by it, this reluctance to fight climate change continues. Egypt appears to take a position in this matter, though by participating actively in recent climate change summits. For instance, Egypt is hosting the COP 27 meeting rather than just participating in it. Additionally, Egypt has announced plans to construct an undersea cable that would link Egypt and Europe. But does constructing such a massive project come with an objective, given that historically these African governments have been considered as reticent to take any such action about climate change?
Also Read: Egypt rips into the West reneging on their $100 billion annual 'green aid' promise
Climate change and Africa
Currently, Africa is warming more quickly than the rest of the world. The rapid consequences of climate change may make large areas of the continent uninhabitable, which would have catastrophic effects on human health, food security, and poverty. However, the governments of these African countries have not taken significant actions in this regard. Instead, these governments are inextricably entwined within severe corruption crisis and subpar administrative issues.
But Egypt seems to break the ice in this regard. One, it is going to host the COP 27 and two, its plans to build the undersea cable as mentioned earlier. You see, the undersea cable from northern Egypt to Attica, Greece, will be able to transport 3,000 MW of electricity, which is enough to power up to 450,000 homes, according to a report published by Euronews last month. This move indeed will ease the energy cravings of the European nations.
"By bringing 3,000 MW of clean energy to Europe, via Greece, we are helping Europe wean itself off Russia's fossil fuels and natural gas. Also, the green energy we will transport will be much cheaper than today's energy prices. You understand that this will help both Greek and European consumers", said Ioannis Karydas, CEO of Renewables, Copelouzos Group.
"Approximately one third (of the electricity that will come from Egypt) will be consumed in Greece, and mainly in Greek industries, another third will be exported to neighboring European countries and one third will be used in Greece, for the production of green hydrogen. The majority of this hydrogen will also be exported to neighboring European countries", added Ioannis Karydas. However, we believe that Egypt's construction of this massive undersea cable project undoubtedly has ulterior purposes.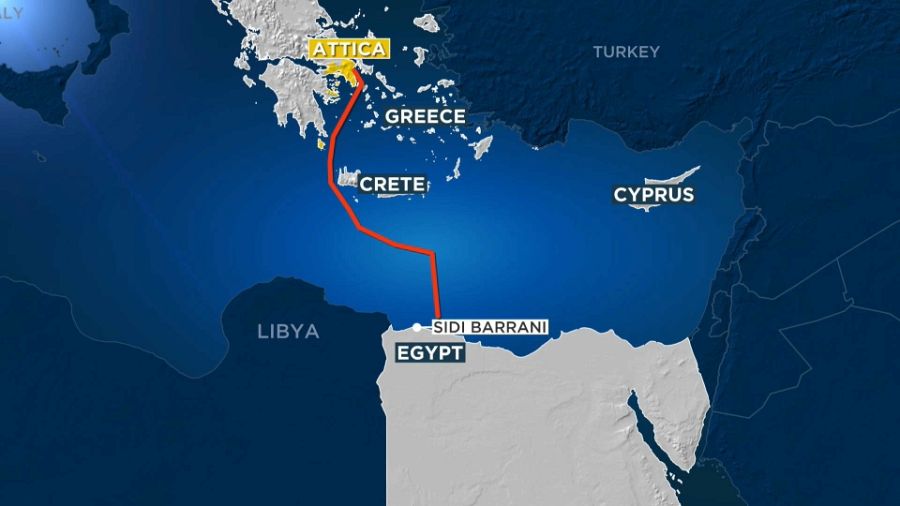 Egypt—an opportunist
You see, Europe is presently facing a huge energy crisis due to its reckless decision to ban the import of Russian gas and coal amid the Russia-Ukraine war. Considering Europe's huge dependence on Russian energy, it is going hay-wire to look for alternative sources of energy. Additionally, it will obviously make sure that it is willing to spend whatsoever amount of funds necessary to seek an alternative energy source.
Taking the advantage of this opportunity, Egypt knows how to feather its own nest. Egypt knows that if it seeks an X- amount of money to build or develop this undersea cable project, Europe would provide that without any terms and conditions. There wouldn't be any 'ifs or buts' on Europe's part. And as a result, Egypt is in a win-win situation. It will initially receive finance for the project, and then once it is finished, it will receive a ready-to-sell market for this energy. Ultimately, Europe would become a cash cow for Egypt. Also, a closer examination of the Egypt's relations with Russia reveals that they are cordial. It is obvious that Russia's grip over Europe would remain in place indefinitely if Egypt were to indirectly seize control of the continent's energy sources. Therefore, it is obvious that Egypt has influence over Europe regarding any future events that are likely to occur.
With this, the rest of the Arab world will use Europe as a future victory card for sure. But for now, Europe is surely all set to become a cash cow for Egypt.