Agriculture in Zimbabwe : West has always used its sanctions regime to control nations. It has used sanctions against Zimbabwe too but farmers of Zimbabwe are defeating the West in its own game.
Zimbabwe has stated that it is going to harvest about 380,000 and 400,000 tons of wheat this year. However, there was a time when it faced food scarcity due to which it had to depend on other countries.
But things are changing now.
Agricultural production in Zimbabwe is growing with the efforts of the government, financial institutions, and private players. Last year, Zimbabwean farmers grew wheat on 66,435 hectares which was the third highest hectarage since independence and fifty per cent more than the previous year. The efforts were a part of several government programmes such as the Presidential Inputs Scheme.
Farmers' union stated that the quality of the wheat was satisfactory. Union's executive director said, "Wheat production took off very well with increased hectarage compared to the previous season. Combined, over 65 000ha are under wheat. If it was not for some funding and logistical issues, the current hectarage could have been surpassed." (sic)
All this is happening because Zimbabwe is taking constructive steps in agriculture. President Emerson Mnangagwa's government implemented policies which are intended to draw young and educated people in agriculture as well as Zimbabwe White farmers. White farmers have settled in countries like United Kingdom and South Africa after their lands were confiscated by former president Robert Mugabe's regime as part of its controversial land reform programme.
Mnangagwa's Government announced that it is going to give 99-year land leases to the White farmers and will ensure their security. Following which, they have resettled in Zimbabwe and are doing business with the people of the country creating an environment of skill development, productivity and financial progress.
Agriculture in Zimbabwe is rapidly growing. It is evident from its yield of 2.7 million tons of Maize, which was nearly three times of that of 2020 and was the largest yield in two decades.
Read more: Zimbabwe kickstarts reforms to rid its Judiciary of colonial hangover 
Sanctions of the West
Now, the West imposed sanctions on Zimbabwe during the rule of former leader Robert Mugabe. The decision was taken in the backdrop of land reform programme of the government, according to which lands of White farmers were seized and redistributed to landless Black farmers. The US and Europe also cited lack of democracy, no regard for human rights and election fraud as reasons for its decision.
However, the main reason for sanctions is that Zimbabwe does not follow the diktats of the US and Europe and has good ties with Russia. The West, which is always involved in inciting political tensions in other countries, does not care about peace, democracy and rule of law in other countries.
It destroys the economies of those nations which refuse to acknowledge its dominance and put hindrance in their questionable agenda and Zimbabwe is one of them.
Read more: Ethiopia's first Goldmine of the 21st Century starts operations days after TPLF's surrender
Due to these sanctions, Zimbabwe's economy has suffered massive losses. The African nation is struggling with inflation, unemployment, poverty and debt crisis.
In fact, a report released last year uncovered that the African country has lost more than $100 billion in grants and loans from African Development Bank and other financial institutions. This has further contributed to the deterioration of economy of Zimbabwe.
Similarly, data from the World Bank discloses that Zimbabwe's GDP had fallen from $6.78 billion in 2001 to $4.42 billion in 2008.
But the West falsely claims that sanctions are only put on 85 people including the President which does not have a significant repercussion on the economic condition.
But the Zimbabwean farmers have taken the lead to fight the sanctions regime of the US and the West.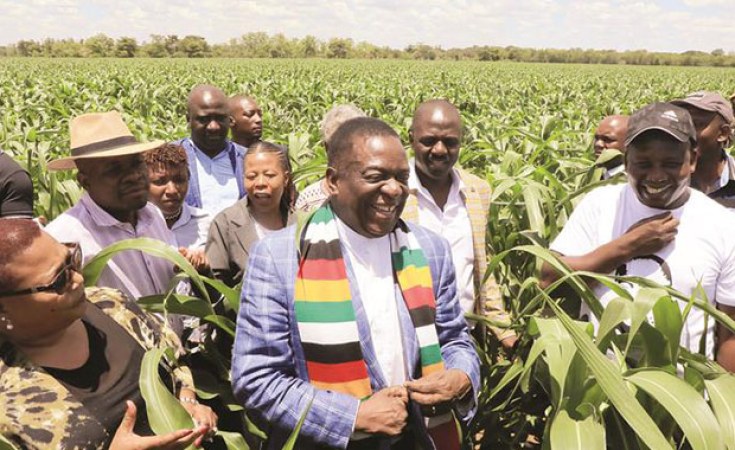 Zimbabwe will become self-sufficient
However, despite these sanctions and their devastating implications, Zimbabwean farmers managed to increase the food production of the country. The high yields prove their determination, hard work and focus in emancipating their country in light of the economic isolation it has suffered for decades.
No major country can do trade with Zimbabwe which has resulted in a catastrophic situation in the African nation. For a long period, it was plagued by food insecurity and malnutrition and had to rely on other states for food.
When a nation is dependent on other nations for food it is not independent in a true sense. The Zimbabwean farmers had realized this and worked to get rid of the food crisis and empowered Zimbabwe to become a self-sufficient nation. Now with bumper yields Zimbabwe can even help other needy African countries.
But now it is certain that Zimbabwe is on a path to become self-sufficient and a financial boom is evident in the wake of the efforts of its farmers.
Zimbabwe's story can motivate other African nations, which too are victims of the unconstitutional, unlawful and undemocratic actions of the US and Europe and depend on Zimbabwe for a basic necessity like food, to take courageous and commendable steps in agriculture.