2022 is the scheduled year for the presidential election in Libya. The period for presidential candidates to register began on November 7 and ended on November 22, 2021. The first heavyweight candidate to enter the election race was Seif al-Islam, the son of the assassinated dictator Muammar Gaddafi who was once thought to be his heir and whose whereabouts have been kept secret for several months. The commander of the Libyan National Army, Khalifa Haftar, who is backed by Russia, has also declared his candidacy for the upcoming elections.
A political comeback for Seif-al Islam?
Seif al-Islam, who was also given the death penalty by a Tripoli court in 2017 for crimes committed during the uprising, had been the subject of months' worth of rumours that he might run for president. It is important to know that the Tripoli based regime is West backed and is recognized by the United Nations, it is used by the West to control Libya.
Seif al-Islam came out of hiding in July and informed The New York Times that he intended to make a political comeback.
After a decade of chaos, he stated in a rare interview that he wanted to "restore the lost unity" of Libya.
A threat to Western influence in Libya?
Seif's aspirations to become president are being taken very seriously despite his ghostly appearance. According to the scant polling data available for Libya, many Libyans—up to 57 percent in one region—express "trust" in him.
Seif's reputation is one of his political assets. Another oddity is that many now believe Muammar Gaddafi's son is the most ethical presidential contender. All of the other political hopefuls have significantly more recently tainted themselves through self-dealing and connections to the armed thugs who were once heralded as revolution heroes.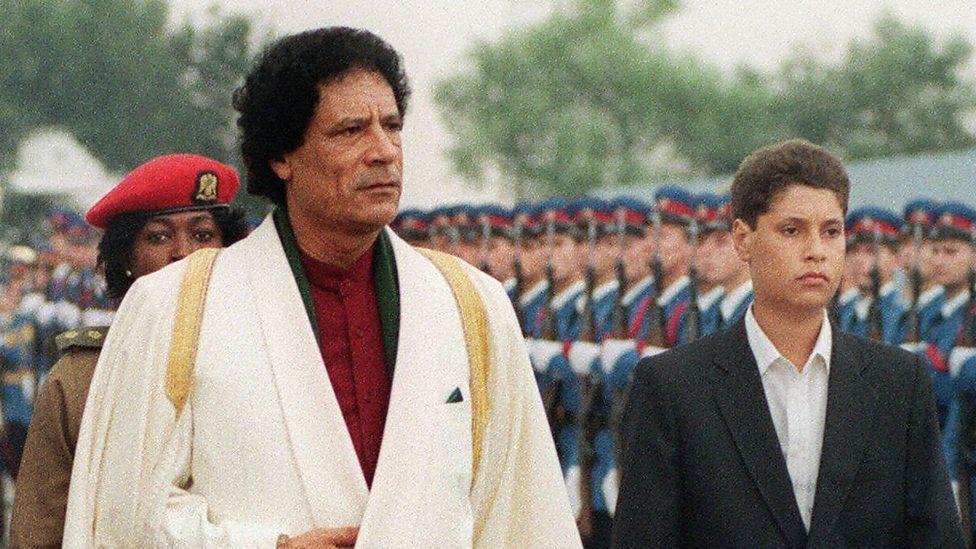 Seif's victory would undoubtedly represent a symbolic victory for Russia. The Kremlin is still a major military actor in Libya with its own troops and roughly 2,000 mercenaries remaining on the ground, would also be supportive of it.
Because of Haftar's military setbacks, Putin's assessment of him as a viable alternative to further Russian influence in Libya had shifted. Thus, the prospect of using the approaching elections to achieve Russian objectives gained appeal. In this situation, Russia started to protect its bets by endorsing Seif as a candidate in the upcoming elections in Libya.
Furthermore, while Western nations have formally supported efforts to find a peaceful resolution to the situation in Libya. But their support for Haftar on the diplomatic and military levels is nothing but a charm offensive. For instance, there are rumours that Haftar is receiving military assistance from the United States. But the nefarious plans of the West have failed to attract Haftar to its own camp.
In conclusion, the emergence of Seif may spell the end for Western objectives in Libya and can also obliterate the West backed Tripoli regime from power. As a result, the United States has begun to employ all the nefarious strategies from its famed foreign policy playbook to halt Seif's ascent.
The usual human rights theatrics:
According to recent reports, the International Criminal Court's (ICC) chief prosecutor Karim Khan has met families of victims of alleged killings by a notorious militia at the site of mass graves in western Libya.
You see, due to his involvement in the 2011 crackdown, Seif is sought by the International Criminal Court for crimes against humanity. Therefore, the fact that the ICC's latest visit in the backdrop of Seif's rising political aspirations cannot be merely coincidental. And the entire world has seen how America has manipulated so-called "humanitarian intervention" to further its goals of regime change.
However, it's crucial to remember that Karim Khan had supported Seif al-Islam Gaddafi before taking over as the ICC's chief prosecutor. Therefore, it's possible that America is utilising Khan's prior ties to Seif to forge positive relationships with the country's emerging political leader, especially given the fact that the America's previous strategy to support Haftar didn't go as planned.
It is also possible that Khan is planted by Russia given the fact that he has defended Seif and also Kenya's Ruto previously. By his past it looks like he is a Russia sympathizer sitting on a crucial post in the Western camp and West trusting Karim as an ally can also backfire.
However, only time will tell how effectively this latest ruse will work to America's advantage. But given the current state of affairs, it is becoming ostensibly obvious that Seif's ascension in Libya could demolish Western hegemonic dreams.