Since last 8 years, one man has held the helm of affairs in Canada. Prime Minister Justin Trudeau has served three terms in parliament and is set to run for a fourth. In all these years, what has been his report card? Well, at this point, his performance, as well as his approval ratings, have reached rock bottom. 
Canada under Trudeau is reeling under all kinds of problems, be it an affordability crisis, rising inflation, a housing crisis, a healthcare crisis, diplomatic setbacks, rising extremism, and more.  Some believe his policies are too assertive and label him as the next dictator in the making. In fact, widespread public discontent with him is visible on social media, where popular hashtags like "Trudeau must go" are popular.
As Canadians grow more and more dissatisfied with their PM and the ruling Liberal party, it's the opposing Conservative Party of Canada that has gained public support. And one man is driving this shift-Pierre Poilievre.
In September this year, the conservative party of Canada elected Pierre Poilievere as its leader.  Since his election, the CPC has surpassed the liberals in every poll. In fact, polls predict that if Canadian elections were held right now, Poliever would defeat Trudeau to become the country's prime minister. So who is Pierre Poilievre and what explains his rise?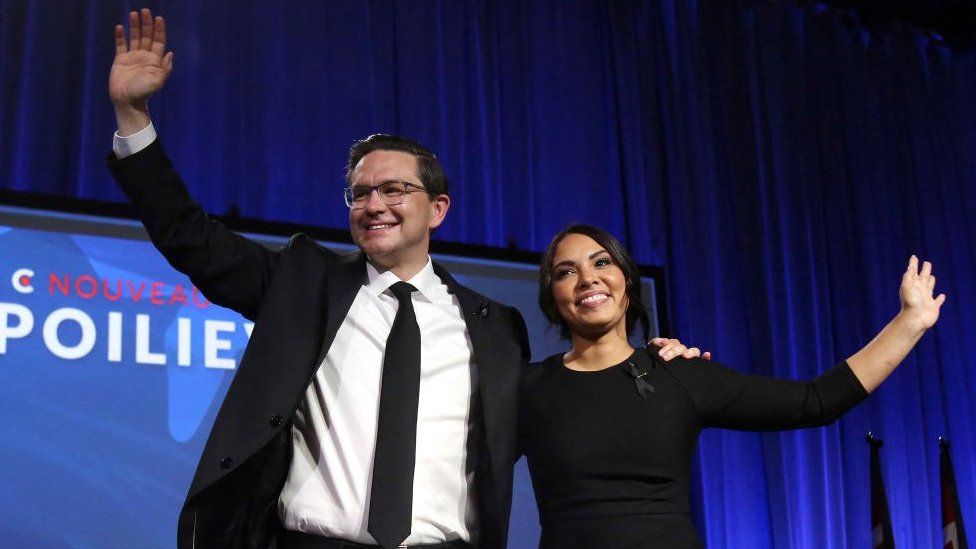 Born on June 3, 1979, Pierre Poilievre became a Parliamentarian at the age of 25. He rose to the ranks of the Conservative Party and served as Minister for Democratic Reform and later handled the Employment portfolio in the Government of former PM Stephen Harper. He enjoys enormous support from the Conservative Party's grassroots.
Read more: Pierre Poilievre is Justin Trudeau's new political guru
After becoming the face of the Conservative Party with a heavy majority, Pierre Poilievre has talked about and offered a conventional conservative set of remedies to Canada's pressing issues of economic growth, open markets, and more personal freedoms. He portrays himself as a man of the people, and an outspoken conservative who is not hesitant to take conservative positions on various subjects. Poilievre's campaign promises to counter inflation, ensure Canada's energy independence, protect the borders, and talk about the "Canadian dream."  He has openly criticized the current administration on a number of pressing concerns, from the economy to foreign interference in Canadian affairs, as well as on upcoming legislation that aims to control online expression.
He is also highly popular among young Canadians, something that is unexpected from a Conservative leader. Pierre Poilievre has seized an opportunity by delivering a sensible message that targets the dissatisfaction and the economic fears that are plaguing young Canadians. That includes continuing frustrations about the inaccessibility of home ownership, income instability, and inflation.
In fact, one of the reasons attributed to his rise among young voters is his growing online presence. Pierre Poilievre has established one of the biggest social media fan bases of any Canadian politician over the years. He has run one of the most effective leadership campaigns in Canadian political history.
Read More:Pierre Poilievre has successfully cracked the Canadian prime ministership formula
All of this combined, Pierre Poilievre is giving a tough time to Justin Trudeau and other Liberals, so much so many members of the party are wary to take any stance that can leave their position detrimental.
And as Liberals are worried, they are not leaving any stone unturned to malign the image of the rising politicians. The liberals, along with their funded media, occasionally launch ad hominem attacks against him; they run campaigns against him, labelling him a misogynist and a terror supporter. But all these efforts are bound to go in vain. Pierre is topping all the charts in opinion polls, and he is gaining trust and popularity. As Trudeau continues down the wrong path, Pierre has undoubtedly discovered the perfect path and is set to be added to the list of leaders who came to power by deposing an elite and incompetent administration.