'Military Intervention' is often justified as a means of humanitarian assistance to restore peace and stability in a country. And throughout history, this justification has allowed for a number of military interventions.  However, there is always an ulterior motive behind the intervention. It can be to influence the outcomes of the conflict, exploit the resources of the country, or install a puppet government. An apt example of this would be US misadventures in Iraq, Libya, Vietnam, Panama and so on. Even a small Caribbean country Haiti comes to this list, which has been reeling under severe unrest. But this time the US itself does not want to intervene, it wants Canada to head towards a failed misadventure…
Haiti has been wrecked under a humanitarian catastrophe. There is a shortage of everything from food to fuel. On top of it, is a cholera outbreak. As the situation worsens, Haitians are taking to the street and demanding the resignation of Prime Minister Ariel Henry. 
Ariel Henry took the charge after the former President of Haiti Jovenel Moise was assassinated last year. Though his death still remains a mystery, some reports have blamed the US military for the incident. After the assassination, the US and its allies installed Henry as the caretaker president of the nation. However, Haitians say the new leader has not done anything to earn their respect.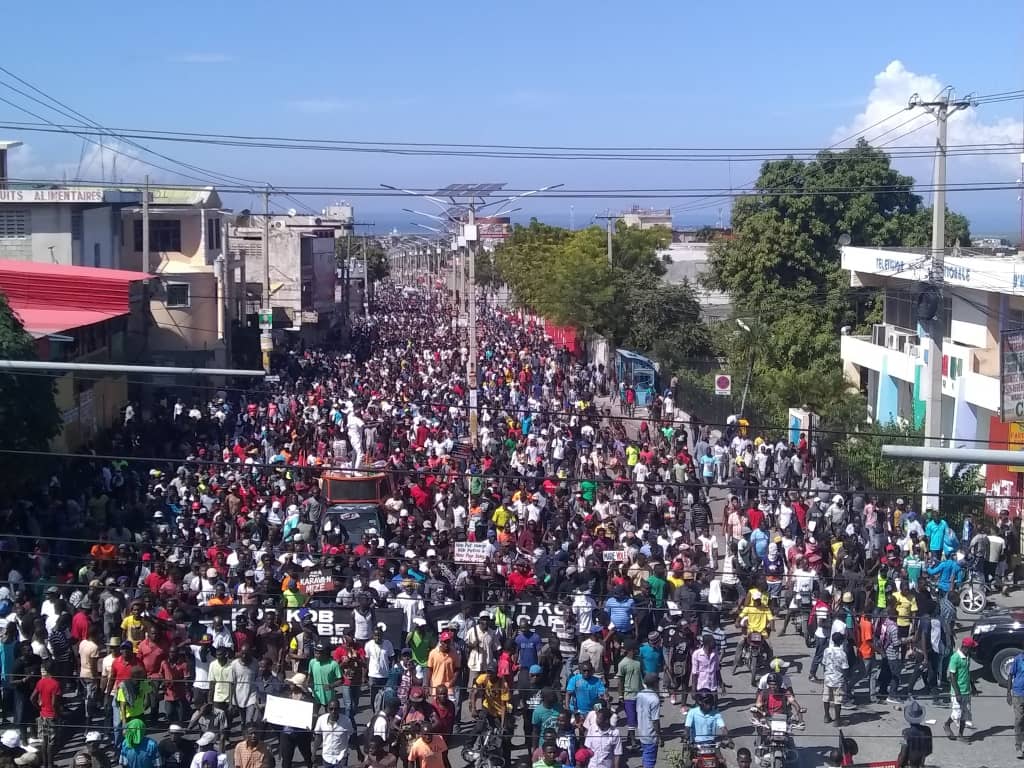 Read more: US and Canada are now using Haitian police to slaughter dissenting protesters
The West has tried to solve the ongoing crisis in Haiti by considering sanctions for the gangs and their elite backers, however, the move has been labelled a largely symbolic solution by Haitians. Instead, they have asked the Biden administration to stop propping up Henry, but to no avail.
Throughout its history Haiti has seen several foreign interferences, still, it remains one of the poorest nations on the planet. West's so-called efforts to stabilize and develop the country have ultimately ended in failure. 
And now, yet again, Mr Biden is overseeing another intervention in Haiti's political affairs, following an old Washington playbook. They are backing Haitian leaders accused of authoritarian rule.
But this time the US is wary of direct military intervention in the country. Biden's administration has made clear it has no desire to send US troops in harm's way. After major foreign policy setbacks like a botched withdrawal from Afghanistan, the US right now cannot afford another failed military endeavor. So will it stop interfering in Haitian affairs?
That's not a possibility, as Haiti is vital for American interests.  Haiti possesses some of the greatest oil reserves in the world. It is predicted that its untapped reserves could include up to 941 million barrels of crude oil and 1.2 trillion cubic feet of natural gas. Furthermore, the nation is thought to have gold deposits worth about $20 billion. 
But instead of sending its own troops, Washington is asking Ottawa to lead a military mission to Haiti. 
Trudeau has repeatedly met with CARICOM officials to discuss Haiti. Just like the US, Canada too has interests in Haiti. Canadian companies have a major say in the use of Haitian gold. 
So Canada might be leading a military intervention in Haiti, obeying orders from the US. However, according to new media reports, the Canadian government has stated that Canadian military intervention in Haiti can't happen unless all political parties in the troubled nation agree to it. Perhaps the government is being cautious and realizing the implications of the intervention.
Read more: Liberal Trudeau government frames a Black Haitian for the assassination of Moïse because it's convenient
The intervention would not be the right move both from a humanitarian as well as a geopolitical lens. By interfering in the country, Canada will be leading an imperial misadventure, which will only prolong the crisis in the country. This is not what Haitians want. Further, can Canada's weak military afford to lead the intervention? Absolutely not! Canadian military officials have clearly stated that they aren't in a position to deal with any challenge, as they do not have the equipment or the required number of personnel. 
And finally, there is another major military challenge related to the race for the Arctic. Russia and China, along with many other nations, are trying to spread their tentacles in Canada's backyard, but the government is paying no heed. 
If the Canadian government takes this causeless action, it is bound to fall flat and destroy its remaining military resources. Prime Minister Trudeau should be cautious of his powers and must not use them just for fulfilling some ill-intentioned orders of Washington.