The Caribbean, of late has been trying to diversify its circle of friends as it has begun to comprehend the repercussions of the unidimensional relation with its ally, the United States of America.  The region has attracted a vast number of Washington rivals, owing to the importance it holds for America. The latest addition to the list is the United Arab Emirates.
A few days ago, St Kitts and Nevis had invited UAE to enhance relations by an investment program. Reportedly, Terrance Michael Drew, the PM of St. Kitts while announcing the invitation to UAE said, "We had a number of discussions with the UAE officials on a number of topics and one of them is renewable energy. The citizens and residents of UAE can also benefit from the investment opportunities that St Kitts and Nevis offer.
And now, the Prime Minister of St. Kitts/Nevis, Dr. Terrance Drew has written to the leader of the Dominica Labour Party (DLP) Roosevelt Skerrit congratulating him on his general election victory and praising him for his political success over the years and his contribution to his country and the region.
Be assured, the leaders in the UAE would undoubtedly have condoned this. You see, Abu Dhabi has been attempting to broaden its sphere of influence over the area. As a result, it makes perfect sense for the Arab nation to capitalise on its partnership with St. Kitts and increase its presence in the region.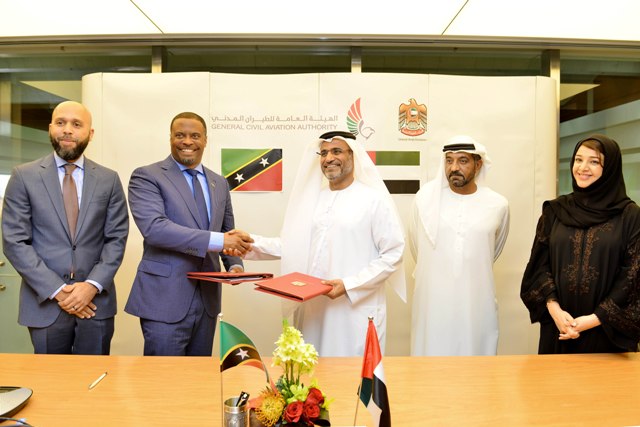 Furthermore, Abu Dhabi has taken numerous steps, in its own capacity to strengthen ties with the Caribbean. The UAE Ministry of Economy is exploring joint investment opportunities with several Caribbean nations as the Arab world's second-largest economy continues to seek new economic partnerships across the globe.
Abdulla bin Touq, Minister of Economy, has met several ministers from Caribbean countries to discuss mechanisms to enhance economic and trade co-operation, and agreed on new action plans that can help expand economic co-operation,
Mr bin Touq also held a series of bilateral meetings with several ministers in the Cuban government, including Betsy Diaz, Minister of Internal Trade, and Rodrigo Malmierca, Minister of Foreign Trade and Foreign Investment, on the sidelines of the Havana International Fair 2022.
The minister also met Alejandro Fernandez, Cuba's Deputy Prime Minister and Minister of Economy and Planning, and held meetings with private sector representatives.
In all honesty, the Caribbean and the UAE today have similar attitudes toward their once-friend but now-enemy United States. They both want to deepen ties outside Washington, D.C., and realistically, a UAE-Caribbean cooperation may work well.
But this would be growing bonhomie would not be music to US President Joe Biden's ears. Without a doubt, the Caribbean has historically been an American ally, but Washington's relentless subjugation and coercion have caused the region to reevaluate its geopolitical equations. Therefore, America must give up its lofty and patronizing foreign policy of the Jimmy Carter era if it actually wants to maintain good relations with its longstanding allies like TT.
The Caribbean states perceive a condescending stench when democratic ideas, human rights, and other issues are frequently discussed. Consequently, it is obvious that they are turning more and more to diplomacy with nations like China Russia and now UAE to advance their goals. America must therefore seriously reconsider its chauvinistic foreign policy and treat the Caribbean nations equally if it truly wants them to support it.