Capital serves as a focal point for perception of a country. Capitals play a vital role in a country's economic, political, and cultural life. It is the epicentre of political activity. It is usually the largest and most populous city in the country and often serves as a hub for transportation, commerce, and culture.
While almost all Capitals in Europe fulfil the criteria, Berlin is a misnomer. It's a disgrace to Germany. Germany will do better without it.
Remember the infamous research by Cologne's Institute of German economy regarding Capitals across Europe from 2015. According to the report, without Berlin and its people, Germany's per capita GDP would increase.
From Finland and Sweden to Great Britain and France all the way down to Spain and Portugal, the capital is a crucial economic engine in the majority of other EU nations. Greece serves as the most extreme example, as its GDP per capita would have decreased by approximately 20% without Athens. Similarly, Slovakia's level of prosperity would be 19 percent lower without Bratislava.
Berlin's unusual performance is not an example of the strength of other cities in Germany but a display of how miserable a country's capital can be.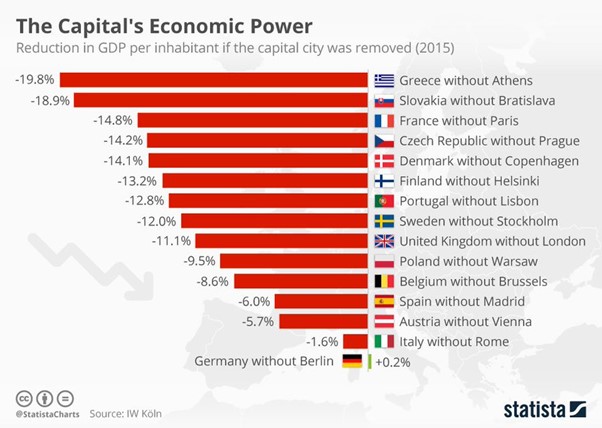 Not much has changed for Berlin in the last few years. Berlin currently has a €66 billion debt time bomb, and there are few indications that this debt is going down. The whole debt level increased by €8.3 billion, or 13 percent, between 2019 and 2021.
Berlin has the highest per capita debt in all of Germany, at €17,000. In contrast, the rest of the country only has an average of €7,700.
Detractors of Berlin point out that other states in Germany cannot even imagine the "luxuries" Berlin enjoys, such as free daycare. Hence, it would not be wrong to say that citizens of other cities are paying for Berlin's generous social programs.
It's not just economically, which the capital is horrid. Berlin was named the rudest city in the world in the most recent Time Out Index study. The data found out that 55 percent of the Berliners polled thought their city were rude.
Rude behaviour is normal in the German capital. There is also a phrase for it: The Berliner Schnauze. And Berliners are proud of their Schnauze, which is literally a 'snout' but is more accurately described as 'gobbiness'.
Further, Berlin has the highest rate of unemployment in the country at 8.9 percent which is thrice that of Bayern i.e., 3.3 percent and Baden-Württem-berg where it is only 3.8 percent.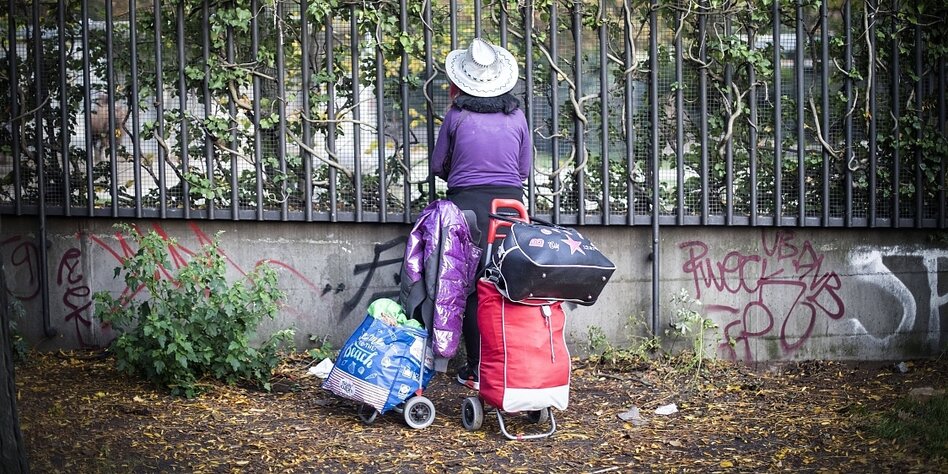 Further, Berlin experiences the highest crime rates in the country. The poverty rates in the capital have been severely high too. According to a recent report, in the previous ten years, poverty levels generally declined in the states that once belonged to Communist East Germany, but only Berlin defied the trend.
Corruption in the city is another usual thing. One example of it is Berlin's airport which is an embarrassment for the whole country as it was slated to open in 2011 and whose operation took 30 years. It only opened a couple of years back but gained headlines due to its corruption scandals.
Moreover, Berlin's government botched the state election so miserably the previous year that the courts ordered a redo. Berlin's income per capita is significantly lower than that of Hamburg or Munich, unlike other nations where the capital is often the richest city. Compared to other Germans, Berliners have worse schools and fewer hospital beds.
Without its capital status, Berlin might just be another rustbelt city, an ex-industrial metropolis whose shift to an economy focused on services, technology, tourism, and the creative industries has, as is so frequently the case, fallen short of fully making up for the loss of the city's industrial base. No wonder the newspaper Die Welt describes Berlin as a "failed state". Berlin as the capital of Germany portrays a lesson of how capitals shouldn't be.