Uganda Oil Exploration Deals: African countries are making significant strides toward becoming a dependable global supplier of oil and gas. Its importance has also grown as an alternative energy supplier especially to the West after the Ukraine war. As the West plunged into its worst energy crisis in decades it has had to turn to Africa. Now the century of Africa has almost begun. The turn of events specifically after the Ukraine war has provided Africa with a huge opportunity to become self-sufficient and reduce its dependence on the West for aid and assistance. From being merely a raw materials supplier to the West, the continent is finally taking steps to forge new alliances to secure its own national interest.  Uganda too has decided to reduce its dependence on the West for oil exploration and found an alternative that is needed urgently.
Uganda Agrees on Oil Exploration Deals with Two Firms
Cabinet of Uganda has agreed for the energy ministry to sign production-sharing agreements deals (PSA) for two oil exploration blocks with two oil firms, including a unit of Australia's DGR Global, as per a report.
A cabinet meeting had approved the signing of an agreement with DGR Enaergy Turaco Uganda Limited, owned by Australia's DGR Global, for the Turaco exploration area, according to a statement issued by Godfrey Kabbyanga, a junior information minister. The 637-square-kilometer exploration area is in Uganda's Albertine Rift basin near the border with Congo. To add,  a different unit of DGR Global already owns an exploration property in the area, Kanywataba, which it acquired in 2017.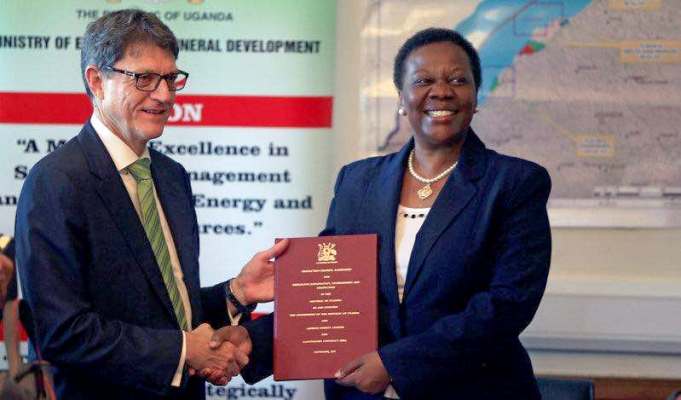 The second deal is for Uganda's state-owned Uganda National Oil Company (UNOC) and covers the Kasuruban exploration area that stretches over 1,285 square kilometers according to the statement. Uganda first discovered commercial reserves of crude oil in the Albertine Rift basin in 2006 and officials say the first oil will be pumped out of the ground in 2025.
West's Attempt to Derail EACOP
If the Covid-19 pandemic has taught the world one thing, it is the importance of being self-sufficient. Additionally, the crisis wreaked havoc on Europe due to its excessive dependence on Russian energy sources. Ever since then Western countries have begun a scramble for Africa and have eyed its vast reserves of natural resources. In an effort to diversify their energy supplies, it has become important for the European nations to make an effort to engage with Africa.
Africa has some of the largest oil reserves in the world and many African countries, for instance, the Central African countries have already taken steps to boost regional cooperation to benefit from their wealth and have sought to establish a regional oil and gas pipeline network to boost their energy security and move towards economic self-sufficiency. This will also lessen their reliance on imported refined petroleum products from the West.
Uganda and Tanzania are also building the East African Crude Oil Pipeline (EACOP) project, stretching 1,443km (896 miles) from Lake Albert in western Uganda to the Tanzanian port of Tanga on the Indian Ocean. However, Uganda faced much resistance from the West on its path to self-sufficiency, and its oil pipeline project faced many hurdles from the West.
Earlier, Uganda's parliament had condemned a resolution by the European Union parliament which called on Uganda and Tanzania to stop the development of their oil and gas projects in the East African region. Uganda's Deputy Speaker Thomas Tayebwa then stated that the resolution represents the highest level of neo-colonialism and imperialism against Uganda and Tanzania's sovereignty.
It is to be noted that both Uganda and Tanzania are endowed with rich oil and natural gas reserves. Uganda is estimated to have recoverable oil reserves of at least 1.4 billion barrels. The country has been leaving no stone unturned in its efforts to produce oil ever since commercially viable quantities of oil were discovered. Further, the Western think tanks were also deployed by the West to discourage Africa to attain self-sufficiency.
Read More: "Selling oil will destroy African economies," West's absurd analysis tells
But now, Uganda signing the production-sharing agreements deals (PSA) for two oil exploration blocks with two oil firms, including a unit of Australia's DGR Global is a welcome step in the right direction. By doing this, Uganda has finally found an alternative to the West for oil exploration.  Today, the bargaining chip remains in Africa's hands and it can utilize it for its own benefit.