Globalisation creates level playing field for all businesses. But it also adds to the volatility and uncertainty. Where action of farmers in one country can impact farmers in another.
Recent developments in international corn market are a testament to this. In Mexico, a government decision has the potential to significantly alter the US corn agriculture industry.
US-Mexico corn trade
In the global corn market, Mexico is a major player. The history of Mexico and Corn dates back to 1,000 years ago if not 10,000. Scientists believe Corn first originated in Central Mexico around 9,000 years ago.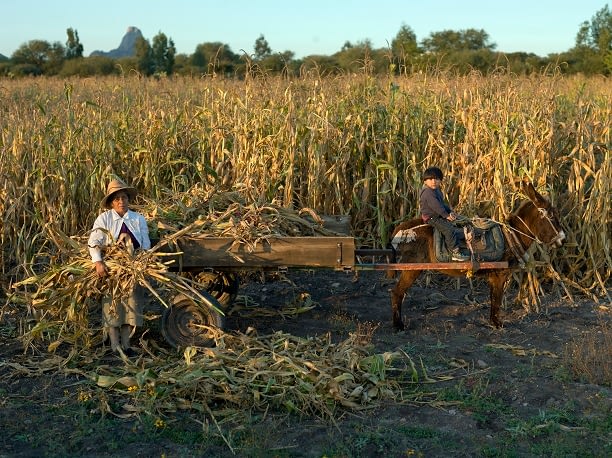 The love for corn in Mexico has only grown. Mexican food is built on Tortilla, a flatbread in the country. And, if you're likely to visit Mexico; you'd get enchiladas, quesadillas, tacos, tamales, tlacoyos. All based on corn.
Read More: The mystery of the floating balloon over Latin America
Mexico corn consumption is around 45 million tonnes. It produces around 25 million tonnes. As the demand of corn is high, it has to rely on imports. As a result, Mexico is the second-largest importer of corn in the world after China. Mexico imports 96% of corn from US.
US is the largest producer of the corn. 40% of US corn exports to Mexico. Basically, both the countries are co-dependent on each other.
Mexico to phase out GM corn
On December 31, 2020, Mexican President Andrés Manuel López Obrador signed a presidential decree. It mandated the phase-out of genetically modified (GM) corn for human consumption by January's end of 2024.
The introduction of NAFTA in 1994, which reduced trade barriers but also devastated rural economies in Mexico, flooded the Mexican market with cheap, government-subsidized U.S. corn and gutted domestic corn prices by nearly 70%.

— The Counter (@TheCounter) July 31, 2021
Mexico claims that its own historic natural corn varieties are in danger from GM seeds. The Mexican president made the prohibition of GM corn one of his campaign pledges. Up to 92% of corn produced in USA is genetically modified. The directive has greatly worried US corn exporters. As the deadline draws near, the US is working harder to persuade President López Obrador to remove or relax the proposed embargo.
Mexico's president was forewarned by US Agriculture Secretary Tom Vilsack that if a "acceptable resolution" could not be reached, the US would be compelled to file a lawsuit. However, Mexican President has continuously reiterated that Mexico is a "free sovereign country" and that "we do not want GM.
US corn industry paralysed
According to an analysis, the economic repercussions of Mexico's import restriction would be catastrophic for US farmers. The study states that, the US corn industry would suffer losses of $3.56 billion in the first year after a complete ban and $5.56 billion in the second. The corn industry would suffer a massive $13.61 billion economic loss during the course of the forecast's ten-year horizon.
In response, the US has threatened legal discourse. US trade officials cite the free trade agreement between US, Canada and Mexico i.e., USMCA. They say, "If this issue is not resolved, we will consider all options, including taking formal steps to enforce our rights under the US-Mexico-Canada Agreement."
However, in a thorough analysis of the USMCA, senior trade attorney Sharon Anglin differs from the officials. She came to the conclusion that Mexico is not required to accept American GM corn exports if it has valid concerns regarding public health or the environment.
Read More: Iran Rejects US Hegemony in Central America
She sighted, USMCA's section which clearly states, "This Section does not require a Party to mandate an authorization for a product of agricultural biotechnology to be on the market."
Further, Mexico seeks to grow independent of US' corn imports. It has brought a "Corn for Mexico" program. By 2024, it aims to replace 30% of Mexico's current import volume with domestic production. About 300,000 small and medium-sized corn farmers nationwide are expected to gain from the public-private initiative.
To substitute for US' imports, Mexico is also looking at countries like Argentina and Brazil. It aims to secure non-genetically modified corn imports.
To sum up, Mexico is done with US' bullying and over-dependence. It wants to become independent in terms of corn production. And, reducing US' imports is the first step towards it.