A nation engulfed in violence and conflict is finally seeing signs of peace. This is a story of Colombia. Following the implementation of a ceasefire with four armed groups, the country has experienced a major reduction in violence and fatalities.
Marred by violence
Last week, Colombian Interior Minister Alfonso Prada said that the country has experienced a notable decrease in violence. The change has been seen after the implementation of its cease-fire with four armed groups. It has resulted in fewer instances of murder and assaults on the military personnels.
President Gustavo Petro has vowed to achieve peace through either agreements or surrenders with these groups. This move is a bid to put an end to decades long conflict that has taken the lives of over 450,000 people and forced millions to flee their homes.
On New Year's Eve of last year, he ordered ceasefires with the Clan del Golfo criminal organization, the Sierra Nevada paramilitary forces. Also, two rebel groups made up of former FARC members who did not accept the 2016 peace agreement.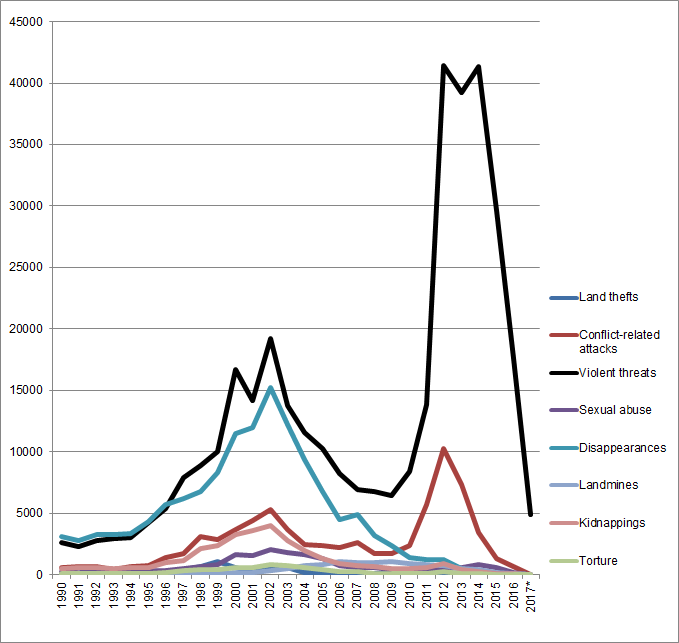 Number of military personnel killed in January remained the same as the year before. Though, the number of those injured decreased from 40 to nine. He additionally indicated that in provinces where conflict was heavily present and where one or more of the groups engaging in the ceasefire were located, murders decreased by up to 68%.
Read More: 5 Latin American countries pledge to protect their fishing industry
Specifically, Choco experienced the highest decrease, followed by Arauca at 66% and Cordoba at 52%. Magdalena saw a 37% reduction in homicides. Prada concluded that the figures indicate "show a very high average percentage of saving of lives as a product of the bilateral ceasefires," and that mass killings had gone down by 50%.
ELN agrees for peace talks
In end of January, Colombia and the National Liberation Army (ELN) announced that peace negotiations will resume in Mexico next month. ELN is known to advocate for land redistribution to farmers. On December 4th, the Colombian government and the National Liberation Army (E.L.N.) reached an important agreement. It would allow the Embera, an Indigenous group who had been displaced due to the E.L.N.'s activities, to come back to their land.
Last year, Gustavo Petro initially declared a bilateral ceasefire with the National Liberation Army (ELN) rebels. However, he reversed his decision when the ELN said it had not consented to the plan. Now, ELN has again agreed to resume talks. This is seen as a promising step towards achieving peace, as the group has caused turmoil  in the region with a number of their operations.
The proactive approach shown by Gustavo Petro is a welcome step to establish peace in the region. This isn't the first time when he is bringing rebel groups to mainstream. In June 2016, President Gustavo Petro established a peace treaty to put an end to the cycles of violence between the F.A.R.C. and the government. The Revolutionary Armed Forces of Colombia (F.A.R.C.), is a guerrilla group that seeked to redistribute wealth to the underprivileged and oppose foreign powers. It was the biggest guerrilla group in the country.
Read More: The mystery of the floating balloon over Latin America
He began the process of dissolving the F.A.R.C. by having its members lay down their weapons willingly. The Revolutionary Armed Forces of Colombia (Farc) and the Colombian government reached a peace agreement in 2016. It left the ELN the biggest guerrilla organisation in the country.
Since then, ELN has escalated its operations in areas that the Farc once controlled. The group is well known for orchestrating kidnappings for ransom and attacking oil infrastructure.
Ray of hope
The resumed talks bring hope for the Latin American country. Gustavo Petro's commitment to ending instability and violence has provided hope to many Colombians who had grown weary of decades of conflict and unrest. By restoring a sense of stability and bring rebel groups to mainstream, Gustavo Petro has shown the rest of Latin America that negotiations can bring about peace to the tumultuous region. And, who could have done it better than a former member of Colombia's M-19 guerrilla group.
Yes, you heard that right. That's a story for the other day.