Newly elected President of Brazil, Lula da Silva's trip to USA just came to an end. For West and Western media, Leftist Lula was expected to toe the White house's line .
But, Lula didn't live up to their expectations. He made one thing very very clear.
For him, Brazil's interests are foremost. His strong rebuke to Biden on Ukraine war isn't going to be forgotten soon. This is a story of Biden's humiliation.
Lula's trip to USA
When Brazil's President Lula went to USA, he would have hoped for cooperation between the countries. After all, Brazil's former President Jair Bolsonaro had strained relationship with US after he supported Trump despite Biden being in the office. Bolsonaro even supported the Capitol Riots, the alleged attempted coup in US.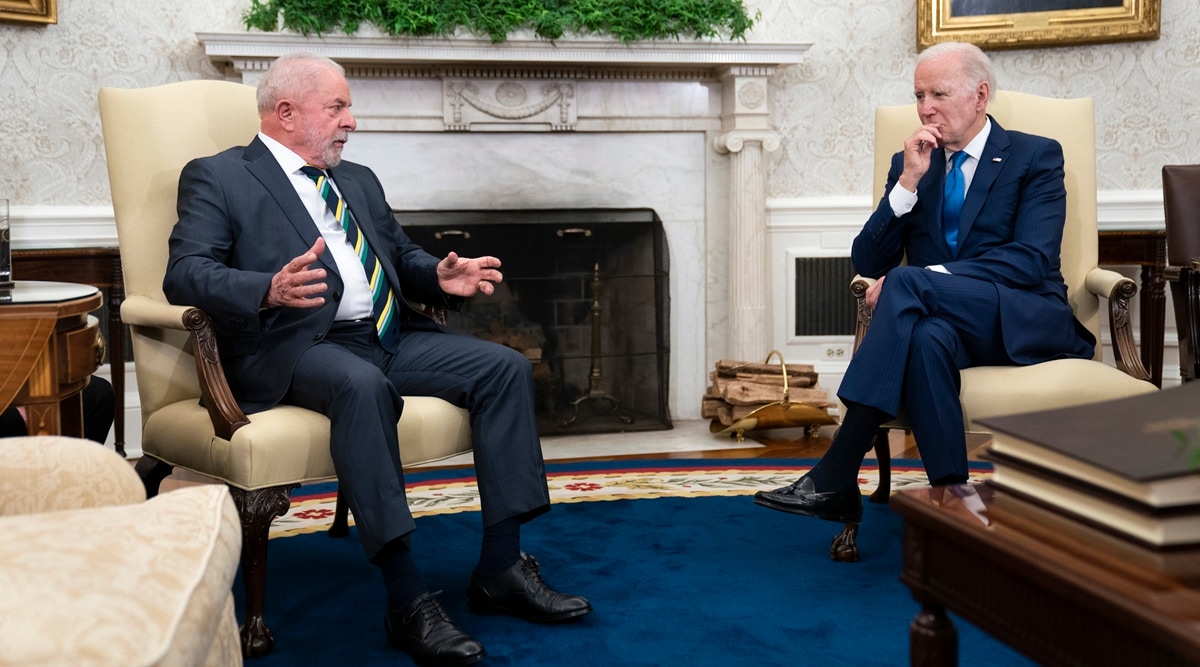 One would expect a reset in ties after a major overhaul. However, US President Biden's obsession with the Ukraine war is unending. Whoever, Biden meets with, he tries to persuade countries to deplore Russia. He also asks to them to send weapons to Ukraine.
And, this time it was no different.
Biden wanted Brazil to send weapons to Ukraine in the Russia-Ukraine war. However, in a stunning display of political acumen and skill, Lula rebuked him with a clarity and conviction that left the US President dumbstruck.
Lula schools USA
Along with South Africa, India, and other significant democratic nations, Brazil has urged for a peaceful settlement to the crisis while mostly staying out of it.
The discussion on the Ukraine war became a major disagreement point between Biden and Lula. Not only did Lula denied weapons to Ukraine. But, he proposed to establish peace for Russia-Ukraine war.
He said, "I don't want to join the war. I want to end the war."
Lula does not have a "solidarity with Ukraine" position and I disagree with much of the framing here. But the key part of the interview is this bit:

"Of course [Ukraine] has a right to defend itself. The invasion was a mistake on the part of Russia." pic.twitter.com/uS6Gynruol

— Luke Cooper (@lukecooper100) February 12, 2023
In an interview with CNN, he added that in his meeting with Mr. Biden, "I don't know what he's going to say to me, but what I'm going to say to him: It is necessary to build a set of countries to negotiate peace."
Later that day, he tweeted, "I told the president Biden what I had already said to the president Emmanuel Macron and the chancellor Olaf Scholz, about the need to create a group to work for peace and the end of war in the world. It is necessary to stop shooting, if not, there is no solution."
US didn't look very enthusiastic about the idea. John Kirby, the White House national security spokesperson, in a different interview with CNN said that Mr. Lula's opinion did not accurately reflect the current status of the conflict.
He said, "We don't see any impetus right now to get to the negotiating table."
Also Read: Lula sets the trajectory for Brazil's blazing growth
US' concerns are not unexpected. If the war stops, it would hurt US' trillion-dollar military-industry complex. It would hurt US' hundred billion dollars of LNG exports to Europe which it has increased dramatically since the beginning of the war.
Further, US  efforts to deindustrialize Europe, which is seeing its companies shifting their operations to US, would also be in vain. The war also helps US to live in the nostalgia of the cold war.
All in all, US has been a major profiteer of the Ukraine war.
Not the first time
This isn't the first time when Lula has put down USA efforts to fuel Ukraine war. In his election campaign, he sneered at Biden, "How can the world's largest economic power say that it has no milk for children after President Biden announced $40 billion to buy arms meant for the war in Ukraine?"
He had harsh words for Ukraine's Zelensky and the U.S./E.U.: "This guy is as responsible as Putin for the war ….. We should be having a serious conversation. OK, you were a nice comedian. But let us not make war for you to show up on TV."

— Ciara Nugent (@ciaraCnugent) May 4, 2022
He has also criticized Biden's leadership. He said that United States has a lot of political clout. The clout could be used to put an end to the war and not incite it. He said, "Biden could have taken a plane to Moscow to talk to Putin. This is the kind of attitude you expect from a leader."
In October he had said, "The only position that interests Brazil in terms of the question of Ukraine and Russia is peace."
Also Read: Is European Union trying a coup on Brazil's Lula?
He has also criticized Western media favorite 'man of the season', Ukraine's President Volodymyr Zelensky, "I see the president of Ukraine, speaking on television, being applauded, getting a standing ovation by all the [European] parliamentarians. This guy [Zelensky] is as responsible as Putin for the war."
He had not even spared EU. He said that the war could be avoided has EU and USA assured Russia that Ukraine won't join NATO. Lula said, "It's not just Putin who is guilty. The US and the EU are also guilty."
Clearly, Lula means business. He's no Macron or Scholz. He can't be pushed around. He understands that it makes no sense for Brazil to fight West's war against Russia. A war that is more than 11,000 kilometres away from Brazil. Biden isn't forgetting the schooling by Lula anytime soon.