Anti-NATO protests: Anger and unwanted hatred is an acid that can do more harm to the vessel in which it is stored than to anything on which it is poured.
Today, consider Anti-Russia sentiment as an acid that has been stored in a bottle NATO. Today, this bottle is melting and the alliance is breaking apart. Yes, the NATO alliance is falling apart. But, it is not inner rifts.
It is about the uprisings that have started to take place in Western nations. And seeing the populace of these nations today, it's easy to conclude, NATO is entering its last lap of existence.
History of NATO
The objective of the North Atlantic Treaty Organization (NATO), which was established in 1949, was to guarantee the collective defense of its member states against external threats, which was the Soviet Union. For many years, the alliance served as cornerstone of transatlantic security and stability, but recent events have called into question its coherence and unity.
However, the alliance in 21st century has simply devolved into a mere political tool to somehow bring Russia down. In 2022, NATO allies jumped into the Russia-Ukraine conflict turning the matter into complete madness.
Every other day, arms, aid and alms are being provided to Ukraine to somehow defeat Russia. Yet, the efforts are giving no major breakthrough. The Russia-Ukraine battleground has turned into a hellhole where every assistance is turning into ashes.
Whereas, this blind assistance is taking a deep toll on western nations. The inflation is just way too unbearable now and recession threats have intensified. Western leaders want to still keep the fire of the Ukrainian furnace burning; however, the people of western nations have gone out all guns blazing against NATO.
Today, the NATO alliance is going through a difficult period of internal conflict, a civil unrest against NATO has erupted in four big nations including the United States.
Read More: China shouldn't have killed Hu Jintao
Anti-NATO protests and call of dissolution
Anti-NATO protests cropped up again in Paris. On 26th February, numerous large-scale protests against France's NATO membership and its continued support for Kiev in the nation's capital Paris and other cities happened.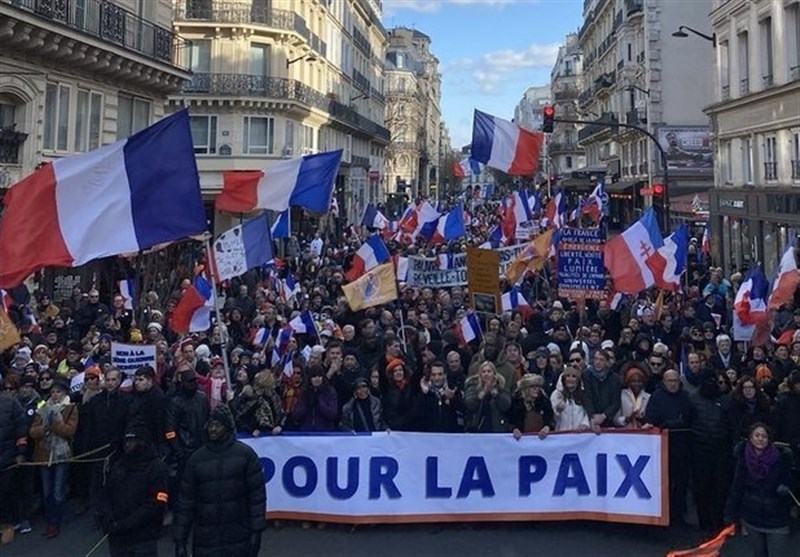 The organizers of the Anti-NATO protests claimed that the National March for Peace event on 26th February attracted even more attendees than the rally in the French capital last week, which drew about 10,000 people. Florian Philippot, French politician, claims that there were also smaller-scale, anti-NATO demonstrations in about 30 other places throughout France.
The protestors also chanted "Macron get out!" — A phrase that has been used by a variety of anti-government demonstrators throughout his term in office. Several flags of EU and NATO were also vandalized.
Similar scenes were also seen in Italy. Thousands of people participated in peace marches in the Italian cities of Genoa and Milan. Among other things, union members and left-leaning activists asserted that the authorities in Rome had broken the law by sending weapons to Ukraine.
Also, nearly 4,000 people attended the rally in Genoa, both from within the country and from Switzerland. The people demanded Italian government to "Lower weapons and raise wages."
Even in Berlin, protesters gathered outside the US airbase in Ramstein, Southwestern Germany, to call for an end to the export of weapons to Ukraine. Over the past year, Western officials have regularly convened at the military location to plan their assistance to Kiev.
Along with calling for an end to hostilities, the protesters demanded that Russia and Ukraine hold peace negotiations.
In addition to chanting and beating drums, they displayed a variety of banners, including the Russian and Soviet flags, during the event, which was live streamed on YouTube.
Even US not spared
Even the United States was not spared from these Anti-NATO uprisings. Hundreds of protesters gathered in front of the Lincoln Memorial in Washington, DC to express their discontent with NATO. The rally's speakers urged the US government to "end its military support of Ukraine in favor of diplomacy and slashing the Pentagon budget to address numerous domestic issues."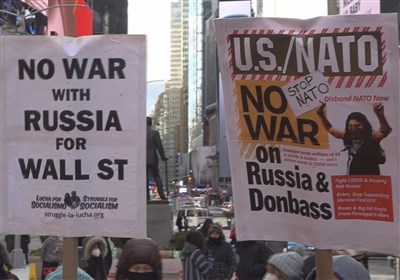 The gathering, which includes a number of former politicians, celebrities, and journalists, takes place nearly a year after hostilities between Ukraine and Russia began.
Similar sites were also seen in Helsinki.
The situation is pretty messed up. According to the statistics, almost every Western leader is standing at the cusp of leaving their office owing to the growing anti-incumbency. The most common thing about Anti-NATO protests was that all of them focused only on one goal, the dissolution of NATO and peace negotiations with Russia. The Anti-NATO protests focused on calling for imposition of Article 13.
Article 13
Article 13 of the NATO treaty, outlines the procedure for withdrawing from the alliance, and states that a member country may withdraw from NATO after giving notice to the depositary government, which is the government of the United States.
In addition to these injuries, the ongoing conflict in Ukraine has also stoked rivalries among NATO members. A verbal conflict between the leaders of these nations has broken out, with accusations coming in from all directions.
Top European officials recently expressed their outrage at what they perceive to be the US exploiting the situation while EU nations suffer, leading to an official European Union criticism of the US for profiting from the Ukraine war.
In the meantime, Turkey and Greece are involved in a power struggle, and Germany has accused the US of sabotaging the Nord Stream pipeline. The sense of unity and humanity within the alliance is falling apart.
Read More: US fails miserably against Russia at the crucial UN Vote
The Ukraine war has long been seen as an attempt to defeat Russia in Ukraine and break it up into smaller regions. However, recent events have shown that NATO itself is also facing significant challenges, with visible cracks appearing in the alliance.
The leaders of NATO are sitting on an unstable foundation that could crumble at any moment. It is essential for NATO to understand the power of the people and never underestimate their strength. The people can unseat even the most powerful leaders and bring down political systems.
The reality is that NATO is now facing its last lap of existence. If things continue on the current trajectory, we may witness the collapse of one of the greatest political tools in our lifetime. NATO must address its internal divisions and work to rebuild its sense of unity and purpose if it hopes to survive and continue to play a meaningful role in international affairs.