Djibouti Space Mission: Africa's growing interest in space is becoming increasingly evident. Many countries on the continent are launching their own space programs and aiming high in the space race. African nations are also increasing their investment in the sector.
Now, Africa is poised to establish its first launch site, a major development that will enable the continent to benefit from expanded communication and navigation capabilities. However, as Africa develops its space capabilities and collaborates with foreign powers, it must also exercise caution and foresight to ensure the success and sustainability of its efforts.
Djibouti's first launch base in Africa
In a significant development, Djibouti has announced the creation of the first space launch (Djibouti Space Mission) base in Africa, as per a report. The President of Djibouti, Ismael Omar Guelleh, had revealed in early January, a project to build a space launch base, in partnership with the Chinese company, Hong Kong Aerospace Technology.
This is an extremely important development for the continent, as this base would become the only one in operation in Africa, which does not currently have a launch site.
Earlier Kenya had a base run by Italians in Malindi, on the Indian Ocean, from where a few satellites were put into orbit until the 1980s, however, later it fell into disuse.
Similarly, in 2021, as per reports, Turkey had expressed desire to establish a space base in Somalia, where it already had a military site. But nothing could materialize owing to the country's multiple crises, including the insurrection of the Shabab Islamists.
Read More: Angola's space jump adds another feather to the "African space odyssey
The creation of the first space launch base is in line with Africa's growing interest in space, in recent years. According to Lagos-based consultancy Space in Africa, the industry is now worth $19 billion on the continent and is expected to grow to $22 billion by 2025.
In 2021 and 2022 alone, Ethiopia, Kenya, Mauritius, Angola and Uganda acquired new satellites. Moreover, Africa also happens to be the best placed continent when it comes to accessing space as fifteen countries are located on or in the immediate vicinity of the equator, which is the ideal location for launching rockets.
Read More: A proud day for Uganda as it is all set to explore the space
China-backed launch base in Africa: the tricky aspect
With Africa's growing interests in space, it is well-appreciated that the continent is now going to have a launch site. However, not everything is hunky dory about it either.
For a launch site to be built, the ideal location should be as close to the equator as possible, as if a spacecraft is launched from a site near Earth's equator, it can take optimum advantage of the Earth's substantial rotational speed. Secondly, it is supposed to have an open sea body near it. However, Djibouti's is located at the Bab al-Mandab and just across the strait, there is Yemen. An open sea body launch reduces the risks related to launching over populated areas, which can also lead to loss of lives in the worst cases.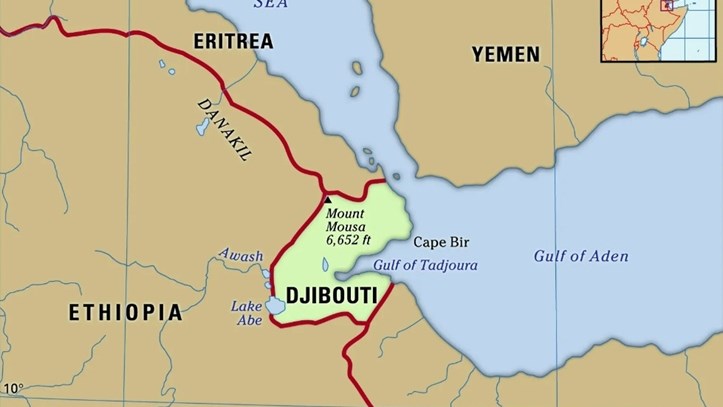 Moreover, Djibouti is not exactly the closest country to the Equator. In that case, Kenya would have been a better option for China's choice of location to build a launch site. However, it chose Djibouti because of its strategic interests. Here is where the problem lies. The Djibouti Space Mission could just be a façade to allow China to carry out something much more sinister.
China could just be building the launch site and use it as an excuse to spy on the military bases of other countries, located in Djibouti. It is well known, that Djibouti hosts many foreign military bases.
Read More: China's sinister plans to turn the Solomon Islands into a huge space-launching site  
China will always have an added advantage of using this site to spy on other military bases and keep an eye on their activities.
It is a well-known fact, that China lacks a proper geographic location to advance their space program. Which is why, it is also lagging behind the likes of India or the US in space exploration. Thus, it would not be wrong to assume that it might use Djibouti now to launch surveillance satellites from the location. Earlier, we had explained to our readers how it had tried the same trick with Solomon Islands. Thus, partnering with China in building a launch site is although may be good in some respects and may help the African continent in many ways, however, it also comes with many risks that may overshadow its benefits. Africa is already the subject of great power rivalry between US, Russia and China and with the creation of the launch site may give rise to further geopolitical tensions in the continent.