Spillover war: With a Pan-European war becoming a probable reality, NATO is trying to boost its military presence near Russian borders. Will it be successful?
Well, the next NATO summit is just around the corner, and the Western allies are preparing to address new defense strategies against Russia. In the coming months, it is likely that further measures will be taken to strengthen NATO's capability to respond to any potential threat from Russia.
Already, major steps have been taken in the last year to enhance the alliance's deterrence and defense posture. It is clear that the next NATO summit will be an event of major significance, with the Western allies continuing to discuss and plan their defense strategies against the Russian threat. The next few months will be an interesting time as the defense strategies are thought through and implemented.
However, there is a large set of factors this year that are going to effect the defence strategy this year. Last year, the war was fresh and so, the economic, political and global impact was very different from what it is today. Western economies are running dry with risks of a financial crisis. The reluctance to extend continued support to Ukraine is higher than ever. Yet, it appears several Western leaders including Jens Stoltenberg are keen to everyone on the same page.
The NATO Summit 2023 is scheduled for July 2023, yet brainstorming is already gaining pace.
The NATO overhauls itself
 According to a media report by Politico, the NATO alliance is now racing to arm its Russian borders. According to the report, in order to tackle a so-called spillover war beyond Ukraine, alliance leaders are now vying for options to speed up efforts to stockpile equipment along the alliance's eastern border and designate tens of thousands of forces that can rush to allies' aid at a moment's notice.
However, for that to happen, NATO must persuade various nations to provide resources, including soldiers, training, better infrastructure, and, most importantly, large quantities of expensive weapons, equipment, and ammunition. The big guns like U.S. and EU are making plans to source more weapons — fast — the restocking process will inevitably take time. Whereas, Military leaders this spring are planning to submit updated regional defense plans intended to help redefine how the alliance protects its 1 billion citizens.
It has been revealed that NATO officials are floating the idea of pushing 300,000 additional NATO forces near the Russian border. "We need forces to counter a realistic Russia," said one senior NATO military official, underscoring the need for significantly "more troops" and especially more forces at "readiness."
The new model introduces a framework of readiness levels for NATO forces. This framework consists of two tiers, the first of which consists of around 100,000 soldiers who are prepared to move within 10 days. These forces may come from Poland, Norway, the Baltic states, and NATO battlegroups located in the eastern flank. These forces will be able to respond swiftly to any aggression against NATO countries. NATO believes that the new model will help them better prepare to defend against aggression and maintain a strong presence in the region.
The second tier of troops would then support these soldiers and be prepared for deployment in 10 to 30 days from nations like Germany. While there are also discussions about launching new funds and investment ventures to support the development of new weapons and military hardware. The plan on the front looks like a bright spark. However, as we said, there is a large set of factors this year that is going to affect the defence strategy. The alliance leaders are just not interested anymore in helping Ukraine, whereas, many are even finding it hard to continue extending support.
Read More: Eastern Europe plunges into darkness because Zelensky wanted to have fun
The Challenges
 There is a shortage of resources, money, and even lack of will among the NATO allies. How? Take a look at this report by the Financial times. As per the report, the EU's defense industry's ability to provide Ukraine with more military supplies is hitting a roadblock. The capabilities are hampered by a deficit of explosives.
Several European officials and arms manufacturers have explained that military plants are suffering from scarce supplies of gunpowder and TNT, which could delay plans to boost shell production by three years. They are unable to meet the soaring demand "regardless of how much money is thrown at the problem."
"The fundamental problem is that the European defense industry is not in good shape for a large-scale war production," a German official has explained to the outlet. A total of 12 companies in 10 E.U. countries that make such artillery shells can currently produce only 650,000 a year — and that includes other types of ammunition that are in short supply, including 120-millimeter rounds needed for German Leopard 2 tanks and 105-millimeter rounds needed for the older Leopard 1 tank.
Also, there is lack of sheer will when it comes to taking on Russia. The East and West of the NATO alliance see the endgame of the Ukraine war very differently. While the West, Germany, the US, etc. see the spillover war and finally a win over Russia. East believes they are being sacrificed. Moldova is already living in fear that they could be next to fall in the Russia-NATO war. Whereas, Romania has also expressed their belief that the war could spill to their terrain.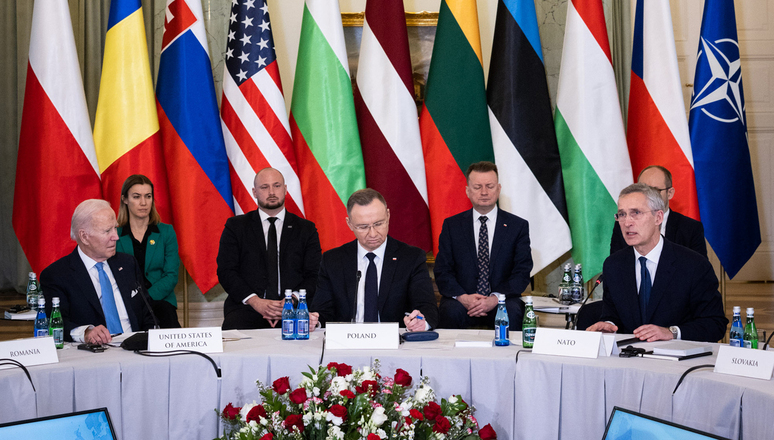 Whereas, nations like Hungary are also calling to end the war rather than extending it more. Expect for adversaries like Poland, Estonia, and Lithuania, no one else in east is interested in extending their hand in the Ukraine war.
Read More: Biden was about to detonate Russia's second crucial pipeline but….
NATO Secretary-General Jens Stoltenberg, meanwhile, has repeatedly said that allies have stepped up work on the production in recent months — and that the alliance is working on new requirements for ammunition stockpiles. However, the plan seems to be complete awry. On the face of it, NATO's plan to strengthen Eastern borders is an important step toward establishing a safe and secure region. But, establishing a new war zone, would be foolish and disastrous.
Up till now, the Ukraine war was limited to the eastern part of Ukraine. But now, spillover effects have started to erupt. It would be favorable if the alliance attempted to use diplomacy to end ongoing conflicts within the region and get opposed escalations. Because NOBODY wants another big and horrendous great war.