Let's say you need to have surgery. Are you better off if you live in Texas or Havana?
Believe it or not, you might actually be better off having the surgery in Cuba. Even though the US is known for having some of the best healthcare facilities in the world, Cuba has made significant strides in recent years and is now considered a leader in many areas of healthcare. And, the US could learn a lot from healthcare system of Cuba.
This is despite the embargo by the United States on Cuba. The healthcare system in the United States is notoriously expensive and lacks universal access. In comparison, Cuba healthcare system, which is free for all citizens, could serve as a model for the US. Cuba spends less than $3,000 per person per year on healthcare compared to the US's $9,000. Despite this, Cuba has a lower infant mortality rate, higher life expectancy, and lower pregnancy-related mortality rate than the US.
Healthcare system of Cuba has many factors that contribute to its success. One of the main reasons is that providers are paid less, which results in more affordable healthcare. Additionally, Cuba has made a commitment to healthcare for all its citizens. In the US, unless you're a veteran or Native American who lives near a tribal health center, getting free government care is difficult.
Read more: The unbreakable bond between India & South America
Mortality Rate
Cuba's infant mortality rate is between 4 and 5 for every 1,000 live births, while the US has a rate of nearly 6 for every 1,000 live births. In some parts of the US, the rate is above seven, while in Mississippi, the rate is 9.3. The rate for African-American residents in Mississippi is even higher at 13. Cuban infants have a similar mortality rate to infants in Canada and the United Kingdom, two much richer countries with a plan to assure care for all.
Life Expectancy
Cuba's life expectancy is also higher than the US. A child born in Cuba in 2015 could expect to live until 82, while in the US, he/she could expect to live until 81. However, a child in Mississippi can expect to live until 78. The life expectancy for African-American girls in the US is also 78. Boys do better in Cuba too, with a life expectancy of 77, compared to the US's 76.
Pregnancy-related mortality rate
The US has an embarrassingly high pregnancy-related mortality rate, with more than 17 women dying for reasons related to pregnancy for every 1,000 live births. In Mississippi, the rate is almost 40, and if you're African-American, it jumps to almost 55. In Cuba, the number is also 40, but Cuban leaders have made maternal and infant health a priority, setting an example for developing nations around the world.
Pregnant women in Cuba see a doctor or nurse 17 times on average, before delivery. Doctors make a big effort to identify high-risk women, particularly those who are diabetic, very young, or having a first child at a later age. In Cuba, if your pregnancy is considered high risk, you might be asked to live in a home for pregnant women, with a doctor in residence, all paid for by the government. Almost all babies are born in a hospital.
The healthcare system of Cuba is an excellent example of a focus on preventive care. It has eliminated the major diseases for which we have vaccinations. In the US, cases of measles and mumps recently cropped up because of parents resisting vaccines.
Read more: How South America can systematically use its water bodies to turn it into a logistical giant
Cuba, despite being an economically sanctioned country, has a healthcare system that is often touted as a model for other countries. Cuba spends just $185 per person annually on healthcare system, yet it has better infant and adult mortality rates than the US, and a life expectancy that is nearly equal to that of the US. So, what can the US learn from Cuba's healthcare system?
One of the reasons for the US healthcare system's poor performance is the way it is structured. In the US, healthcare is treated as a commodity, rather than a right. This means that people who are sick do not shop around for healthcare providers, as they do for other goods and services. Instead, they are at the mercy of doctors, hospitals, drug companies, insurers, and other healthcare providers who are motivated by profit.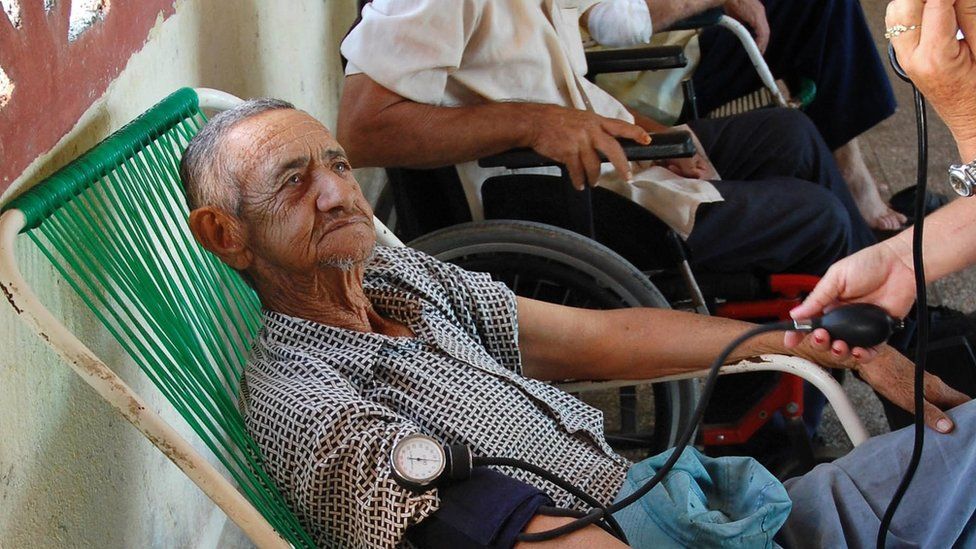 The US could learn from Cuba's approach to healthcare. Cuba places a strong emphasis on preventative care and public health, which helps to reduce the need for expensive treatments and hospital stays. For example, Cuba has a higher percentage of physicians per capita than any other country in the world. This means that people in Cuba have better access to healthcare.
In Cuba, healthcare is considered a right under the constitution. To make good on that promise, Cuba brings the professionals to you through community-based healthcare. Rather than relying on hospitals and other institutions, Cuba has a network of neighbourhood health clinics that provide basic medical services to local residents.
A family nurse or doctor lives in a local "consultorio" near your home, where your visits are free. Doctors also make house calls. Each team is responsible for the health of families in its area, not just for treating disease or injuries.
The team keeps careful records required by the government to identify problems early. You'll be evaluated every year and about every three months if you have a chronic illness. Cuban doctors, who are educated for free, must spend two years as a family doctor.
Therefore, Cuba is far ahead of the US in healthcare system. Because it's for the people and not just for the rich.