Recent visit of Brazilian President Luiz Inácio Lula da Silva to China has caused a stir in international relations. Lula's statements during the visit of Lula da Silva show that Brazil is positioning itself as an independent global player, not beholden to the United States or any other major power.
He opened a warfront against the US in China.
Brazilian President Luiz Inácio Lula da Silva and Chinese President Xi Jinping inked 15 trade and partnership deals in Beijing. Lula was on a visit to China for the first time since taking office in January.
The discussion between the two leaders focused on bilateral concerns and explored dialogue and negotiation methods to bring an end to Russia's invasion of Ukraine.
State visit of Lula da Silva to China this week focused on refreshing trade ties and seeking new investment opportunities. Visit of Lula da Silva with a large delegation of 240 business leaders demonstrates Brazil's preference for multi-win cooperation rather than geopolitical confrontation, despite pressure from the United States.
Lula visited a research centre of China's tech giant Huawei, demonstrating Brazil's commitment to building ties with Beijing and prioritising its national interests over the need to court the United States.
Brazil seeks to diversify its trade with China beyond meat and soy exports, and visiting Huawei is an opportunity to deepen communications on 5G and boost Brazil's development in research and innovation. Brazil is the largest recipient of Chinese investment in Latin America, and Chinese firms' investment in Brazil is expected to grow steadily in the coming years.
In the era of global integration, an increasing number of countries are making the right choice between multi-win cooperation and zero-sum geopolitical confrontation.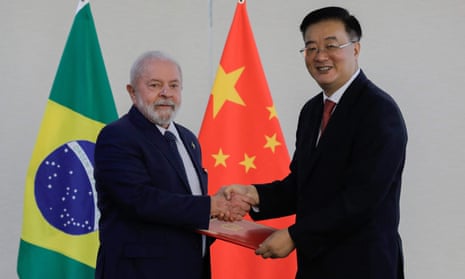 Lula stressed the importance of Brazil-China cooperation during state visit of Lula da Silva to China. The visit can help diversify Brazil's trade with and attract future innovation investments from the world's second largest economy, which is in the long-term interests of Brazil.
Brazil against US
Visit of Lula da Silva to China wasn't devoid of the US. Lula kept on attacking the US.
Lula accused the United States of encouraging war in Ukraine and urged world leaders to convince Putin and Zelensky to give peace a chance. Lula had proposed creating a group of countries to mediate in the war and seek a diplomatic solution to the conflict. He also positioned Brazil as a potential mediator.
China and Brazil didn't follow the West and other allies in imposing economic sanctions on Russia after the invasion of Ukraine, and both countries sought to position themselves as mediators to achieve peace in the conflict.
Also Read: BRICS: Brazil's ambitious plan to shake up global politics
Lula didn't spare the European Union either, he said that the bloc "has now entered directly into the conflict."
Further, Lula came all out against the de-dollarization. Lula da Silva has called for the use of national currencies and the creation of new financial instruments to replace the dominance of the dollar in international trade.
Speaking at an event at the headquarters of the New Development Bank, a bank established by BRICS, Lula said that developing countries are forced to "run in search of the dollar" to be able to export their products, which is not in their interests.
Lula da Silva suggested that central banks develop appropriate alternative mechanisms for mutual payments and that the NDB consider an alternative to the dollar in payments between the BRICS countries. He also called on the newly elected head of the NDB, former Brazilian president Dilma Rousseff, to "turn the BRICS Bank into the main investment bank for developing countries."
Also Read: The biggest shock to USD supremacy! BRICS to launch its own currency
While acknowledging that this shift may be difficult and inconvenient for many, Lula da Silva proposed that the international community work towards creating something new and abandon the idea that the dollar should be the currency.
The United States' pressure on Brazil to distance itself from China and Russia has only pushed Brazil closer to these powers. China has become Brazil's main trading partner, while Russia has become an important partner in the defence sector. Brazil has also been working closely with Russia on nuclear energy, with plans to build new nuclear reactors.
The United States' pressure on Brazil to distance itself from China and Russia has backfired, as Brazil is seeking to assert itself as an independent global power.
Lula's visit to China highlights the complex geopolitical and economic dynamics at play in the 21st century.
As emerging markets like China and Brazil continue to grow and assert themselves on the global stage, traditional powers like the US and Europe will need to adapt to the changing realities of the world order.
Therefore, Lula's call for multi-win cooperation instead of geopolitical confrontation is a reminder that the world is changing rapidly, and nations must find new ways to work together for the greater good of all.