Sudan warfare: After years of pressure and protests to form a civilian government in Sudan, military rivalry has now descended into open warfare in the country. Following months of growing tensions, Sudan's army and paramilitary forces are currently engaged in fighting. Consequently, the country has been thrown into chaos, and fears of a wider conflict derailing the country's efforts toward democratic transition loom large. The death toll has risen due to the conflict, and world leaders have called for a ceasefire. However, at the center of this situation is the feared ex-warlord, Mohamed Hamdan Dagalo, commonly known as Hemeti. So, how did Hemeti carve his route to power? Let's find out.
Hemedti Rising through ranks
Hemeti has played a prominent role in Sudan's politics for the past decade. The tall, imposing figure was once a camel trader with little formal education. He later rose to lead the all-powerful Rapid Support Forces (RSF), Sudan's paramilitary force, which is now engaged in conflict with the country's army.
Hemeti's power today is derived from the RSF, who mastered desert warfare in the Darfur region. Hemeti first took up arms in Western Darfur after an armed attack killed dozens of his family members. He went on to form a pro-government militia known as the Janjaweed, which he later transformed into the RSF. During the 2003-2005 war in southern Darfur, in which an estimated 300,000 people died, Hemeti rose through the ranks of the Janjaweed, commanded a brigade, and finally caught the eye of the then-dictator Omar al-Bashir.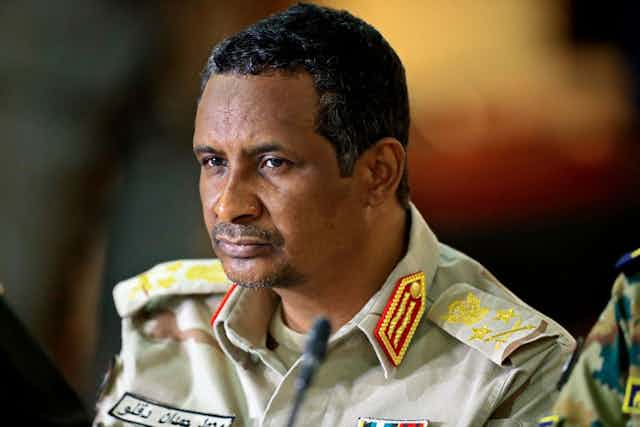 While the International Criminal Court charged Bashir and other top officials with genocide, no charges were brought against Hemeti. Later, Hemeti became Bashir's enforcer when he sought protection from his rivals during his 30-year rule. Bashir was greatly impressed by Hemeti's cunning and fighting skills and relied on him to deal with the enemies of the state in the Darfur conflict and elsewhere in Sudan.
Read More: Sudan's hopes of democracy dashed?
As a result of his loyalty to Bashir, Hemeti's militia was legitimized, and he was promoted to the rank of lieutenant-general. He was given free rein to seize gold mines in Darfur and sell Sudan's most valuable resource. As Sudan struggled through one economic crisis after another, Hemeti grew wealthy. However, in 2007-08, he briefly led a rebellion against Bashir and Khartoum before cutting a deal with the government that promoted him to general.
In 2013, Hemeti formed the RSF and widened its recruitment, laying the groundwork for his later power in the country. Finally, after years of supporting Bashir, Hemeti took part in his ousting in 2019, after Bashir faced pressure from mass protests calling for democracy and an end to economic woes. Hemeti spoke in public about the need for "real democracy," met with Western ambassadors, and held talks with rebel groups.
Is history repeating itself in Sudan?
Hemedti planned to become the number one man in Sudan. He has unlimited ambition," said an opposition figure.
After Bashir's removal, Hemedti wasted no time trying to shape the future of Sudan in the civilian-military partnership established. Additionally, he showed little tolerance for dissent. In 2019, the RSF launched a bloody crackdown on a protest camp following Bashir's ousting, resulting in the deaths of more than 100 people according to witnesses. However, Hemedti denied ordering the assault.
In October 2021, the military seized power and declared a state of emergency, ending the civilian-military power-sharing deal. Hemedti stated that the army took power to "correct the course of the people's revolution," and although he assured that the military is prepared to hand over power in case of an agreement or elections, divisions between Hemedti's RSF and the army have complicated efforts to restore civilian rule.
Read More: Sudan's democratic dream takes one step forward, but two steps back
Earlier, the Sudanese army had warned of the risk of confrontation following mobilizations by Hemedti's paramilitary group. Tensions have been rising over disagreements regarding the integration of the RSF into the army. The growing tensions between Hemedti and the leader of the ruling council, Abdel Fattah Al-Burhan, have now escalated into open warfare, as predicted earlier. It appears that history is repeating itself in the country, with Hemedti once again determined to assume leadership.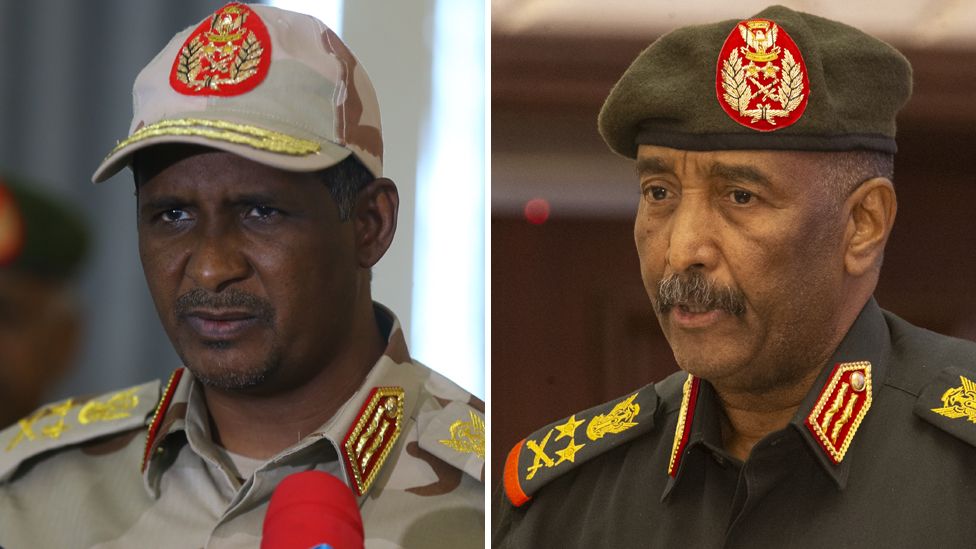 Additionally, Hemedti had earlier pledged to protect the transition and even said that his forces would never fight the army. Looks like Sudan's democracy is in a precarious position, with Hemedti's ambitions putting the country on a rollercoaster ride. The UN may be out of tricks to bring peace, but let's hope Hemedti's thirst for power doesn't end up putting Sudan's future in balance.