Zelensky Macron talks: What is desperation? When one keeps seeking attention when no one's giving it. And what is humiliation? When one insults the desperate guy in a really subtle way. This is the story this week between Macron and Zelensky, where the latter, who was in a desperate state, was subjected to humiliation by the former, who displayed Chad-like behaviour.
The leak of information from the Pentagon has caused the Ukrainian military to be in a state of paralysis, while the nation remains under the grip of Russia. Recently, Ukraine has been making efforts to win over allies and maintain terms with President Zelensky.
Zelensky is on a mission to bring the discontented allies back to the foray. One such ally is France. France has been very vocal in supporting Russia in different ways. When Joe Biden threatened to use nuclear weapons against Russia, France was the only European country that declared that it would not attack Russia even if the latter used nuclear weapons.
Whereas France also didn't give any crucial lethal aid to Ukraine. However, in recent times, France has become a massive bone of contention for Ukraine.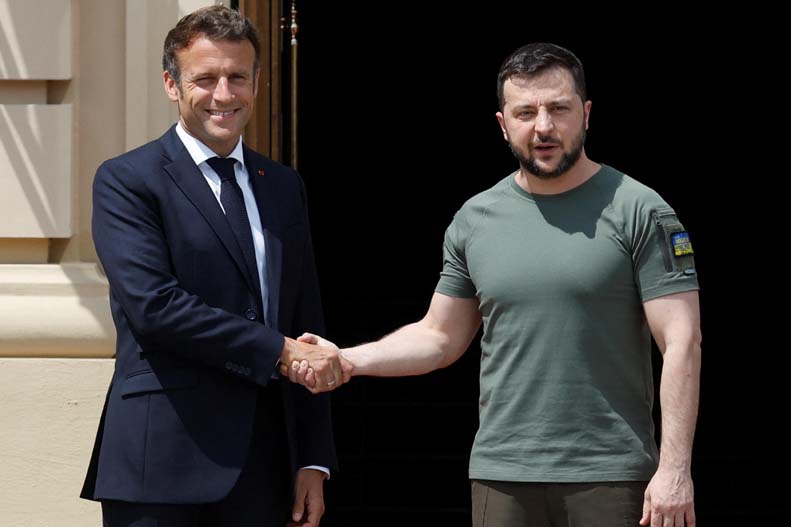 French President Emmanuel Macron wants to end the war in Ukraine, and so France is openly backing the Chinese peace plan for Ukraine. whereas Russia would eventually achieve its goal with a ceasefire.
So, Zelensky decided to call Macron and remind him of his duties.
Zelensky talks to Macron
According to media reports, French President Emmanuel Macron and Ukraine President Volodymyr Zelenskiy held talks on Ukraine on a telephone call. Here, Zelensky discussed Ukraine's military needs.
Zelenskiy said he had a long and meaningful talk with Macron, during which the two men coordinated their positions on the war and on how to end the conflict between Ukraine and Russia.
"I am grateful to France and Emmanuel personally for their support of our country and our people," he said in an evening video address, in which he also thanked France for promising to send weapons to Ukraine.
Macron also reaffirmed France's support for Ukraine to Zelensky and stressed that he has given an update on European coordination to give Ukraine military help. Zelensky believed that after the discussions, everything was back to normal and that France would now resume helping Ukraine as it had previously. But he had no idea how Macron would insult Zelensky once more.
Read More: France may have been secretly aiding Russia in the war all along!

The medical humiliation
France did help Ukraine following the meeting, although not exactly in the way Zelensky requested. 18 medical ambulances were given to Ukraine by France as part of their combat effort.
Yes, it does sound ridiculous. But it's actually happened. Four of these ambulances were given to specialists in emergency medical aid in the Kharkiv region, while the other two were given to military doctors who work in difficult terrain.
For other medical operations, France has plans to give more ambulances to the State Emergency Service of Ukraine.
Read More: As Europe gently starts removing sanctions on Russia, Putin goes all guns blazing against it
Moreover, Macron is yet to comment on whether or not he is abandoning the Chinese peace plan. Without a doubt, that is unlikely. Macron seems to already be certain of his position on Ukraine; he wants the war to end as soon as possible. Therefore, Zelensky's efforts to entice Macron have unquestionably failed.