The FBI leak: The race to become the 47th President of the United States is heating up! On one side, we've got Trump, who's gaining massive support from Republicans like it's going out of style. On the other side, we've got Biden, who's struggling to keep up with his own gaffes. Let's be honest here: he's lost Afghanistan and Ukraine, and on top of it, the poor guy can't even define America in a single word.
It seems like age has finally caught up with Biden, and he's having a tough time speaking properly. It's like trying to understand a toddler who's just learning to talk. He really needs some decent speechwriters because, at this rate, he's going to need them more than ever.
A direct Trump vs. Biden round two means Trump wins vehemently. However, this will be bad news for all the established politicians like the Clintons and Bush who have ruled the US for years, and yes, they have controversial pasts in illicit business.
The "Outsider" Trump vs. the Establishment
Trump is an outsider who has no connections with any of them, and yes, he has openly challenged them to bring them to justice. He also challenged media outlets like CNN and MSNBC, which have run on TV for years. Trump snatched away their credibility. He changed America in four years, as the establishment was literally being ripped apart. 
However, he was defeated, and Biden came. But Biden became a bigger disaster for the USA as even allies like the EU started going against the dollar, African nations started mincing no words against the USA, and in Afghanistan, the Taliban returned due to a very misguided withdrawal.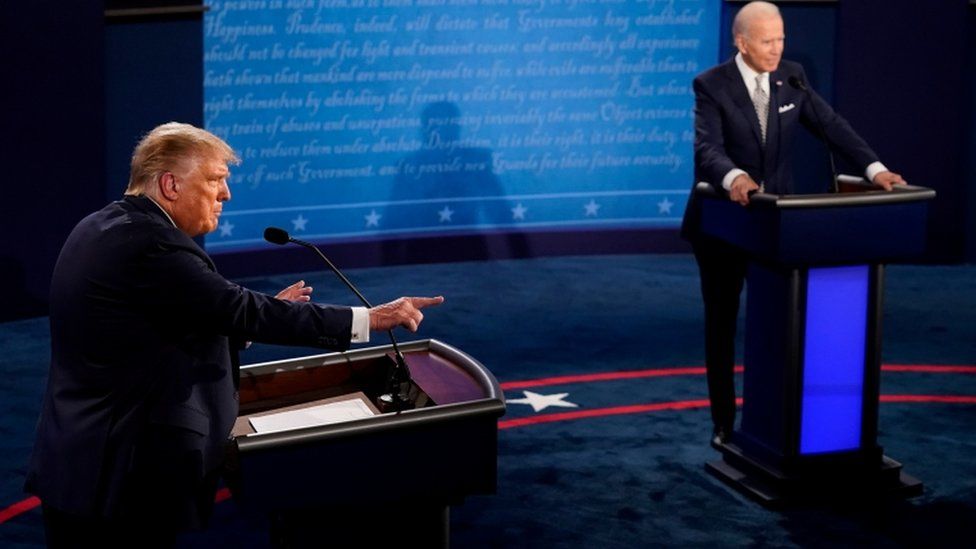 Biden is consistently being ridiculed, and it's almost inevitable that a Trump comeback is in sight. Until and unless the backdoor rulers have a plan.
Rumour has it that Biden is being dragged into court and is on the verge of being impeached.
But let's not forget one important detail, folks: every leak in the world is deliberate. That's right, you heard it here first. There's always a motive behind every leak, whether it's to gain an advantage, stir up controversy, or simply get someone's attention.
Read More: Trump could not but Mitsotakis is actually building a wall
The FBI leak
Known GOP leader House Oversight Chair James Comer dramatically escalated his investigation into President Joe Biden with a subpoena to the FBI citing the broad outlines of a "highly credible" whistleblower complaint. 
The summons for documents is Comer's (R-Ky.) most direct attempt to investigate the president after largely focusing on Hunter Biden and other family members. The Oversight chair and Sen. Chuck Grassley (R-Iowa) asserted that the FBI has material outlining "an alleged criminal scheme involving then-Vice President Biden and a foreign national relating to the exchange of money for policy decisions."
Biden is being labeled as a corrupt politician who changed his decision on bribes, which raises the chances he could be impeached. His impeachment would mean his ouster at the earliest, and it would take some time before things could get under control. Or else, Trump could return next year, making things more troubling for the establishment.
Read More: EU is officially preparing for a Donald Trump presidency
Trump 2.0- A Gamechanger 

Trump broke the unsaid rule of American politics that every politician is a friend, irrespective of the political party. He simply didn't believe it. And his Version 2.0 will simply mean revenge, which he is eyeing. This makes it more likely Biden could be shown an exit door before his time. 
Trump 2.0 will change the US forever. The US won't remain enemies with Russia. The future of NATO will be under the scanner. The US will stop fighting and funding pointless wars. The US will stop meddling in the affairs of other countries. Trump had zero respect for global bodies like the UN, WHO, and even IMF and the world bank. Trump will create an inward-looking America dedicated to the welfare of its own people and the deep state and the power brokers will be left smarting at their wounds.
Biden is bad news for the establishment because Trump will crush him. A younger more dynamic and borderline capitalist Democrat can challenge the Trump juggernaut and possibly even win. If that happens, the deep state can rejoice for another 4 years and it will be enough time for Trump to go out of vogue. That's the plan folks. That's the leaks. An impeachment, a change of guard, and the stopping of the person they call the orange man.
But, honestly, a deliberate leak by the FBI? Are we in a spy movie? It certainly feels like it. All this drama is just to somehow ensure Trump remains out of the picture. It doesn't give Trump more leverage over Biden.
Watch More: