Iran and Saudi Arabia, the heavyweight contenders of the Middle East and longstanding adversaries, have shockingly decided to put their differences aside and join forces. This unprecedented move has sent shockwaves through the region, triggering a complete recalibration of alliances. 
Iran has even found a new partner in Syria, while Saudi Arabia has chosen to leave its troubled past behind and embark on a new path with renewed optimism.
The ramifications of this Middle Eastern reset extend far beyond mere diplomatic realignment. For the United States, it signifies a diminished influence in the region—a reality that has left almost every Middle Eastern nation frustrated with the Joe Biden administration. 
Saudi Arabia, in particular, has publicly lambasted the USA for its negative statements, and OPEC allies have defiantly denied extra oil production to Western nations. Faced with mounting resistance, the US resorted to a desperate show of force, threatening to seize Iran's vital Strait of Hormuz. Yet, this display of military muscle failed to achieve the desired results.
Now, the US is unveiling a bold new plan, an audacious move to strike at the heart of Saudi-Iran relations in a last-ditch effort to disrupt the burgeoning alliance: the US is back with its Israel gamble. 
Blinken's promise 
US Secretary of State Antony Blinken, in a high-stakes endeavor, landed in Saudi Arabia to mend frayed ties with the oil-rich kingdom while simultaneously luring Saudi Arabia away from Washington's adversaries.
Blinken's whirlwind three-day visit carries weighty objectives. Alongside efforts to resolve conflicts in Sudan and Yemen and combat the Islamic State group, the US hopes to steer the Arab world towards normalization with Israel. 
The Secretary of State wasted no time, engaging in a late-night meeting with Saudi Arabia's de facto leader, Crown Prince Mohammed bin Salman. The State Department released a carefully worded statement highlighting their commitment to "advance stability, security, and prosperity across the Middle East and beyond," with a discrete nod to "human rights."
It was also revealed that Blinken and bin Salman discussed the possibility of Saudi Arabia normalizing relations with Israel—a tantalizing prospect for US strategists.
Read More: Netanyahu's arrival shakes up the Middle East politics
Why the Gamble? 
Rumors of Saudi-Israeli rapprochement have long circulated, with discreet economic discussions taking place as early as 2015. Public meetings between Saudi Arabian and Israeli figures in 2016 hinted at a budding détente. The US now believes that by forging Saudi-Israeli ties, it can effectively undermine Iran's ambitions and disrupt the growing Saudi-Iran nexus.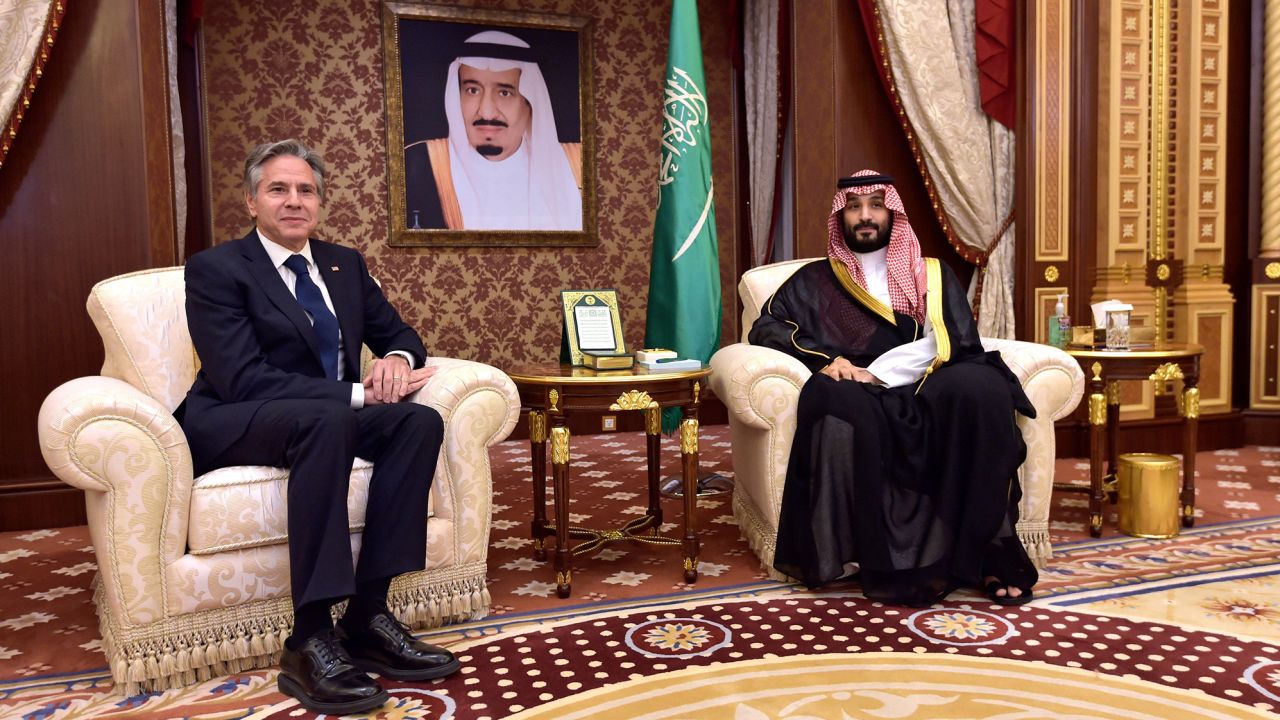 However, this plan appears more like wishful thinking than a strategic masterstroke. The world has moved on from the days of fanning the flames of hatred and animosity between nations. While Israel and Iran may have their differences, it is worth noting that Jerusalem did not issue any grand statements regarding Saudi Arabia's bromance with Tehran.
Netanyahu is yet to take massive actions against the Saudi-Iran peace deal which demonstrates, he is not bothered about the deal at all. Whereas, even Iran appears to be not so invested in talking about Israel in recent days. 
Read More: The Final Countdown: The Strait of Hormuz and the Upcoming NATO-Middle East War
The Biden administration appears to be prepared to go to any lengths in its unquenchable thirst for dominance. Now, the US is betting on Israel to reshuffle the Middle Eastern cards in its favor. Whether this gamble will succeed, though, is still very uncertain. 
In this high-stakes game, the odds are stacked against the US because desperation can impair judgment. Only time will tell as the drama develops whether Blinken's bold move will upend the Saudi-Iran nexus or prove to be yet another fruitless attempt to regain control in a changing geopolitical environment.
Watch More: