Ottawa and Delhi are no good friends, everyone knows it. However, in recent times, India appears to have turned its attention to Canada, leaving Trudeau and his Khalistani allies in disarray. What exactly is cooking? Remember the statement that Jody Thomas gave a few days ago? "Several state actors and non-state proxies" were conducting foreign interference in Canada. While China, Russia, and Iran were the usual suspects mentioned, there was one name that caught everyone off guard – India.
You heard it right. India, the country that Trudeau's Liberals had been actively seeing as its enemy, suddenly found itself under the spotlight for allegedly meddling in Canadian affairs. But let's pause for a moment and ask ourselves: What evidence was presented to support such a bold claim? None, it seems.
However, as the saying goes, a person knows their sins are about to catch up with them. And Trudeau's government seemed to have had an intuition of this long before the storm of interference began brewing in Canada. It appears that India has set its sights on eliminating the Khalistani movement on Canadian soil. These are the very same individuals who have been fomenting unrest and posing a threat to India's stability on a much larger scale.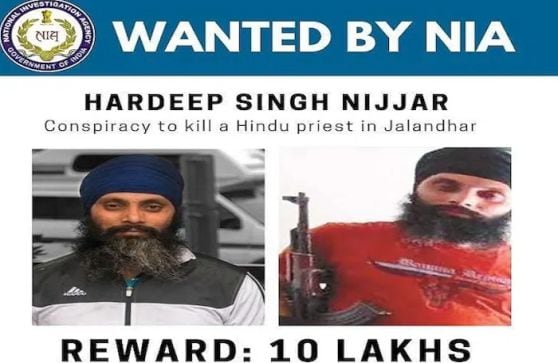 Khalistani Assassinated
Starting with the big news of the week. Khalistani terrorist Hardeep Singh Nijjar was shot dead by unknown assailants in Canada. Nijjar, a member of the banned terror group SFJ, had conspired to kill Hindu priests in the Indian city of Jalandhar, prompting Indian agencies to offer a reward of 1 Million for information leading to his capture.
But Nijjar's demise is just a small chapter in an epic lore that is taking place for months. Avtar Singh's Khanda, another prominent figure in the Khalistan movement and a handler of separatist Amritpal Singh, met his untimely end in a UK hospital, with his death being attributed to poisoning. And this was just the tip of the iceberg.
Over the past few months, several Khalistani supporters have met mysterious fates, their deaths shrouded in unexplained circumstances. It seems like a well-coordinated effort to neutralize extremists across the globe.
From the arrest of Harpreet Singh, alias 'Happy Malaysia,' at the Indira Gandhi International Airport in New Delhi, to the apprehension of Goldy Brar, the mastermind behind Sidhu Moose Wala's criminal activities, in California, the noose seems to be tightening around Khalistani operatives.
Not even India's Arch Nemesis Pakistan has been spared in this crackdown. Gangster-turned-terrorist Harvinder Singh Rinda died suddenly in a Lahore hospital, allegedly due to a 'drug overdose.' Paramjeet Singh Panjwar, a key figure of the Khalistan Commando Force, was assassinated outside his hideout in Lahore.
And in Thailand, Khalistani terrorist Kulwinderjit Singh, alias Khanpuria, was deported, only to be swiftly arrested by the NIA upon landing at the Indira Gandhi International Airport. Even terrorist 'launching chief' Bashir Ahmad Peer couldn't escape this wave of retribution, as he was gunned down in Rawalpindi, Pakistan.
Read More: Khalistanis have hijacked British Columbia, with Trudeau's silent approval
Khalistan is Petrified
These developments have left Khalistan supporters in Canada in a state of frenzy. The World Sikh Organisation of Canada has already pointed fingers at Indian intelligence agencies, alleging their involvement in these events.
Adding to the intrigue, Gurpatwant Singh Pannun, the enigmatic founder of the pro-Khalistan outfit Sikhs for Justice (SFJ), which operates extensively in Canada, has reportedly gone off the grid for the past 48 hours. Truly, these are remarkable and tumultuous times.
Now, one can begin to connect the dots why Justin Trudeau's government accused India of interference.
It seems India has launched a relentless witch hunt to eliminate every extremist standing up against its interests, and Trudeau's government finds itself helpless to stop it.
Indian Foreign Minister S. Jaishankar had warned Western nations back in March 2023, urging them not to allow themselves to be misused to promote terrorism against India. It appears that the time for a reminder has come, and India is making its move, decisively and without restraint.
The intriguing connection between Khalistani extremists and the funding and support they have received from none other than Justin Trudeau and Jagmeet Singh is world known. Instances of Khalistan supporters hounding, attacking, and even eliminating members of the Indian community and desecrating their temples have been alarmingly frequent, particularly in Brampton.
Read More: How YouTube Helped Trudeau Crush a viral documentary recounting his sins
As India continues its mission to eliminate the Khalistani threat, Trudeau may find himself at an impasse. The stage has been set, the drama has begun, and it remains to be seen how this high-stakes cat-and-mouse game will play out on Canadian soil. But one thing is certain: India is on a mission, and no one appears to be able to stop it. Poor JT; maybe he could give tissues to Jagmeet Singh so that he can wipe his tears.
Watch More: