Keeping a snake in your house doesn't automatically make it friendly; it simply means you've invited danger to reside with you, for no matter how well it's kept, its inherent nature of danger remains… This adage seems to resonate with recent events unfolding in Europe. The acceptance of Syrian refugees in 2015, driven by the spirit of solidarity, has had unforeseen consequences.
From burning cars and looting stores, the riots in France have revealed a dark side that was never anticipated. As the smoke clears, it is crucial to understand the role played by Ukrainian weapons in fueling this chaos.
At the start of 2015, an unprecedented disaster befell several European countries as thousands of Syrian refugees sought shelter. In an act of compassion, European countries welcomed them, demonstrating their inherent nature of solidarity. However, as time progressed, the true nature of this influx became apparent, with riotous behavior taking hold in various nations.
The riots witnessed in France showcased a level of violence previously unseen. Individuals who did not even have a place to call home suddenly found themselves armed on the streets, perpetrating acts of violence. The question arises: where are these refugees obtaining these weapons? Recent revelations from Russia provide some answers.
Russia revelation
Russia has claimed that the weapons used in the French riots were originally intended for Ukraine but ended up in the hands of criminals. According to Maria Zakharova, the Russian Foreign Ministry spokeswoman, the arms delivered to Kyiv found their way into the hands of protesters in France.
She states that "The weapons delivered to Kyiv end up in the hands of the very same protesters and are used against the police there, in France," She further states that the weapons supplied to Ukrainian nationalists, Nazis, and fascists not only find their way to Western countries but are also used against their own people.
The French Foreign Ministry has denied Russia's claims that weapons supplied to Ukraine were used in the protests in France. However, this is not the first time such allegations have surfaced.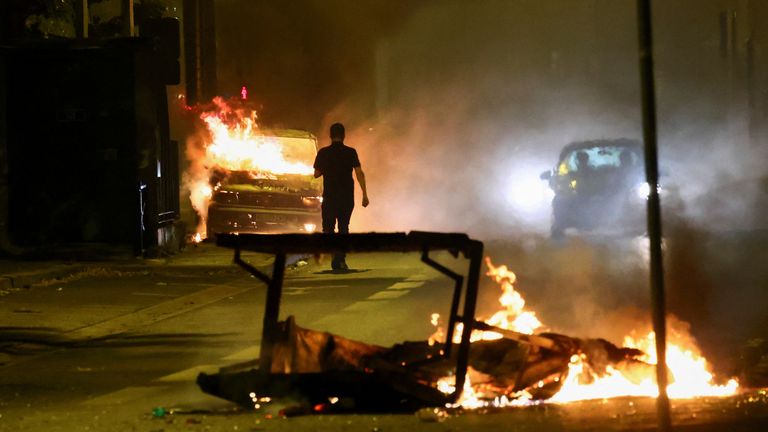 In 2021, reports emerged suggesting that arms sent to war-torn Ukraine had reached almost 5000 Swedish gang members. Late in 2022, the Finnish police reported an influx of "huge quantities" of weapons shipped to Ukraine, which eventually found their way into their country.
It is becoming increasingly apparent that an illicit arms trade is flourishing throughout Europe. From Sweden to Finland and now in France, the consequences of this black market exchange are far-reaching. Crime rates have surged, and innocent lives are being affected. The situation demands the urgent attention of European countries before it spirals out of control.
Read More: Three days in France are going to re-write the next 30 years of Europe
The revelation of Ukrainian weapons being used in the French riots should serve as a wake-up call for Europe. The unintended consequences of accepting refugees have led to the emergence of an arms empire that threatens the safety and security of nations.
From Sweden to Finland, Italy to France, this alarming trend demands immediate action. The smuggling of guns and the subsequent rise in crime rates across Europe are issues that must be addressed promptly. The future will reveal how Europe reacts to this illicit arms trade.
Watch More: