There are always two distinct kinds of leaders: those who follow the herd and those that march to the beat of their own drum, like Giorgia Meloni, the vivacious and savvy Prime Minister of Italy. Meloni has been on a quest to restore Italy's lost recognition and proclaim the country's independence on the international scene. She does so with a serene and joyful demeanor that hides her brilliant abilities.
From gracefully canceling China's ambitious Belt and Road Initiative to protecting Italy's poultry and farming by outlawing lab-grown meat, Meloni has demonstrated that she isn't hesitant to take decisive action for the interests of her nation.. But it's not just economic matters where she shines; she's also demonstrated her mettle when it comes to handling sensitive issues like the EU's migrant crisis.
While some former Italian leaders might have been more accommodating to Western pressure, Meloni stood firm, diverting and refusing migrant ships from entering Italy, a stance that sent a strong message to both the EU and NATO. Italy's new PM is someone the West can't take for granted or push around.
The Niger Coup 
Now, in a surprising turn of events, Italy has unleashed a new attack, this time on NATO allies, in Africa. The recent ousting of Niger's President Mohamed Bazoum has sent shockwaves through the Sahel region, threatening political stability and efforts to counter Islamist insurgency.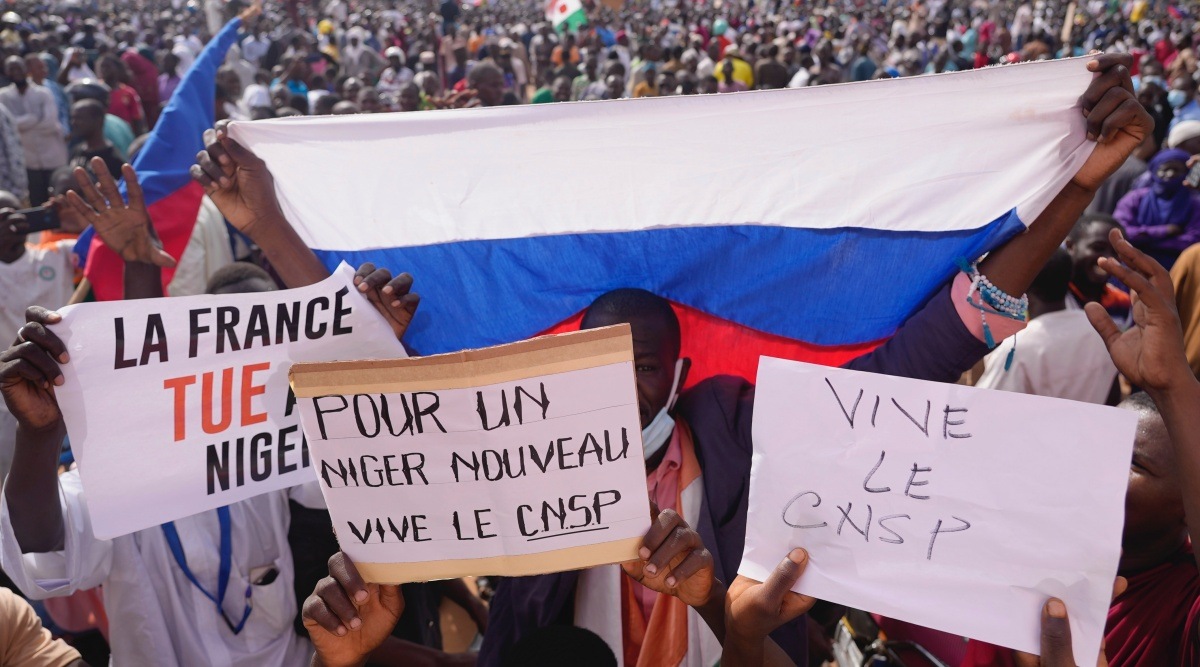 Bazoum's democratic leadership was a beacon of hope for Western allies, as his strong security partnerships with the US and France added to the stability of Western energy security.
The ousted president had allowed Western allies access to Niger's large uranium reserves, a crucial resource that NATO relied on. However, Italy seems to have other ideas, possibly recognizing the new leader and hinting at a departure from NATO's unified front.

Read More: Italy cancels BRI
"Russia? NO!"
Italy's Foreign Minister Antonio Tajani has downplayed any evidence of Russian involvement in the coup, leaving the NATO allies tense and puzzled. "We have no information of Russia's involvement in the Nigerien events or the preparation of the coup," Tajani told the outlet when asked whether Moscow was playing some kind of game in the Sahel nation. He dismissed the Nigerien protesters carrying photos of Russian President Vladimir Putin as "more anti-French than anything else."
He added, "Yes! Democracy must be restored. But we want peaceful solutions to be found. We have also always been against the proposal of any European military intervention." So you get it? Italy is not in favor of military action. 
While the West expected unanimity from its allies, Italy has chosen to pursue a diplomatic approach to the situation. The Italian Prime Minister has consistently advocated for peaceful solutions and has refrained from discussing intervention with her French counterpart, Catherine Colonna.
This independent stance on Africa policy has dealt yet another setback to NATO's ambitions. Giorgia Meloni is playing by her own rules, and it's leaving the alliance baffled. While some may question her approach, there's no denying that she's determined to protect Italy's interests and chart her own course.
NATO may have expected Italy to fall in line with its agenda, but with Meloni at the helm, that's far from the reality. She has shown time and again that she's not afraid to defy expectations and stand up for what she believes is right for her country. Italy is no longer content to play a supporting role in international affairs; it is asserting its presence and making its voice heard.
Read More: Giorgia Meloni has an excellent plan to de-dollarize Italy
As the nation continues to make waves in the world of geopolitics, there's no doubt that Giorgia Meloni's leadership will be pivotal in shaping Italy's future trajectory. Whether it's dealing with global powers like China or standing firm against NATO's military interventions, Meloni is proving herself to be a force to be reckoned with.
Watch More: