The Biden administration and the US military have begun to arm-twist Ukraine as the Ukrainian counteroffensive fails miserably. Now a 30-day deadline has been set, and so, Kyiv must take these words very seriously. 
Gen. Mark Milley, a senior US military officer, recently indicated that Ukraine's effective fighting capability is anticipated to last for approximately 30 more days before unfavorable weather conditions impede their counter-offensive.
The forthcoming winter is expected to constrain Ukraine's battlefield mobility. Gen. Milley acknowledged that the offensive's progress has been slower than anticipated. It's important to acknowledge that Kyiv's counter-offensive, initiated during the summer with the goal of reclaiming Russian-occupied Ukrainian territory, has thus far achieved only limited gains.
Gen. Milley recognized the challenges of combat in cold and wet conditions, suggesting that it is improbable for Ukraine's counter-offensive to persist under these circumstances.
US Losing Patience: The Clock Ticks on Ukraine
This marks the second instance where a high-ranking U.S. official has questioned or expressed dissatisfaction with Ukraine's counteroffensive.
The prior incident happened on September 6 during Secretary of State Antony Blinken's visit to Kyiv. Blinken's visit was noticeably avoiding provocative language, in contrast to previous confrontational rhetoric toward Russia.
Throughout his visit, Secretary Blinken reiterated that his actions were in line with President Biden's instructions, emphasizing unwavering U.S. support for Ukraine.
He underscored the immediate necessity of aiding Ukraine in its counteroffensive while concurrently assisting the nation in developing a robust defense against aggression and bolstering its democratic and economic foundations.
Notably, Ukrainian Foreign Minister Dmytro Kuleba mentioned discussions about providing long-range rockets (ATACMS) to Ukraine, however, Blinken avoided addressing the discussions directly.
This has sparked speculation that the U.S. might be inclined to facilitate peace talks between Moscow and Kyiv, especially given the Ukrainian counteroffensive's limited success and the diminishing support for the proxy war by both the United States and Europe.
Read More: US knew all along that Ukraine will be battered
Ukraine's Gambit: A Surprise Move on the Chessboard
Despite the challenges, Ukraine is pursuing different objectives. While the Ukrainian military still faces obstacles in reclaiming lost territories, President Zelensky has set his sights on Crimea. Recently, Ukraine appointed a new defense minister, Rustem Umerov, who possesses expertise on Crimea and hails from the Tatar region of the peninsula.
Notably, Umerov played a significant role as a key negotiator in peace talks with Russia in Istanbul last year, resulting in an agreed document (later retracted by Zelensky under Anglo-American pressure).
Zelensky remains hopeful that Ukraine's counteroffensive will succeed, even as the daily death toll in Ukraine has surged, surpassing 500 fatalities every day.
The international community is increasingly urging caution and a more constructive approach in response to Ukraine's evolving situation. 
Germany, and France, along with other supporting nations, have voiced concerns about President Zelensky's ambitions and are advocating for a more balanced path forward. Now, the United States, the most prominent player actively involved in the conflict, has also begun expressing its views.
US Support: Billions Spent, but Where's the Victory?
Since 2021, the U.S. has provided substantial military aid to Ukraine, totaling $44.4 billion. A significant portion, approximately $43.7 billion, was delivered after the war's outbreak on February 24, 2022. 
However, according to the Kiel Institute for the World Economy, the U.S. has contributed an estimated $76 billion encompassing humanitarian, financial, and military support to Ukraine since the conflict's inception, with some speculations suggesting even higher figures, surpassing a trillion.
In terms of humanitarian assistance, the United States, through the U.S. Agency for International Development (USAID), has extended $2.6 billion to Ukraine since the conflict began. While the exact financial aid total remains undisclosed, the Kiel Institute's estimates suggest it to be around $27 billion.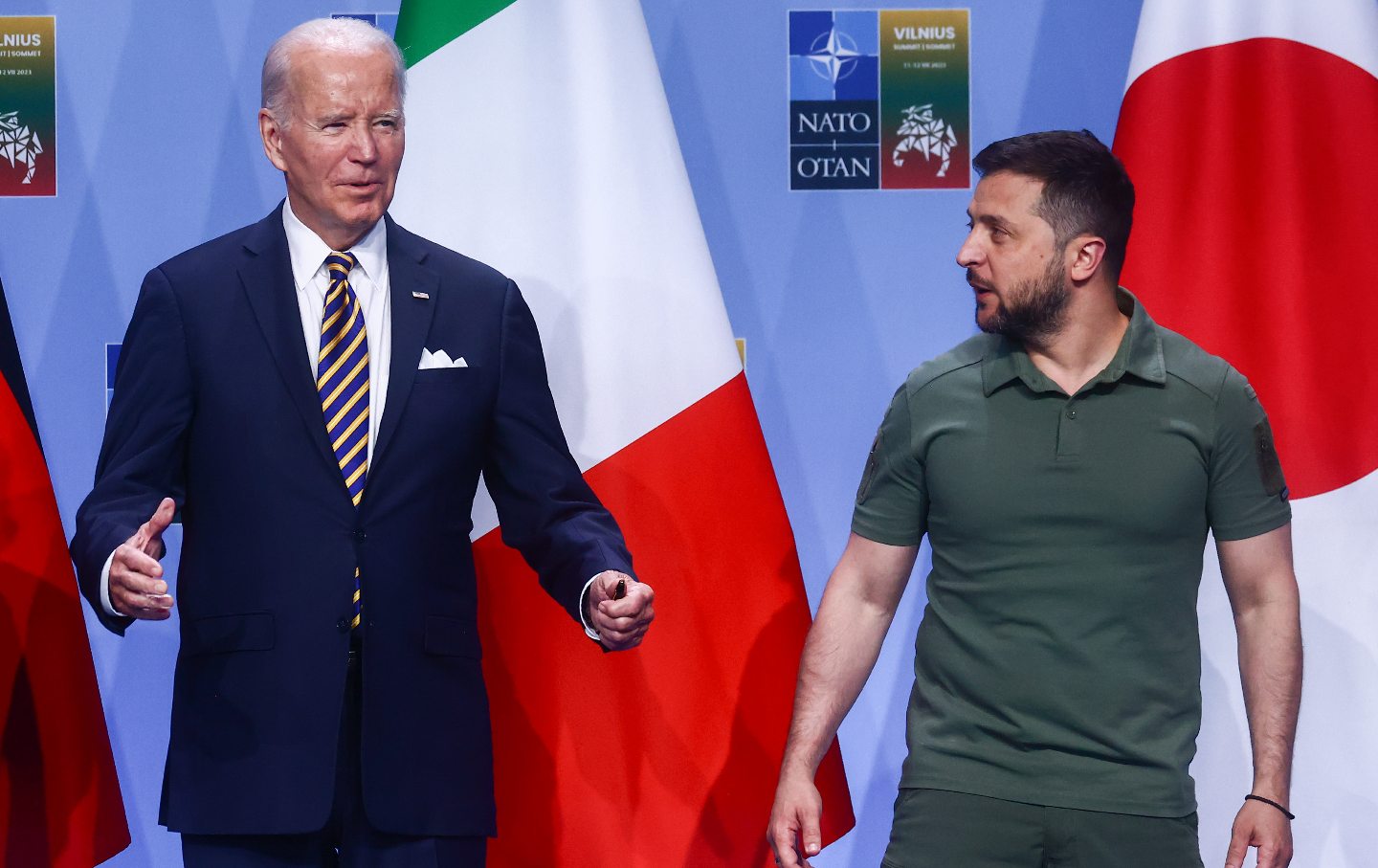 Regarding military aid, the initial package approved by President Biden amounted to $350 million, which included small arms, ammunition, anti-armor systems, and equipment for Ukrainian frontline defenders. Subsequently, on April 13, 2022, President Biden announced an additional $800 million in arms and defense assistance. 
In July 2022, as Russia targeted Ukrainian infrastructure, the Pentagon announced an extra $820 million in security assistance, including advanced air defense systems like two National Advanced Surface-to-Air Missile Systems (NASAMS).
Furthermore, the U.S. agreed to acquire 31 M1 Abrams tanks for Ukraine, expected to be operational on the frontlines in the upcoming autumn.
It's worth noting that the U.S. decision to provide cluster bombs and depleted uranium ammunition to Ukraine has raised international concerns regarding the potential humanitarian consequences of these actions. 
Read More: Kupiansk: The Next Chapter of Ukraine's Embarrassment
All in Vain? Ukraine's Battle for Gains
Despite extensive support, Ukraine has made little progress against Russia, with much of the war aid being lost or inaccessible. The loss of critical cities like Kupiansk and Bakhmut underscores concerns about Ukraine's military effectiveness. In contrast, Russia continues its advance with determination, marching towards Odessa. 
And so, a change in tone is evident as the United States adjusts its stance on Ukraine, driven in part by domestic considerations within the Biden administration, which seeks to retain the Oval Office in 2024. 
This shift in tone was conspicuous during the recent G20 summit, where the U.S. officially referred to the ongoing conflict as the 'War in Ukraine,' a deviation from its former stance as  ' Russia's War against Ukraine.
Read More: Zelensky admits that he can't take back Russia occupied Ukraine
As the situation unfolds, the United States has issued a decisive ultimatum to Ukraine, granting them a mere 30 days to demonstrate their military capabilities and resolve. With this ultimatum, the clock is ticking, and the world watches as Ukraine faces a critical test of its mettle in the face of an advancing Russian force.
Watch More: