As if the carbon tax for Canadians wasn't enough, Trudeau is now heading to fulfill Jagmeet Singh's ' 'Windfall tax' dream. Dear Canadians, prepare yourself because the Canadian hunger crisis is now just one tax away from disaster. 
Canadian Prime Minister Justin Trudeau is contemplating policies to address the surging cost of food in Canada. He issued a warning to the country's five largest supermarket chains, which include Walmart and Costco, cautioning them that new taxes could be imposed unless they take measures to curb rising food prices.
Trudeau has ordered that these supermarket giants must devise a plan to tackle the price hikes before Thanksgiving. He stated, "If their plan doesn't provide real relief for the middle class and people working hard to join it, then we will take further action, and we are not ruling anything out, including tax measures."
Additionally, federal minister Francois-Philippe Champagne held a meeting with the CEOs of Canada's major grocery chains in Ottawa. Champagne stressed, "Canadians deserve solutions from the food sector… We must and we will act together to stabilize food prices for Canadian consumers and improve competition in Canada."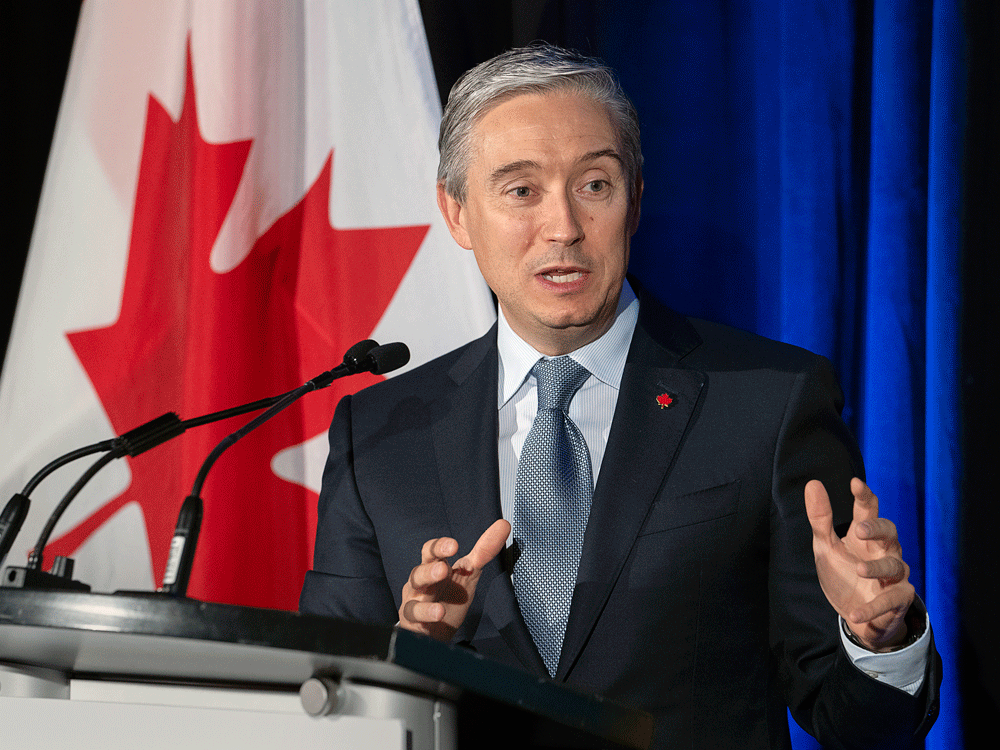 Grocery Tax or Windfall: Jagmeet's Long Demand 
Under pressure from NDP Leader Jagmeet Singh, Canadian Prime Minister Trudeau is now considering taking action against grocery chains.
While Trudeau hasn't detailed the specifics of these "new" taxes, Jagmeet Singh has often advocated for a "windfall tax," which targets extra profits at a higher rate. Such categorization of a "windfall" is subjective, and increasing corporate taxes often indirectly affects consumers, as the added expenses are usually passed on to them.
As a stern warning has been issued to major Canadian grocery chains by Prime Minister Trudeau, there are concerns voiced by experts that the government's actions may ultimately lead to additional price hikes for ordinary Canadians. These policies have the potential to further increase grocery expenses or even result in food shortages, possibly both.
Read More: Even food banks are going bankrupt in Canada now, and the consequences will be disastrous
The Issue with Canada: There is no food
The Canadian authorities are simply blaming grocery stores for the problem, but the fact is that the issue stems further down the supply chain, such as truck drivers, food processors, and farmers, who are all grappling with increased operational costs and subsequently passing those costs on. 
Grocery stores are the most visible link in the chain, and singling them out as the root cause of inflation is simply the most performative approach typical of the Liberal party.
The imposition of a singular windfall tax on grocery stores could inadvertently burden Canadians even more, as these stores need to maintain profitability. Conversely, if companies are constrained from raising prices because the windfall tax reclaims any additional profits, it's probable that corporations will reduce investments.
This parallels the consequences seen when the United Kingdom implemented a windfall tax in response to escalating oil and gas prices; energy companies subsequently curtailed production and initiated layoffs, illustrating how such taxes can impact economic activities and potentially exacerbate the Canadian hunger crisis.
Tax of Disaster: Food Insecurity to Worsen 
Implementing a windfall tax on grocers could inadvertently exacerbate food insecurity issues in Canada, potentially leading to food shortages and higher prices for certain products or brands. This policy approach comes at a time when Canada is already grappling with a severe food insecurity crisis. 
In 2022, a staggering 18.4% of individuals in the ten provinces lived in food-insecure households, comprising 6.9 million people, including nearly 1.8 million children, who struggled to afford adequate nutrition. This represents a significant increase compared to 2021, occurring amidst unprecedented inflation.
Moreover, a substantial number of Canadians are increasingly reliant on food banks to meet their nutritional needs. A survey predicts a 60% surge in the utilization of food banks and related programs in 2023, further underscoring the magnitude of the food insecurity challenge in the country. 
Read More: The Drug Bust of Justin Trudeau in India which Ottawa is probably hiding
The government's criticism of grocers is perplexing, considering Ottawa's role in fueling inflation, making the high food prices merely a symptom of a larger issue. Rather than addressing the core problem, Trudeau's approach risks exacerbating the Canadian hunger crisis, potentially causing significant harm to Canadians.
Watch More: