Hardeep Singh Nijjar case: Justin Trudeau's recent escapade at the G20 Summit in India reads like a story of dashed expectations and diplomatic snubs. The absence of a warm welcome mat from Indian PM Narendra Modi spoke volumes about Trudeau's standing on the global stage. As the cameras flashed for other leaders, Trudeau found himself relegated to the shadows. In a summit brimming with partnerships, trade deals, and climate alliances, Trudeau's contributions seemed as substantial as a deflated balloon. Moreover, his misguided belief that he could make India a pariah only left him looking like a magician who pulled the wrong rabbit out of the hat.
Trudeau's G20 sojourn ignited the feud with Narendra Modi
Trudeau's recent visit to India can be likened to a diplomatic tightrope walk, with each step threatening to unravel relations further. His agenda, which raised eyebrows, accused India of meddling in Canadian affairs, yet lacked formal confirmation.
Furthermore, Trudeau's fervent desire to spotlight the Khalistan issue at the G20 Summit left him hanging in the winds of indifference. His expectations of attention from officials went unmet.
Trudeau's controversial remarks, citing "credible allegations" linking Hardeep Singh Nijjar's killing to the "agents of the Government of India," drew a flurry of responses. Even his political ally, Jagmeet Singh, took to Twitter, pledging justice and accountability, a move that resembled adding gasoline to an already raging fire.
However, India responded by characterizing these allegations as "absurd and motivated." The Indian government, long concerned about Khalistani terrorists in Canada, noted that such allegations only divert attention from the real issues threatening India's sovereignty and territorial integrity.
Read More: India began Trudeau's descent, India is set to finish him
Clearly, Trudeau's G20 odyssey left Canada-India relations teetering on shaky ground.
The controversial demise of Hardeep Singh Nijjar
The tale of Hardeep Singh Nijjar reads like a script for a spy thriller gone awry. Leading the Khalistani Tiger Force and the Canadian branch of Sikhs For Justice (SFJ), Nijjar met his demise at the hands of unknown assailants near a gurdwara in Surrey. This notorious figure, hailing from Punjab but nestled in Canada since 1997, was a wanted man in India, deemed the puppeteer behind the Khalistani Tiger Force, a designated terror outfit.
India even put a bounty of ₹10 lakh on his head in connection with the murder of a Hindu priest in Punjab and linked him to the 2007 cinema bombing. The National Investigation Agency (NIA) had its hands full probing recent attacks on Indian diplomatic missions across Canada, the UK, and the US.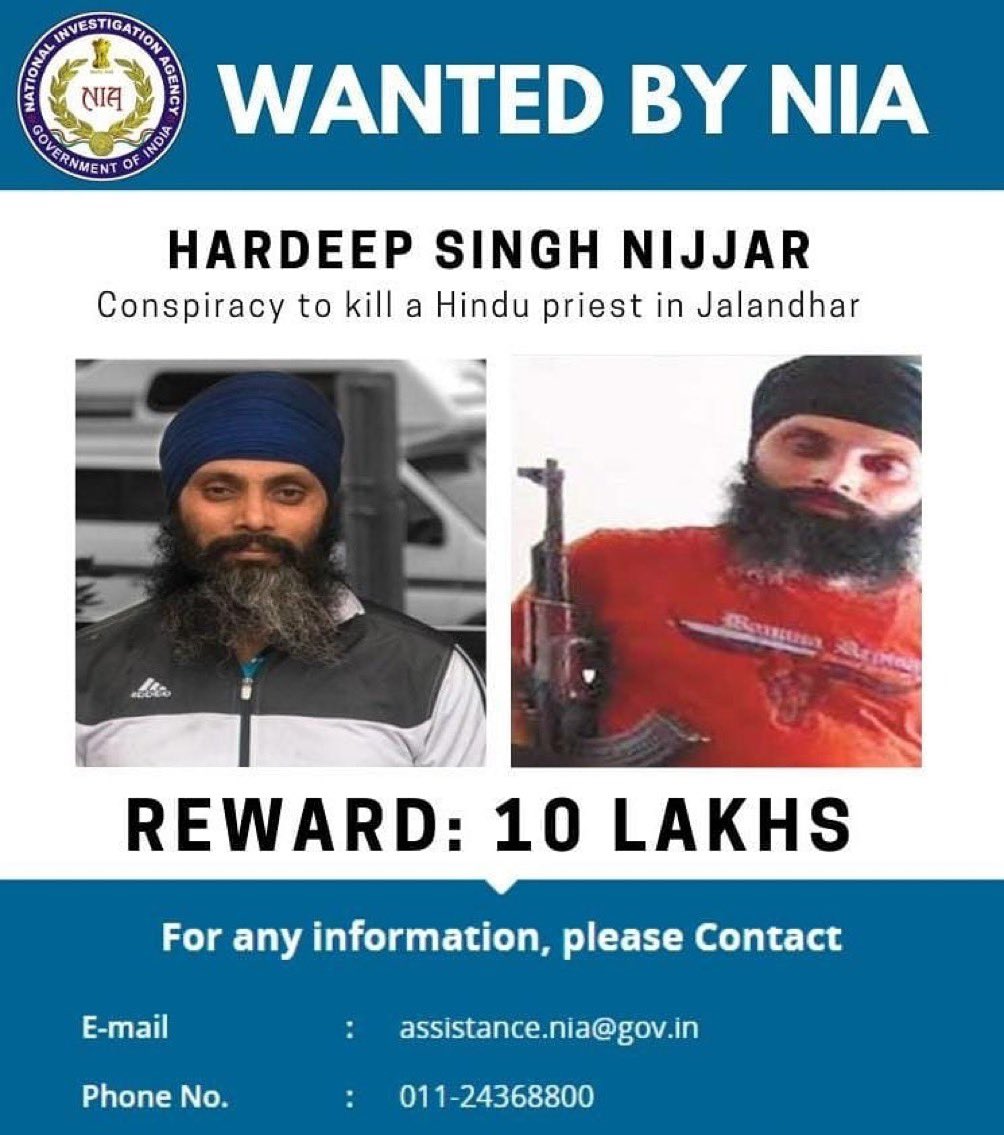 Canada, once a favored haven for expat Sikhs, has witnessed the mushrooming of extremism in recent years. The past few months saw multiple Khalistani activities in Canada, including protests outside the Indian Embassy and threat posters for Indian diplomats.
Enter Trudeau, who in his meeting with Modi faced a diplomatic dressing-down for allegedly cozying up to anti-India and extremist elements. His support for India's farmers' protests in 2020 only turned the heat up. India's response, a resounding "rejection" of Trudeau's allegations, underscored the deep-seated concerns surrounding political sympathies for these elements. 
Trudeau sought revenge from India
Trudeau's G20 ordeal in India seemed to spark a vendetta. Shortly after, Canada delayed a trade mission scheduled for October, a clear retaliation. They paired this move with the expulsion of a senior Indian diplomat, coyly identified as the head of India's Research and Analysis Wing (RAW) in Canada. India, not one to back down, reciprocated by showing a Canadian diplomat the door, citing interference in their internal affairs and anti-India activities.
As if that wasn't enough, Canada decided to spice things up with an updated travel advisory, urging its citizens to steer clear of Jammu and Kashmir due to the "unpredictable security situation." This exchange of jabs has raised the temperature between the two nations, all triggered by Canada's allegations of India's involvement in the death of Khalistan extremist Hardeep Singh Nijjar.
Trudeau vs the Global leaders 
To add insult to Trudeau's injuries, his attempt to rally his so-called "closest allies" against India in the wake of the Hardeep Singh Nijjar case has backfired spectacularly. Despite his efforts to garner international condemnation, Trudeau found himself with lukewarm responses from leaders of countries he had hoped would join his diplomatic crusade.
Read More: Can't Blame China! Trudeau finds a new scapegoat in India for his personal slip ups
Trudeau briefed leaders from the UK, France, and the US about the situation, only to be met with a chilly reception. Australian Prime Minister Anthony Albanese remained tight-lipped on the matter, while a spokesperson for UK Prime Minister Rishi Sunak made it clear that their top priority was securing a trade deal with India. The British response essentially amounted to "trade trumps all."
Across the pond, US officials expressed concern but stopped short of endorsing Trudeau's allegations. They emphasized their ongoing dialogue with Canada regarding the issue and called for cooperation in the investigation. It's safe to say that Trudeau's hopes for a united front were dashed.
In a comical turn of events, a reporter asked Albanese whether he had personally raised concerns with Indian Prime Minister Narendra Modi during the G20 meeting. Albanese brushed off the question by saying, "Seriously, you should chill out a bit." He emphasised the significance of the G20 meeting and the rise of regional powers, subtly highlighting the insignificance of Trudeau's grievances.
Even Sunak's spokesperson echoed the sentiment that trade negotiations would proceed regardless of the incident, refusing to conflate the two issues. The message was clear: business interests won't be swayed by Trudeau's diplomatic theatrics.
In the end, Trudeau's expectations of international support crumbled, leaving him in an awkward position. The G7, far from backing him, showed reluctance to point fingers at India.
Pierre Poilievre makes a sensible request
Trudeau's allegations against India seem to be falling flat, even within his own borders. Pierre Poilievre, a member of Canada's opposition party, has called for transparency from the Prime Minister, emphasizing the need for concrete evidence to support his claims. Poilievre astutely remarked, "The Prime Minister has not provided any facts… we want to see more information." It's a reasonable demand, considering Trudeau's secretive stance on China's foreign interference.
As the clock ticks on Trudeau's "master plan" to confront India, the evidence he promised remains conspicuously absent. In the meantime, Canada has lost a diplomat, India has derailed a potential trade deal, and Trudeau's hope for international support has dwindled to a mere wish. 
Trudeau Appeasing voters with global consequences
Justin's recent actions seem to be less about principled diplomacy and more about political manoeuvring. It's evident that he may be attempting to regain support from Muslim voters who turned away from his "woke agenda" after recent protests. The demands from the National Council of Canadian Muslims to 
Immediately Ban RSS under criminal code

Expunge Indian Ambassador to Canada 

Recall Canadian Ambassador and

Break Economic ties with India with some exceptions are a testament to this.
 Read More: Trudeau disrespected India wilfully, and at an alarming frequency. The result is here
Trudeau's gamble, however, appears to have backfired. While it might have momentarily appeased Khalistanis and radical Islamists, it has brought him global condemnation and humiliation. His naive belief that the Western world would rally behind his campaign against India has been shattered. Western allies are pragmatic, seeking to safeguard their oil and food grain supplies from India. They won't jeopardize their trade ties based on Trudeau's unsubstantiated allegations.
Trudeau's attempt to paint India as a pariah has turned into a tragic flop. Trudeau's grand scheme to threaten India with baseless claims has crumbled, leaving him with little to show for his efforts.
Watch More: