As if a diplomatic rift with India wasn't enough, Justin Trudeau has decided to pick a fight more contentious than the India-Khalistan row. As if schooling on Gender ideology and harboring radicals wasn't enough, JT has decided to honor a WW2 Nazi. 
It has been often seen that those who raise concerns about Justin Trudeau's viewpoints on several issues often face accusations of racism and being a societal threat, particularly from the liberal party. In recent events, Canadian Prime Minister Justin Trudeau's Anti-Semitic viewpoints have once again garnered attention and criticism. 
A notable development has occurred within the Canadian parliament that has raised eyebrows. Canada has officially honored a Nazi veteran, a move that has surprised many, considering Trudeau's reputation. This action has not gone unnoticed, as it has drawn scrutiny from both Israel and Russia.
The silence of the Liberal Party on this matter is also noteworthy, as it contrasts with their typical response to allegations of Anti-Semitism. 
A Hero: Trudeau Honors a Nazi 
During Ukrainian President Volodymyr Zelensky's visit for the Canada-Ukraine Free Trade Agreement signing, the Canadian Parliament, led by Trudeau, honored a World War II veteran named Yaroslav Hunka.
Hunka received a standing ovation in the House of Commons, with Speaker Anthony Rota calling him a "hero." But, it was just a matter of time before his controversial past came into public. 
Hunka served in the 14th Waffen Grenadier Division of the SS, a unit formed by the Nazis with Ukrainian volunteers during their occupation of the USSR. The Nuremberg Tribunal later declared the entire SS a criminal organization due to their significant involvement in wartime atrocities.
Speaker Rota did not mention Hunka's Nazi affiliation, although this information was publicly available. This event has led to criticism of Trudeau, with many Canadians questioning his awareness and judgment in honoring a former Nazi member.
But, look how smart of a guy the Canadian PM is, Trudeau says he was not aware of Hunka's past until he read it on social media! Really? Then why are you sacrificing your Parliament speaker? 
Trudeau's history of questionable actions is no secret. On his visit to Kyiv in June 2023, instead of meeting with President Zelensky first, Trudeau seemed to hit it off with Andriy Melnyk, Ukraine's deputy foreign minister.
Melnyk, however, has a rather interesting past – he's been linked to Nazi sympathies and openly supports some rather unsavory views. During Trudeau's visit, it almost seemed like he and Melnyk were old pals. Birds of a feather, perhaps?
Read More: "Bi*ches of white masters," Trudeau's top anti-racism official goes all out against Canadian Jews
Trudeau Smirks: Russia and Israel Rattled 
Justin Trudeau's recent actions have put Canada on a collision course with not just one, but two more nations simultaneously. By honoring a Nazi veteran, Trudeau has drawn the ire of Russia and Israel, compounding the ongoing tension with India.
Russia has demanded explanations from Ottawa after the Canadian House of Commons applauded 98-year-old Yaroslav Hunka, who was reportedly associated with a Nazi military unit during World War II.
Meanwhile, Israel has also joined the chorus of criticism, expressing concerns that Canada is pushing the boundaries of international diplomacy and testing the patience of global partners.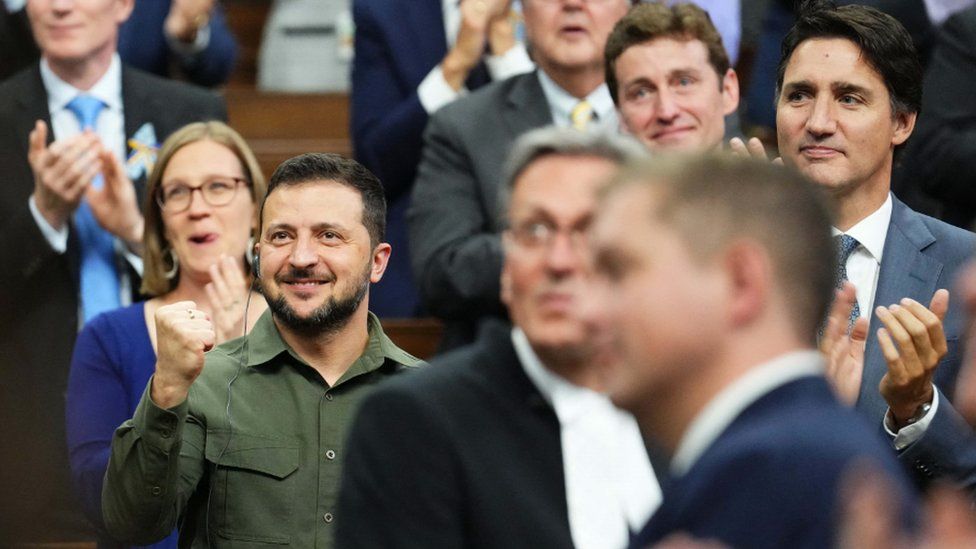 Trudeau's decision to honor a Nazi veteran is set to trigger international repercussions, making Canada a focal point in multiple diplomatic disputes.
In a seemingly deliberate attempt to appease a minor faction within Ukraine or perhaps just President Zelensky, Trudeau's actions risk jeopardizing Canada's standing on the world stage. The Canadian leadership's willingness to accommodate Khalistani extremists, honor Nazi veterans, and aggressively promote Gender Ideology on the global platform raises serious concerns.
Read More: Trudeau bares his fangs against Jews openly in Ukraine
Canada's foreign relations could further deteriorate as these controversial actions alienate international allies and provoke tensions with nations like Russia and Israel. This approach may lead Canadians to question Trudeau's alignment with extremist views, potentially eroding trust in his leadership.
Watch More: