Ukrainian Aid: In the ongoing conflict, Ukraine received extensive aid from Western nations without detailed scrutiny. However, Hungary has now taken a decisive stance, demanding accountability for the aid funds provided. Hungary's ultimatum insists Ukraine must transparently report its aid usage; failure to comply may result in Hungary discontinuing its support.
Hungary Sets Condition for Ukrainian Aid
Hungary has taken a firm stance, demanding transparency in Ukraine's use of aid funds from the EU. Gergely Gulyas, the head of the Hungarian Prime Minister's Office, emphasized that if Ukraine fails to account for the funds it has received from Brussels, Budapest will block further EU Ukrainian Aid. While Hungary supports bilateral assistance to Kiev, Gulyas highlighted that any changes to the EU budget would require unanimity among member states.
The European Commission had proposed a substantial increase in the EU's long-term budget, allocating around $18 billion for grants to Ukraine. EU data indicates that Ukraine has received over $88 billion in financial, military, humanitarian, and refugee aid from the EU and its member states since February 2022.
Gulyas expressed concerns over Brussels withholding EU funds from Hungary while seeking additional funding for Ukraine, calling it "absurd and embarrassing." He raised the possibility that the aid funds might have been used for other purposes or given to a non-EU country.
This development underscores the importance of aid accountability in international crises and raises questions about the allocation and utilization of aid funds in conflict regions. It also highlights the complexities of EU budget allocation and the need for consensus among member states. 
Read More: European countries decline to aid an incapable Ukraine 
Ukraine Misusing Western funds and Ukrainian Aid
Corruption in Ukraine has long been a concern, particularly regarding the misuse of Ukrainian Aid from the West. Despite anti-corruption efforts, instances of misallocation and embezzlement of foreign aid have emerged. Critics highlight cases where funds designated for public projects or humanitarian aid failed to reach their intended recipients due to bureaucratic inefficiencies and lack of transparency.
Allegations of corruption in sectors like healthcare and defense have further eroded trust, diverting funds meant for essential services. These reports raise questions about the effectiveness of Western aid programs, emphasizing the necessity for enhanced oversight and accountability measures to ensure aid reaches its intended beneficiaries and fosters genuine socio-economic progress.
Budapest Refuses to Spend on Ukraine's "Rebuilding"
Hungary, an EU member, has openly opposed the EU's plan to assist Ukraine with jointly raised funds, dealing a severe blow to the proposed €18 billion ($18 billion) aid package for 2023. Hungary's Foreign Minister, Peter Szijjarto, stated that Budapest had supported joint borrowing during the pandemic but had not received its share, leading to skepticism about a similar arrangement.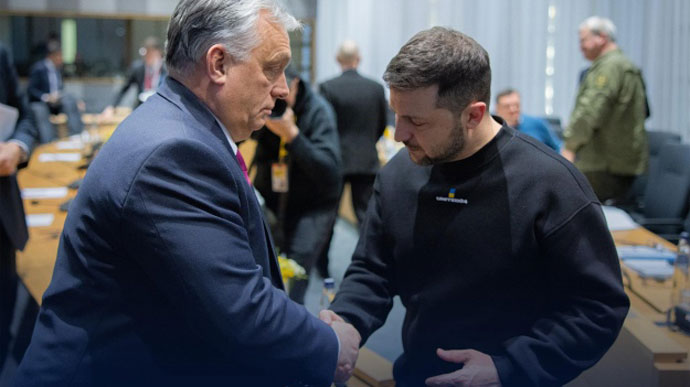 Italy, another EU nation, displayed hesitation. Thousands protested in Italy against aiding Ukraine, demanding an end to arms shipments. Italy's Prime Minister, Giorgia Meloni, faces pressure from conservative allies opposing aid to Ukraine, indicating a potential shift from Brussels' collective efforts. These refusals raise doubts about the viability of the $18 billion fund, essential for President Zelensky's plans.
The EU's solidarity fund, meant to assist Ukraine's financial and restoration needs, encounters significant challenges due to internal disagreements among member states.
Read More: Zelensky's Henchmen Blames NATO as Counteroffensive Fizzles Out
Not to mention, Hungary has maintained a measured stance throughout the conflict, offering humanitarian aid but abstaining from supplying arms to Ukraine. They have advocated for a peaceful resolution and criticized Brussels' sanctions on Moscow, deeming them detrimental to the EU.
Hungary's decision not to provide any further aid to Ukraine without a transparent account of previously allocated funds underscores their commitment to fiscal responsibility and accountability. This move reflects Hungary's cautious approach in the ongoing crisis, prioritizing accountability in aid distribution.
Watch More: