The conservative rule in Manitoba has come to an end, with the NDP seizing power. This victory is historic, as the province now has its first-ever First Nations Premier. However, there's a significant twist: the newly elected Premier is a serious offender, a fact surprisingly overlooked in public discourse.
In a historic turn of events, Manitoba, a Canadian province, has elected its first provincial First Nations premier, marking a significant milestone in the nation's political landscape. Wab Kinew, a 41-year-old progressive leader and the head of the leftwing New Democratic Party (NDP), emerged victorious after a contentious election campaign. 
Kinew, known for his diverse background as a former rapper, broadcast journalist, and university administrator is now set to lead to Manitoba. 
The Shift in Manitoba: NDP Storms to Power 
In the Manitoba election, the New Democratic Party, led by Wab Kinew since September 2017, made a substantial gain. Their seat count increased significantly from 18 to 34, capturing 45.40% of the popular vote.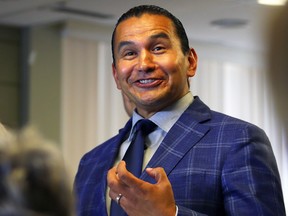 This marked a notable shift in the political landscape of the province, showing a substantial increase in public support. The Progressive Conservative party saw a decrease in seats from 35 to 22, receiving 41.90% of the popular vote.
Whereas, the Liberal party, retained only one seat, indicating a minor impact on the election. Kinew's victory is being taken as a sense of pride and determination by the NDP. 
Notably, this victory established Kinew as the first First Nations politician to hold the position of premier in Canada. His heritage, as the son of an Anishinaabe chief, and his upbringing on Onigaming First Nation land in Ontario, adds depth to this historic achievement. This accomplishment follows the legacy of John Norquay, the province's first Indigenous premier, who took office in 1878.
The victory of the New Democratic Party (NDP) and their newly elected premier, Wab Kinew, has created ripples in Canadian politics. 
For the NDP, this victory serves as a significant accomplishment and a relief for Prime Minister Justin Trudeau, who is under international pressure due to strained relations with India and grappling with internal challenges like inflation and rising living costs. The NDP's win provides a boost to the NDP-Liberal Party coalition.
Read More: Ears Closed, Mics Muted! Justin Trudeau Is Now after Podcasts
Wab Kinew The Premier: A Serious Offender 
However, amidst the celebration, there are concerning issues that demand attention. Wab Kinew, the newly elected premier, has been accused of serious crimes, including domestic violence, and drunk driving, and robbing taxi drivers. 
Yes you read it right. Despite these allegations and convictions, NDP supporters and voters in Manitoba chose him as their leader, overlooking his criminal history. Several mainstream media outlets reported his victory, but most focused on his First Nations heritage rather than his criminal record.
Here are some of the charges that raise concerns about the conduct of Kinew while handling anger. His criminal past includes charges of assault, where he allegedly tossed his then-girlfriend across the room during an argument. He also faced charges related to drunk driving and breaching court-ordered curfew. Despite these incidents, he was fined for these offenses, allowing him to continue his political career. 
His criminal history, raises concerns about his suitability for the role of a provincial premier, especially considering the nature and seriousness of the crimes he has been involved in.
A convicted criminal like Wab Kinew becoming the premier raises serious concerns. This isn't a novel situation for the NDP; the party has been linked to promoting criminal activities previously. British Columbia serves as a stark example, where NDP leadership saw increased crime rates and a surge in drug trafficking. 
Read More: Prostitution legal in Christian Canada?
Unfortunately, this pattern suggests that Manitoba might follow in BC's footsteps under Kinew's leadership. The implications of electing leaders with criminal backgrounds pose significant challenges, and it remains to be seen how Manitoba will navigate this situation.
Watch More: