As war fatigue sets in, Ukraine finds itself increasingly isolated. Western allies, fatigued and financially drained, are withdrawing military aid. Pro-Russia leaders in key countries are halting support. The US, Italy, Slovakia, and even major European powers are scaling back assistance. Reality dawns: Ukraine's struggle faces a daunting new phase as international backing dwindles.
Italian snubs Ukraine's demands
Italy, facing resource limitations, has expressed its inability to provide further military aid to Ukraine. Defense Minister Guido Crosetto emphasized the country's constraints, stating, "Italy does not have unlimited resources" and has done nearly everything it could for Ukraine. This announcement comes amid doubts regarding the supply of U.S. arms due to opposition within the Republican party. Despite Italy's consistent support for Ukraine's defense since Russia's invasion in 2022, providing seven military packages, constraints on resources are hindering further assistance.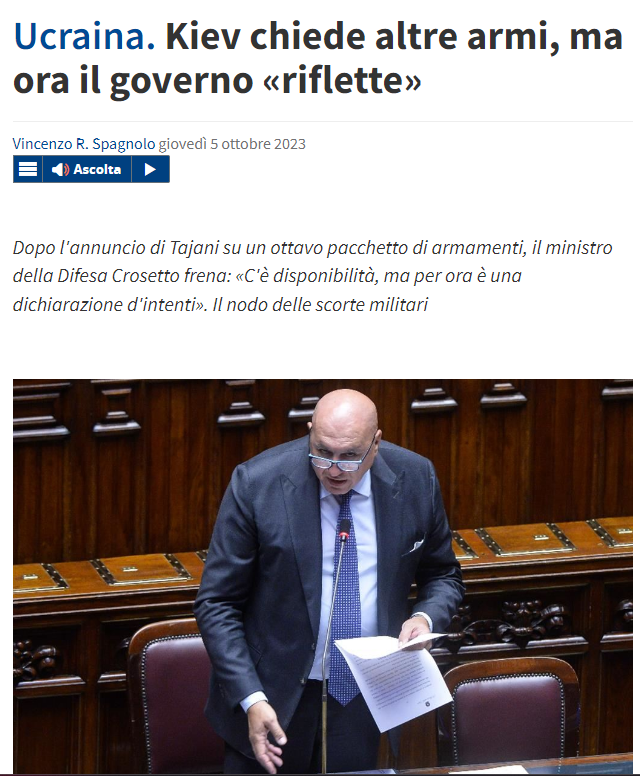 Ukrainian Defense Minister Rustem Umerov highlighted the urgent need for long-range rockets and electronic warfare systems in discussions with Crosetto. While Italy had earlier expressed readiness to supply Ukraine with its Samp-T air defense system, the anticipated annual spending document for 2023-2025, vital for allocating funds, has yet to be issued, reflecting ongoing adjustments due to the Ukraine war.
Read More: Slovakia's Grand Exit from Ukraine War leaves Zelensky in Chaos and EU Clueless
Claiming Italy does not have "unlimited resources", Guido Crosetto said Italy has "done almost all that it could do," when it comes to sending weapons to Ukraine. "There is not much more room," for freeing up military supplies.
Crosetto also raised concerns about war fatigue in Italy and the West, noting a decline in public interest over time. Italy's stance signals a significant shift, indicating a challenging phase for Ukraine as key allies face limitations, emphasizing the complexities of sustaining the counteroffensive against Russian forces.
US lawmakers want to cut military aid for Kyiv
Some US lawmakers have also started proposing to redirect military aid from Ukraine to Taiwan, reflecting concerns about China's potential military aggression. Republican Mike Collins and his counterparts argue that the US must demonstrate political resolve by supporting Taiwan, a strategic ally, against possible threats. This move signifies a reevaluation of aid distribution, acknowledging China's close scrutiny of US commitments. 
Notably, the aid provided to Ukraine had led to increased production by weapons manufacturers, a capability that could benefit Taiwan in the event of a conflict with China. Consequently, this shift in focus raises questions about the sustainability of aid for war-torn Ukraine, emphasizing the evolving dynamics of US foreign policy in response to regional security challenges.
No weapons left for Ukraine in Europe
European countries, once stalwart supporters of Ukraine, are also facing limitations in their aid efforts. According to a European official, EU nations have supplied Ukraine with all possible arms without jeopardizing their own defenses. European countries cannot deplete their own stockpiles without compromising their security. This situation has created challenges for Ukraine, as both arms supplies and financial assistance are dwindling.
The cracks in Western support for Ukraine have become more apparent. The US Congress's failure to allocate aid money, the election of Slovak Prime Minister Robert Fico, who vowed to halt assistance to Ukraine, and ongoing tensions between Ukraine and Poland have raised concerns. The White House and Pentagon have reduced aid, with Pentagon officials warning Congress about limited funds hindering further assistance. 
Read More: Ukraine Aid Comes to a Standstill as EU and UK Shift Focus Inward
Adding to these challenges, the UK, a significant contributor, has announced a limit to its aid capacity. A senior military official stated that Britain has exhausted its defense equipment available for donation to Ukraine. 
Furthermore, leaders like Robert Fico in Slovakia and Hungary's hesitance in funding weapons donations signal a broader trend away from military aid. Czech President Petr Pavel's call for Europe to reduce its reliance on US defense further highlights the shifting sentiment.
Ukraine finds itself caught in a difficult situation as its staunch supporters face limitations in their aid contributions, leading to reduced supplies and financial support. The growing cracks in Western support have left Ukraine in a vulnerable state. Diminishing aid raises concerns about Ukraine's future amid the ongoing conflict.
Watch More: