The relationship between NATO and Hungary has been tense, marked by Hungary's self-centered approach prioritizing its interests over the bloc's. Recently, Hungarian PM Viktor Orban's move to deepen ties with Putin in a China meeting infuriated NATO, leading to a meeting of bloc officials in Hungary. Excluding Hungarian officials, this move hints at a possible expulsion of the country from the bloc.
Viktor Orban meets Putin in China
Hungary's Prime Minister Viktor Orban's recent meeting with Russian President Vladimir Putin in China has raised eyebrows, especially as it marked Putin's first interaction with a European Union leader following the issuance of an arrest warrant by the International Criminal Court. Orban, known for his advocacy of "illiberal" Christian democracy, has consistently maintained a warm relationship with Putin, causing concern within NATO and Europe.
"Hungary has never wanted to confront Russia," he said. "On the contrary, Hungary's goal has always been to establish and mutually expand the best contacts. And we succeeded," he said.
The China meeting between Orban and Putin, which coincided with the Belt and Road Initiative's 10th-anniversary summit, was a significant development. This was their first meeting since February 2022, just weeks before the Russian invasion of Ukraine. Furthermore, Hungarian politicians continue to engage with counterparts in Russia and Belarus, raising questions about Hungary's alignment in the current geopolitical climate.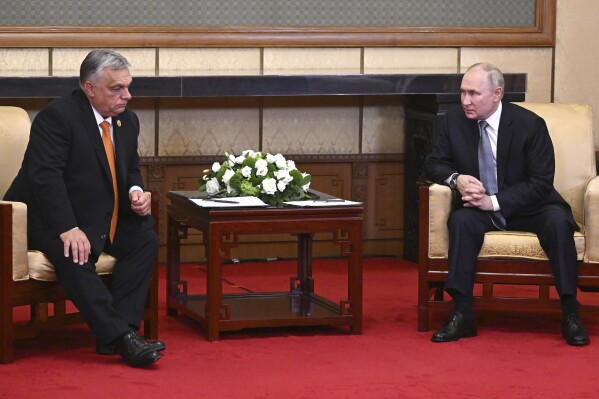 Read More: So….Sweden is to be evicted from NATO because one person burnt a book
Putin expressed satisfaction about Russia's relations with various European countries, highlighting Hungary's historical ties. Despite Western isolation, Hungary has maintained a unique stance, emphasizing mutual cooperation with Russia.
The meeting reaffirmed Hungary's commitment to maintaining strong relations with Russia, with Orban emphasizing Hungary's intention to nurture positive contacts rather than confront Russia. Putin, in turn, revealed an 80 percent increase in trade between the two nations in the previous year, signifying the deepening economic ties.
While much of Europe seeks to sever financial links with Russia, Orban's explicit desire to continue doing business with Russia underscores Hungary's unique approach. This includes cooperation in oil and gas shipments and nuclear energy, despite the ongoing geopolitical tensions.
Orban's unwavering engagement with Russia signals his determination to maintain Hungary's distinct position in European politics. It also poses challenges, both within NATO and the EU.
Putin-Orban friendship curdled the blood of NATO
This diplomatic engagement has not been without controversy, as Orban's actions have tested the patience of his NATO allies. He has delayed Sweden's accession to the alliance and refrained from offering full support to Ukraine, which has strained Hungary's relations with other NATO members.
Orban's meeting with Putin has amplified concerns among NATO and EU partners, who perceive his actions as undermining the broader European stance on Putin and their sanctions against Russia in response to the Ukraine conflict. The U.S. Ambassador to Hungary, David Pressman, openly criticized the meeting, highlighting Hungary's isolation in choosing to align with a leader responsible for actions deemed as "crimes against humanity" in Ukraine.
"We have legitimate security concerns, and we expect them to be taken seriously," said U.S. Ambassador to Budapest, David Pressman.
"While Russia strikes Ukrainian civilians," Pressman wrote, "Hungary pleads for business deals."
Orban, in response to the mounting criticism and the European sanctions against Russia, expressed his frustration with the potential nullification of his efforts in nurturing Russian ties.
It is noteworthy that Hungary's willingness to engage with Putin has raised questions about its stance as a signatory to the Rome Statute, the foundation of the International Criminal Court, and Orban's earlier declaration that Hungary would not arrest Putin if he were to visit.
Read More: Petrified Biden arm twists Hungary over its European NATO plan
Hungary out of NATO?
In a significant development, concerns over Hungary's recent engagement with Russia have sparked discussions among NATO ambassadors and Sweden in Budapest. The US ambassador highlighted widespread unease regarding Prime Minister Orbán's meeting with Putin. 
Notably, a subsequent meeting was convened in Hungary by NATO, excluding Hungarian officials, and notably involving Sweden, a non-bloc member. This shift underscores growing tensions, particularly regarding Sweden's accession, where all nations except Hungary are supportive. The exclusion of Hungary from the meeting raises questions about its standing within the alliance, hinting at the possibility of its removal and Sweden's potential inclusion, indicating a notable shift in the diplomatic landscape.
NATO's fraught relations with Hungary
Hungary's discord with NATO has deepened, as evidenced by its ambitions for a separate European NATO and proposals to dissolve the alliance formally, threatening the bloc's unity. Hungary's growing alignment with Russia further complicates the situation. Recently, the country solidified its energy agreements with Moscow, despite global concerns surrounding the conflict in Ukraine and US warnings. This move left European leaders puzzled, highlighting Hungary's divergent stance within the alliance.
The nation's actions risk isolating it further within NATO, raising serious questions about its commitment to the alliance's shared objectives and principles. Hungary's diplomatic choices pose challenges to the cohesion of NATO, prompting a reassessment of the country's role within the bloc.
Watch More: