A few months ago, Ukrainian President Volodymyr Zelensky removed his most trusted Defence Minister, Aleksii Reznikov, on the grounds of incompetence in handling the war with Russia. Additionally, several military officials were relieved of their duties due to allegations of corruption.
Zelensky attributed this action to the inadequacy of food supplies for Ukraine's military on the front lines. This move was largely reflected by Ukrainian media as Zelensky's commitment to eliminating corruption within his administration and addressing issues related to the military's readiness. However, people frequently overlook what's going on behind closed doors.
The saga of revamping and overhauling continues months later.  Zelensky has re-initiated an anti-corruption campaign within his government. Ukrainian President Volodymyr Zelensky is once again planning a significant cabinet reshuffle, aiming at revamping the country's military and political leadership, according to a report by the Times.
At least one minister is set to be fired, along with a senior general in charge of the counteroffensive, the article suggested, citing the aides. However, the report did not provide the exact names of the potential candidates. The move is viewed as a response to the lack of progress in the stalled counteroffensive against Russia and growing opposition to Zelensky's determination to continue the war against Russia.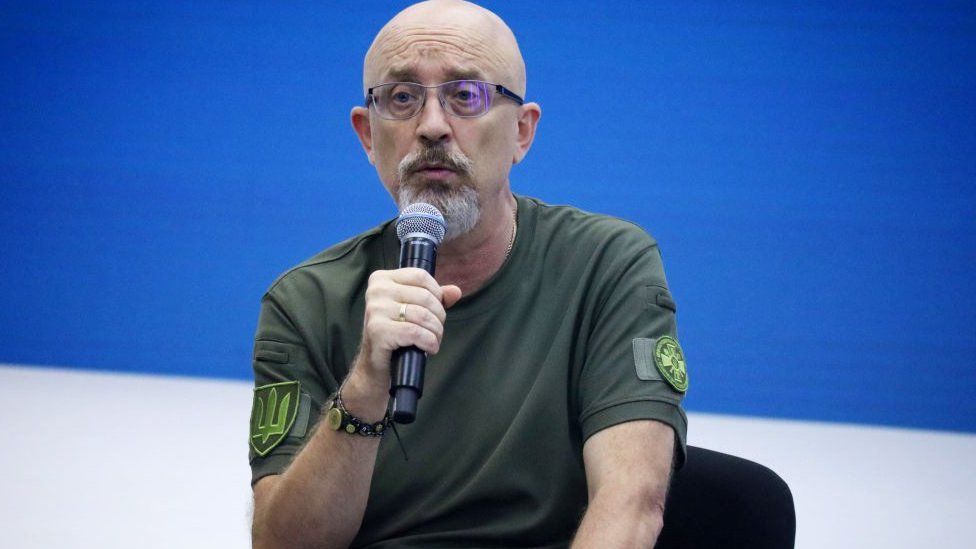 Zelensky's Growing Rift with Russia 
Zelensky's persistence in wanting to 'defeat' Russia on the battlefield has been criticized vehemently by the country's military leaders. Several high-ranking officials have expressed dissatisfaction, highlighting Zelensky's self-delusion and the absence of viable options.
They said and we quote, "They [ Zelensky and the military insiders] just want to sit in the trenches and hold the line.  But we can't win a war that way," the aide said, admitting the troops were not actually "moving forward."
Officials have pointed out a crucial issue hindering Ukraine's military success: the reluctance to move beyond defensive strategies. They note that both Zelensky and his insiders in military leadership seem content with merely holding the line in the trenches, which is insufficient to win a war.
This insight explains everything about the overall strategy employed by the Ukrainian military and Zelensky's leadership, which led to the failure of offensive ambitions. The recent Ukrainian "counter-offensive" in the Zaporizhzhia area, coupled with efforts to regain control of Bakhmut, has faced significant setbacks, leading to a critical situation.
Despite extensive advertising, the entire operation has come to a halt. Ukraine suffered substantial casualties, with an estimated toll of 10,000 dead, and experienced severe equipment losses, with nearly every tank and system destroyed by Russia.
Read More: '500,000 Ukrainians are dead' Stoltenberg Unveils the toll of Zelensky's Counteroffensive
The Crisis: Counteroffensive, Anger and Dissaproval 
This anticipated counter-offensive yielded no gains, prompting scrutiny from even Ukraine's staunchest supporters, the EU and the US. As a result, EU officials refrained from providing additional war assistance, citing pervasive corruption within the Ukrainian military as a barrier.
Whereas in the United States, Zelensky faced rejection from congressional lawmakers; he was denied the opportunity to address the House. Furthermore, GOP lawmakers are now demanding clarity from the Biden administration and Zelensky regarding Ukraine's endgame.
Without a satisfactory explanation, the prospect of further financial assistance for the war diminishes, as it is taking a toll on America's financial stability. The imminent reshuffle is intended to address these challenges and establish accountability for the lack of progress in the counteroffensive against Russia. But, wait the challenges for Zelensky don't end here.
Ukrainian President Volodymyr Zelensky faces a multifaceted crisis, prompting an attempt to shift blame through a complete government overhaul. While one significant challenge lies in the escalating tension between military officials and the government, there is something more in the saga. According to an Asia Times report, Zelensky grapples with discord among his generals, aggravated by delays in launching the counter-offensive.
The Pentagon and White House officials desired a display of strength against the Russians and sought NATO support. But, they grew frustrated with the prolonged wait. Despite extensive preparations, including detailed battlefield scenarios, training assistance, and equipping three brigades with Western gear, Ukrainian military leaders hesitated in the early stages, fearing the assaults might fail.
When the offensive finally began in June, it failed by September, validating the concerns of Ukraine's military leaders and depleting the country's combat-trained soldiers. Zelensky's subsequent demands on Ukraine's army, particularly regarding Bakhmut and the defense of Avdiivka, were also met with resistance from the military's top brass. They perceive these objectives as potential traps, likely to drain already scarce manpower and equipment.
Furthermore, Zelensky's competence has been openly questioned by key Ukrainian city mayors. They assert that his leadership has made life harder for Ukrainians, citing power outages and the destruction of cities due to his actions. This internal discord and skepticism concerning Zelensky's decisions have created a volatile situation. On top of that, Zelensky finds himself increasingly unpopular among Ukrainians due to his controversial conscription tactics, primarily involving street abductions. A recent survey, commissioned by the International Republican Institute and funded by USAID, paints a grim picture of his declining approval ratings.
Only 42 percent of Ukrainians "strongly approve" of him as President, a sharp drop from the 80 percent he enjoyed a year ago when the war was in its early stages. In January 2023, 58 percent of Ukrainians strongly supported Zelensky's handling of the war, as per Statista data. However, in February 2023, his approval ratings plummeted, with only 40 percent now expressing strong approval.
This decline signals a massive loss of support. In addition, this popularity decline and internal conflicts come at a time when Ukraine is heading into its 2024 Presidential elections.
The Ukrainian leader knows that his chances of winning re-election are diminishing. So, Zelensky also attempted to delay the elections and sought aid from Europe and the US to monitor the elections, as he believed Russia may attempt to tamper with the election results. However, he faced refusals. Adding to the uncertainty, Ukraine's first lady, Olena Zelenska, hinted that Zelensky might abstain from contesting, indicating his grasp of public sentiment.
Still, the Ukrainian madman is desperate. Zelensky's desperate attempts to stay in power are evident given his mounting concern for corruption and the military reeks of insincerity after years of neglect. Here one needs to ask a question, why were you silent for the last four years?
Read More: Zelensky's Henchmen Blames NATO as Counteroffensive Fizzles Out
What Zelensky is doing is a clear sign that his government in Ukraine is on the brink of being ousted. Despite his efforts at damage control, time is rapidly running out for him. The truth of his incompetence and opportunism can no longer be concealed.
The inevitable reality of his political downfall is closing in, with karma ready to catch up. His days in power are numbered, and the consequences of his actions are surely catching up with him.
Watch More: