The signs of distress are clearly visible in Chinese economy. The investment in housing, railways, factories and other fixed assets are down despite economic stimulus announced by the government. Fixed assets investment grew 5.3 percent in first eight months of this year, this is the lowest investment growth for the Chinese economy since 1995. This is the fifth consecutive record low for China. "Overall, the economy kept decelerating in 3Q18, but it's an exaggeration to call it 'terrible' and 'collapsing'," said Larry Hu, China economist at Macquarie Securities in Hong Kong. So, Chinese economy may not be collapsing but it is facing slowdown despite government stimulus after low second quarter growth this year.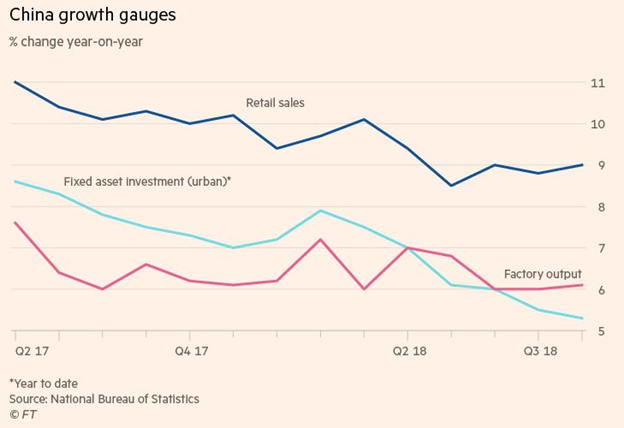 The major problem for China is that stimulus announced by the government has not resulted in any positive impact. Stimulus included spending on road, water projects, and railway but despite this infrastructure spending slowed down. However, some positive points were that retail sales and factory output has increased. Retail sales grew by 9 percent in August compared to 8.8 percent in July while industrial output grew at 6.1 percent. The growth in retail sales are important for China as the government wants Chinese economy to move from investment and export led to domestic consumption. But according to experts, overall outlook of Chinese economy remains negative in near term."Despite the rebound of IP [industrial production] and retail sales growth, we believe China's overall economy continues to slow, and this could worsen in coming months. Export growth could decline sharply in coming months due to a possible escalation of US-China trade tensions, the fallout of some emerging market economies, and the end of front-loading," wrote Ting Lu, chief China economist at Nomura in Hong Kong.
The major problem for China is that its economy is investment and export driven. Private investment accounts for about 60 per cent of overall investment in China and it is going down exponentially. As trade war escalates and export comes down, both pillars of economy will shake. The investment is crumbling and exports are expected to decrease as Trump plans to impose further tariffs on China. Recently, Washington slapped tariff of 25 percent to Chinese imports worth 50 billion to which China retaliated by 25 percent tariff on $34 billion worth of US goods. Trump reacted to this and asked his trade representative Robert Lighthizer to prepare a list of $200 billion worth goods imported from China on which tariff could range from 10 percent to 25 percent. On 7 September, Mr Trump said tariffs on 200 billion dollars in goods "could take place very soon" and added that tariffs on a further 267 billion dollars in goods were "ready to go on short notice if I want." The statement clearly indicates that Trump is in no mood to go back on tariffs despite the government held talks to renegotiate terms of trade to stop trade war.
In 2016, China was the largest goods trading partner with $578.2 billion in total (two way) goods trade during 2016. Goods exports totaled $115.6 billion; Goods imports totaled $462.6 billion. The U.S. goods trade deficit with China was $347.0 billion in 2016. Trump is opposed to China running such a huge trade deficit and wants to renegotiate trade deal. The impact of trade war is yet to take place on Chinese economy, the escalation of trade war will further deteriorate Chinese economy as it faces slowdown in investment.