The Chinese economy posted quarterly growth of 6.5 percent in September quarter. This is the lowest quarterly growth in the decade, the situation for China was never worse since global economic slowdown of 2008-09. The economic growth was 6.7 percent in the July quarter over the same quarter in previous year. The consistent slowdown of Chinese economy was predicted by many global experts, in fact, economists were even skeptic about high growth figures in the previous quarters. Chinese economy is facing many problems including the trade war with the United States. The domestic consumption has moved southward over the previous quarters which means Chinese people are spending little. Many Chinese companies defaulted on loans and bonds in the previous quarter.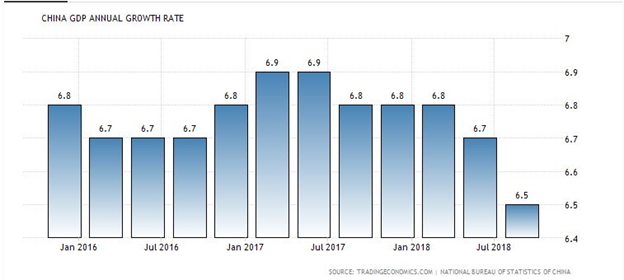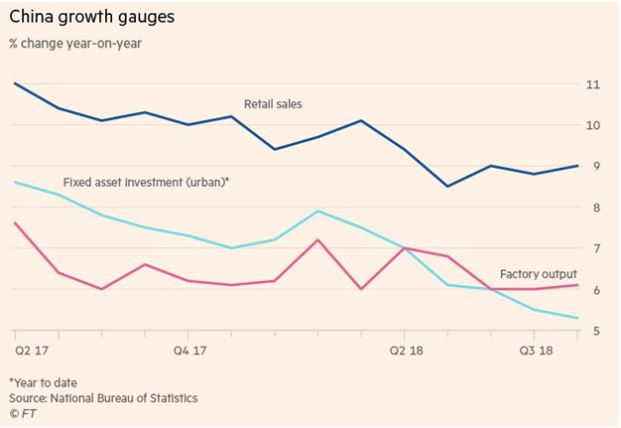 The signs of distress were already visible in the Chinese economy. The investment in housing, railways, factories and other fixed assets are down despite economic stimulus announced by the government. Fixed assets investment grew 5.3 percent in the first eight months of this year, this is the lowest investment growth for the Chinese economy since 1995. This is the fifth consecutive record low for China. "Overall, the economy kept decelerating in 3Q18, but it's an exaggeration to call it 'terrible' and 'collapsing'," said Larry Hu, China economist at Macquarie Securities in Hong Kong. So, Chinese economy may not be collapsing but it is facing slowdown despite government stimulus after low second quarter growth this year.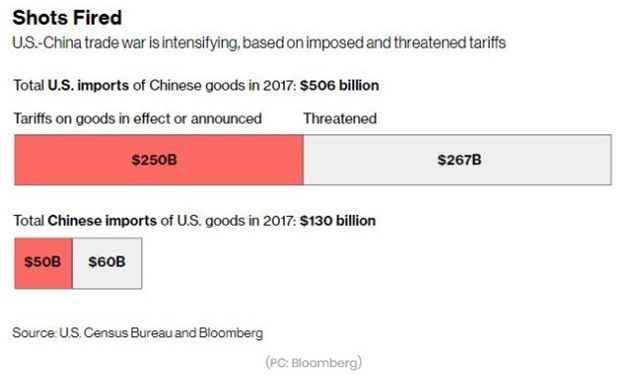 The stimulus announced by the government has not resulted in any positive impact. Stimulus included spending on road, water projects, and railway but despite the infrastructure spending slowed down. The major problem for China is that its economy is investment and export driven. Private investment accounts for about 60 per cent of overall investment in China and it is going down exponentially. As trade war escalates and export comes down, both pillars of economy will shake. The investment is crumbling and exports are expected to decrease as Trump plans to impose further tariffs on China. Recently, Washington slapped tariff of 25 percent to Chinese imports worth 50 billion to which China retaliated by 25 percent tariff on $34 billion worth of US goods. Trump reacted to this and asked his trade representative Robert Lighthizer to prepare a list of $200 billion worth goods imported from China on which tariff could range from 10 percent to 25 percent. On 7 September, Mr Trump said tariffs on 200 billion dollars in goods "could take place very soon" and added that tariffs on a further 267 billion dollars in goods were "ready to go on short notice if I want." The statement clearly indicates that Trump is in no mood to go back on tariffs despite the government held talks to renegotiate terms of trade to stop the trade war.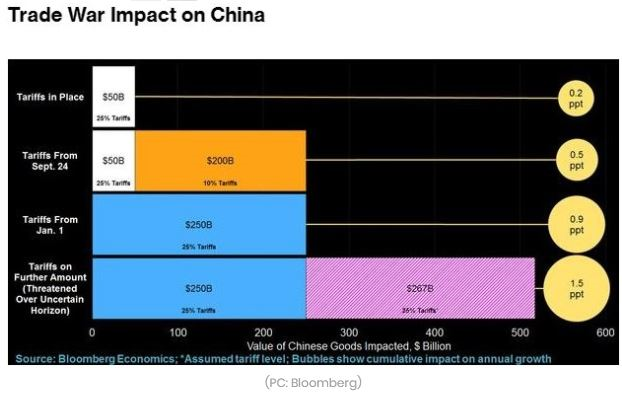 Chinese companies defaulted on about 16.5 billion Yuan ($2.5 billion) of public bond payments so far this year, compared with the high of 20.7 billion Yuan seen in all of 2016. At this pace the defaults by the end of the year would be almost twice that of last year's. Borrowers have missed payments on at least 20 domestic bonds so far this year, according to the data compiled by Bloomberg. There was about 66.3 billion Yuan of defaulted notes outstanding at the end of May, or 0.39% of corporate bonds.
Global investors are pulling money out of China to invest in the US government bonds and in the markets of other economies like India and Indonesia because they expect much better returns from there. The economy of India is driven by domestic consumption rather than exports, so it is bound to grow even in the midst of a global trade war. But the Chinese economy is facing double whammy as domestic consumption is slowing down and exports are poised to hit due to trade war. The control freak Communist regime needs to make some outstanding efforts to redeem the economy. Stimulus announced by the government did not yield any positive impact on the economy, therefore, Chinese government needs to look for alternatives.