Turkey has fast emerged as one of the most radicalized countries on the planet. Its President Recep Tayyip Erdogan is inebriated in the stupor of Ottoman glory and in a relentless pursuit to replicate it has been taking one hara-kiri step after another.
In the process, Ankara has made more enemies than it can handle. And with the recent turn of events, it wouldn't be a hyperbole to predict that intelligence agencies around the world will be working together to corner Turkey. India, Israel, UAE, and their respective intelligence agencies have mounted a serious battle and the timing of such reports cannot merely be coincidental.
Israel on an offensive
By waging back-to-back proxy wars in Syria and Libya, and harassing Greece, Turkey has already antagonized the Western world and made enemies out of UAE, Greece, Cyprus, and France. But now Ankara faces a new enemy in the Eastern Mediterranean- Israel.
According to The Times, the head of Israel's Intelligence agency Mossad, Yossi Cohen said that Turkey is a bigger threat than Iran while talking to his Egyptian, Emirati, and Saudi counterparts.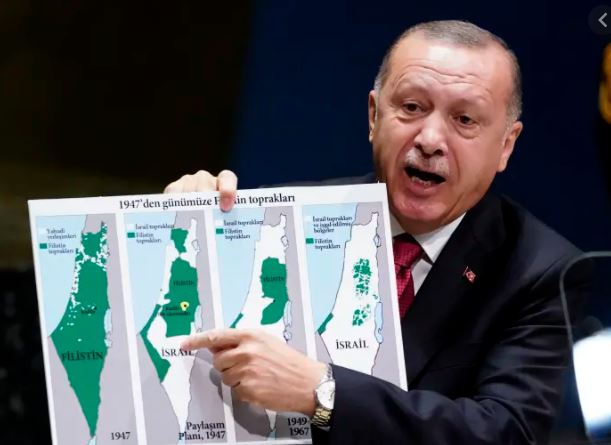 This comes as a major setback for Turkey because Mossad has for several years successfully challenged the Iranian leadership's resolve to 'obliterate' Israel now seems to be targeting Turkey. Mossad could do to Ankara what it has been doing to Tehran all this while.
Israeli-Turkish relations have also hit a nadir because Erdoğan cannot conceal his Islamism. First, he made enemies in the West by reconverting the ancient Roman Cathedral-turned Mosque-turned Museum Hagia Sophia into a Mosque. And now Erdoğan wants to reaffirm his image as a 'liberator' of Mosques with the "liberation" of the Al-Aqsa Mosque in Jerusalem.
Read: Erdogan's Al-Aqsa remark has earned Turkey another major enemy— Mossad. And the repercussions will be brutal
New reports coming one after another from Indian intelligence agencies
Meanwhile, the Indian intelligence agencies have been coming up with regular reports that have suggested Turkey has become the biggest foreign actor in radicalizing the Indian Muslims, after Pakistan.
Reported by TFI, last month, a report handed over to national security planners iterated that on several fronts, the Turkish government had been funding the separatist and Islamist fundamentalists in the country. The report had termed Turkey as the "the hub of anti-India activities" next only to Pakistan.
Reported last week, Turkey had been infiltrating and corrupting the mids of Indian youths by offering them study-scholarships to Turkey where the Pakistani proxies more often than not brainwash them and use for anti-India activities. The report had stated that much of this effort is directed via three sectors: Turkish state media, educational institutes and the nonprofit sector, or NGOs.
UAE and Turkey—the growing animosity
The signing of the UAE-Israel peace deal has given severe heartburn to Turkey which is now being seen as an outlaw in the Muslim world.
Relations between Turkey and the UAE hit an all-time low when Turkish President Erdoğan recently announced that Ankara may suspend its diplomatic relations with the Abu Dhabi administration after the UAE-Israel deal.
UAE had long been making movements against Turkey and its intelligence units have reportedly infested the porous boundaries of Istanbul. Last year, Turkey had revealed that the Emirati spy network had been operating all over the country.
The Turkish intelligence had reportedly learned that the UAE, in cooperation with Israel, was going to try and destabilize Turkey, Iran, and Qatar.
Libya has been another area of flashpoint for the two nations as Abu Dhabi is in the opposite faction when it comes to Libya.
Turkey through its Syrian mercenaries, despite the UN arms embargo has been supporting Government of National Accord (GNA) whereas UAE along with Saudi Arabia—the de facto leader of Muslim World, Russia, France, and Italy has been supporting Libyan National Army's (LNA) General Khalifa Haftar.
While Haftar is being viewed by the world as a better leader, the GNA offers a highly Islamist regime and this is where the Muslim world stands divided.
When such contrasting positions in Africa, it was inevitable that relations between Turkey and UAE would take a turn for the bad.
India- The common thread between Israel and UAE
India is a friend of both Israel and UAE. PM Modi and Benjamin Netanyahu's bromance has been widely captured by the world media. Both countries have helped each other in the COVID pandemic.
Whereas in the middle east, the relations with countries like UAE and Saudi Arabia have reached a new peak. PM Modi was even granted the highest civilian honor of UAE last year.
Therefore, one can predict, as the threat of Turkey grows, down the line, UAE, Israel, and India could forge a  partnership, perhaps even an intelligence coalition to corner Ankara.