Joe Biden is showcasing how not to administer a country very successfully. If the foreign policy is an absolute disaster, then we can say that the way in which he is dealing with illegal immigrants and the border situation is close to a catastrophe. After being unapologetic and inconsiderate of the perils that his policy has put the southern states in, he is moving to equally distribute the misery by moving the migrants to the north. As crossings along with the southern border surge to near-record levels, the Biden administration is considering flying migrants to states near the Canadian border, according to a report.
Read More: Immigration Crisis in the southern states; Joe Biden's administration living in denial
After 1,000 migrant families and unaccompanied minors crossed the Rio Grande into South Texas on Friday morning, Customs and Border Protection (CBP) asked for aircraft assistance from Immigrations and Customs Enforcement (ICE), according to Department of Homeland Security (DHS) authorities. According to messages reviewed by the Post, border agents still have 1,000 migrants they were unable to process last night.
As per reports, the criticism is already mounting. In the midst of a record surge that has overloaded facilities at the southern border, Republican Montana Rep. Matt Rosendale asked Friday night that the Biden administration explain a report that officials could fly migrants to states near the Canadian border.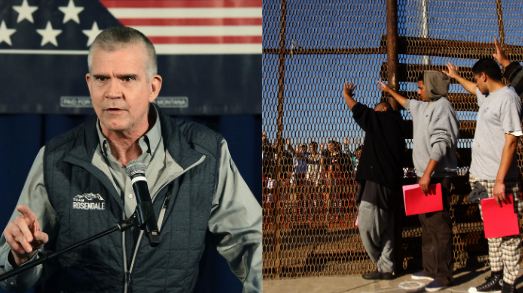 Rosendale expressed his displeasure with the proposal in a letter to Homeland Security Secretary Alejandro Mayorkas and Customs and Border Protection Acting Commissioner Troy Miller. According to the Washington Post, CBP officers made the request as agents at the southern border struggled to process a wave of about 2,000 migrants who crossed into southern Texas in recent days.
Joe Biden has realised his folly, but his solutions are so bad that they will end up creating more problems. Joe Biden cannot accept in the whole public view that his border policies have been a total disaster. This is why he is relying on Mexico to reduce the influx of immigrants from across the border. This month, Biden asked Mexico's President Andrés Manuel López Obrador in a video call, whether more could be done to help solve the problem, according to Mexican officials and another person briefed on the conversation.
Read more: There is a huge illegal immigrant wave into the US caused by Biden and he is now trying to bribe Mexico to stop it
Rep. Matt Rosendale, a Republican from Montana, has asked Biden officials to explain whether the report is factual. The congressman raised a number of concerns about the policy, including why it was not relayed to legislators in affected states and a request for a specific number of migrants to be housed in facilities along the northern border.
"DHS, CBP, and the Biden administration have failed to contain this crisis, and it is now greatly affecting states thousands of miles from the southern border," Rosendale wrote. "As Montana's representative in Congress, I strongly urge DHS and CBP to reconsider proposals to house illegal aliens from the southern border in the state of Montana," adding further.