Joe Biden, with the sole aim of stamping his authority on societal norms, signed an executive order removing the concept of 'gender' in sports. The move created a controversy, but Biden paid no heed to the concerns and continued with what he does best- Virtue Signalling. However, since then the Republican senators, as well as governors, have taken it upon themselves to safeguard the womenfolk in their respective states. Kristi Noem is one such governor ready to take on the Biden administration's decision regarding women's sports.
After the Mississippi governor overturning Biden's decision to make transgenders participate in women's sports, South Dakota Gov. Kristi Noem too is taking action to address the problem. On Monday, she announced the formation of a national coalition "Defend Title IX" to protect the rights of female athletes and keep the competition fair. However, this is not enough, given much more could be done, taking the example of Mississippi.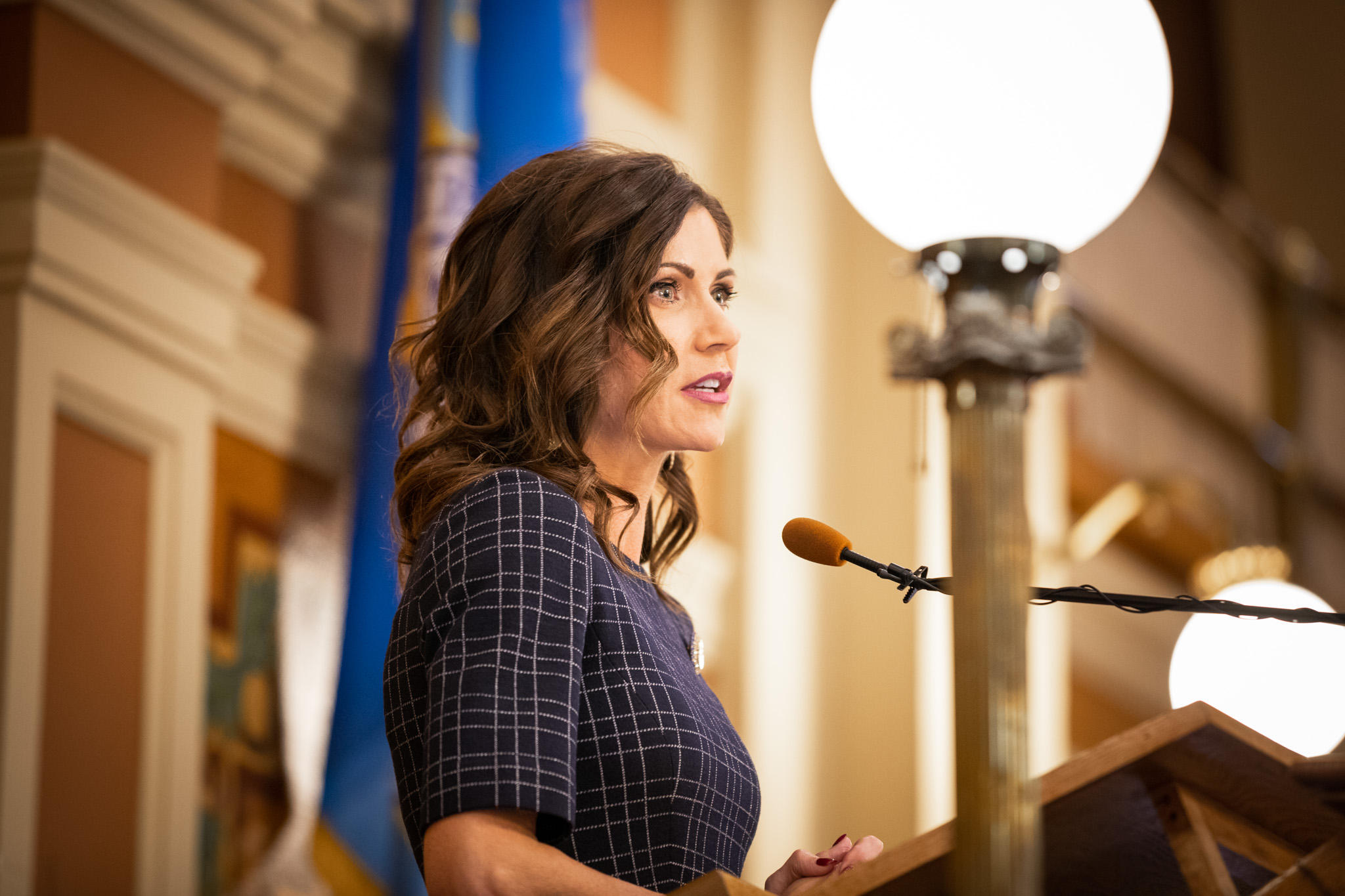 During a press conference Monday morning, Kristi Noem said, "Today we're announcing that we're forming a coalition called DefendTitleIXNow.com," referring to the federal law that prohibits discrimination based on sex in educational programs and activities. "The coalition will consist of athletes, leaders, and everybody who cares about protecting women's sports", she added.
Read More: Mississippi Governor overturns Biden's decision to make transgenders participate in women's sports
Earlier four accomplished female athletes filed a lawsuit in federal court in Connecticut in February 2020. The lawsuit was filed by the athletes who were fighting for their right to be sportswomen after they, kept losing track meets to 'biological males' who identify as 'females'. Selina Soule, one of those athletes, explained in an email how she felt when she learned about Biden's executive order creating a whole new definition of federal anti-discrimination laws.
She wrote, "It's really heartbreaking and disappointing to watch the Biden administration push this gender identity policy because I know how it affects girls. I've lived under this policy in Connecticut. Girls like me lose championships, podium spots, advancement opportunities, and the recognition we deserve because we're forced to compete against biological males in our races. Women fought long and hard for athletic opportunities, and I want to preserve those opportunities for the next generation of female athletes."
Read more: "This isn't equality, and it isn't progress," female athlete speaks out against Biden for his abominable Transgender Executive Order
Because the coalition's emphasis will be on women's rights and ensuring a fair competitive environment in women's sports, instead of transgender athletes' rights, Noem said the coalition would be separate from the debate surrounding House Bill 1217, titled Promote Continued Fairness in Women's Sports, which prohibits biological males from participating in women's or girls' sports.
One of the primary motivations for forming the coalition, according to Kristi Noem, is to build enough support to push back against the pressure from organisations such as the National Collegiate Athletic Association (NCAA), which insists on biological males participating in girls' sports.
However, this is not enough and she needs to support her fellow Republican in the efforts to pass Bill 1217, for which she has shown very little support. When House Bill 1217, a bill to encourage fairness in women's sports came across Gov. Kristi Noem's desk on Friday, she refused to sign it. Rather than vetoing the bill, Noem sent it back to the House with what she called "recommendations as to STYLE and FORM."
This is not going to work. Any number of coalitions will amount to nothing if the legislations are against women. And the only option is to overturn the Biden administration's order by state legislation, just like Mississippi. Thus, while the attempt at creating a coalition is good, much more needs to be done and for that, Kristi Noem needs to stand with her fellow party people and pass house bill 1217.